Subscribe to our newsletter
Weekly updates with new Fifty Two stories
On 26 March 2021, an Indian fisherman named Ramesh Sosa died in Malir jail, Karachi. In January 2022, I heard about the circumstances of his death from his wife Ranjanben. It was a cold morning in their hometown of Kodinar, a coastal town in south Gujarat.
Ranjanben lived here with her three teenage children in a single room house with a low ceiling. Like every other house in the village, there was a photo of B.R. Ambedkar outside hers. Vimal, her 15-year-old son, was growing out a fledgling moustache and chewing tobacco. "Now I have to take care of my family," he told me.
They'd received news of Ramesh's death 42 days after his passing. "Initially, we didn't believe that he was dead," Ranjanben said. "And then we saw a photo." His body arrived at the Wagah Border almost two months later. "By the time we got the body, it was just the rotten remains of my husband."
In May 2019, Ramesh was arrested by the Pakistan Maritime Security Agency for crossing the maritime border while on a fishing trip. Ideally, he should have come back in July 2019, when his sentence was completed. But he remained in jail for nearly two years afterwards, waiting for his release as a "gesture of goodwill" from the Pakistani government. This was supposed to happen on a day when there were enough prisoners to fill up the camera frame, making the long-due release of fishermen seem like an act of benevolence.
Ranjanben wrote letters to Ramesh, and sent his heart medication with them. As other fishermen from Kodinar were released, they brought back his replies. Those were the only times Ranjanben heard from her husband. "We were just told he was sick," she said. "We don't know what happened."
There are very few men in Kodinar. The ones I did see in town were mostly children or senior citizens. "All of our sons and husbands are in the jails in Pakistan," said Prabhaben, whose son, Nilesh, was arrested by the Pakistan Coast Guards in September 2020. (It was the fourth time he had been arrested.)
Nilesh is one of nearly 600 fishermen who haven't seen the outside of a Pakistani prison in the last few years. None of them have been convicted of being soldiers or spies. They didn't breach land borders marked by barbed wire, electric fences and uniformed officers. They are fishermen who venture into the sea for their livelihood.
"What are they expected to do?" Anitaben, whose son and husband are both in jail in Pakistan, asked rhetorically. "If there are no fish in Gujarat's seas, they will have to go where the fish is. If not, all of us will starve."
So many stories in Kodinar followed the same pattern. Men go fishing into deeper waters for a better catch, a worrying period of silence follows, and then news arrives that they have been arrested in Pakistan's territorial waters. Some come back to their families after several years of convoluted legalities. Others like Nilesh return, only to be arrested again. Some, like Ramesh Sosa, do not return at all.
Bend in the River
M
arking land borders is tricky enough. How do you draw borders on water? You could try buoys, walls and bridges, but they can only demarcate some sections of the shifting seas. What about the rest?
India and Pakistan's maritime border in the Arabian Sea is far from their most important one. In recent years, the snowy reaches of the Line of Control in the north have occupied more space in both national imaginations. But every border has a history, and the watery western side's story can be traced back to over a century ago, long before the two nation-states existed.
In 1908, a dispute arose between the Rao Maharaj of Kutch and neighbouring British-ruled Sindh province. Both coastal states were home to salt lands that stretched for miles. Punctuating these parched, glistening white mudflats were three parallel mushy creeks—Kajhar, Kori and Ban Ganga—and their many temperamental tributaries. Sindh claimed the Kajhar and Kori. The Ban Ganga was controlled by the Maharaja of Kutch, but its banks were part of Sindh. The dispute was about who had a rightful claim to the firewood on the Ban Ganga's banks.
"If there are no fish in Gujarat's seas, they will have to go where the fish is. If not, all of us will starve."
Much time was spent surveying the lands, rivers and trees. Finally, in 1914, there was an agreement. But there were two resolutions in the same document. A map annexed to it showed Ban Ganga falling inside the borders of Sindh, while Kori became a part of Kutch. But one of the agreement's clauses pointed to the application of the Thalweg principle, an international law doctrine for resolving water boundary issues: If a water body is the boundary between two states, then the border will be drawn along the centre of the navigable channel of the water body. The implication of this was that the Ban Ganga separated Kutch and Sindh. (The agreement also rechristened Ban Ganga to Sir Creek, pronounced 'Suh-r'.)
When the subcontinent was partitioned, Sindh went to Pakistan and Kutch became a part of India. Now, it would be the turn of the nation-states to squabble over the Sir Creek question. They took the matter to an arbitral tribunal under the auspices of the United Nations.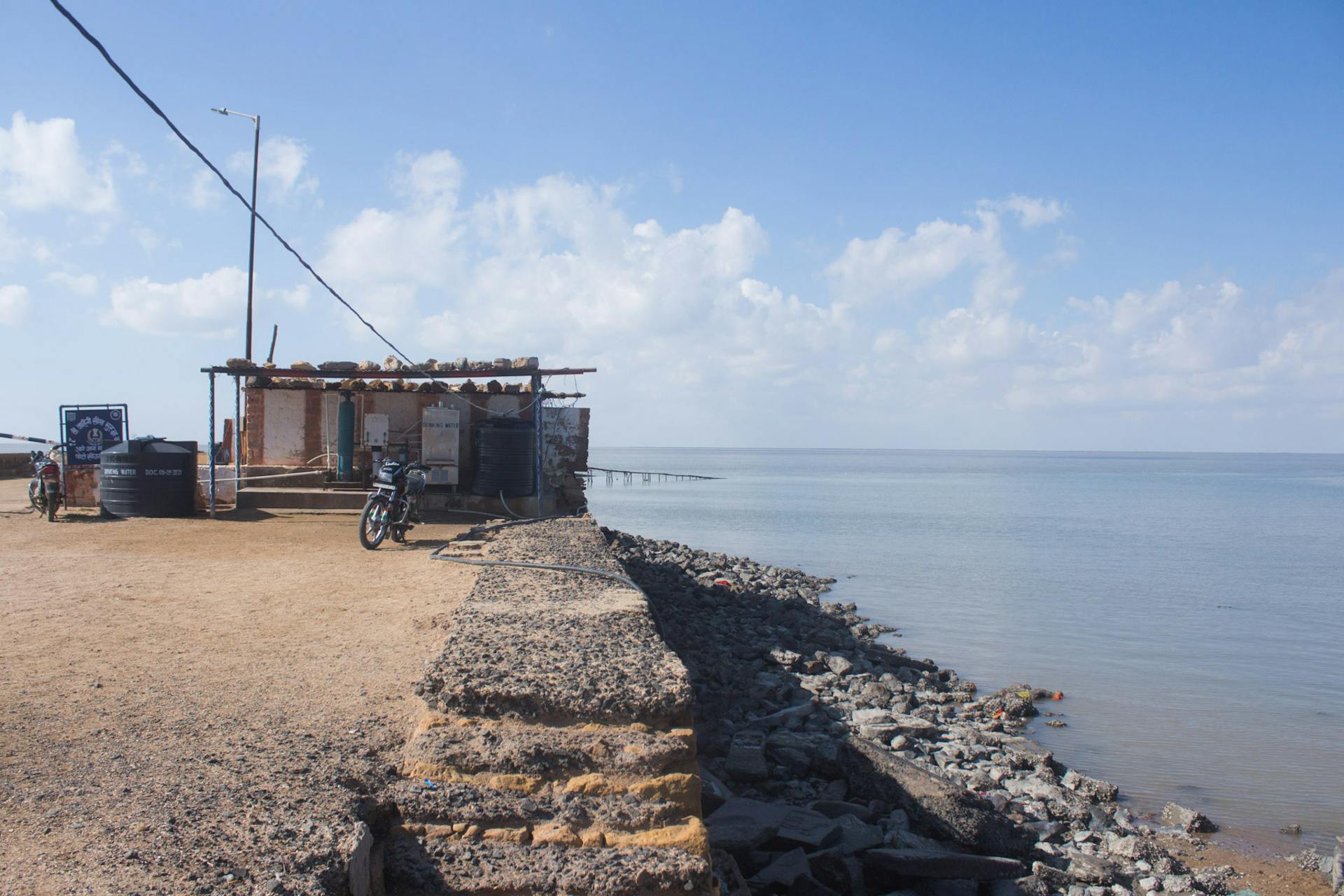 Pakistan claimed that the map from the 1914 agreement held true by international law, which was clear that new states should maintain the borders they had before their independence. India, on the other hand, raised the Thalweg principle, insisting that the border be marked through the centre of the main navigable waterway of Sir Creek.
But rivers are not roads. They don't confine themselves to man-made demarcations. Sir Creek had changed course and nature since the 1914 resolution. Today, it is a 96km-long, slippery amalgamation of mud, water, and clay. The creek's depth changes sharply with practically every curve. How can a marshy wetland like this be navigable? asked Pakistan. It is, India responded: during high tides.
Twelve rounds of peace talks have occurred since, but resulted in no significant headway. As of this writing, there's no consensus on the location of the western border in the Kutch-Sindh region. And so, as bureaucrats and politicians prod over an agreement from the past, the limbo dictates the present of fishworkers and jeopardises the future of their families.
Following Fish
"
The earliest arrest I remember was in 1989," recollected Jivanbhai Jungi, a member of Porbandar Macchimar Boat Association. "It was around the same time that Pakistani fishermen were also being arrested by the Indian Coast Guard."
Most Pakistani fishermen are arrested near the disputed border of Sir Creek. Indian fishermen, on the other hand, are often picked up near the International Maritime Boundary Line (IMBL) that divides the two countries.
The IMBL is 200 nautical miles, or 370km, away from Gujarat's shores. Even the most modern fishing boats take more than 24 hours to cover that distance. The reason Indian fishermen, with more meagre resources, have to go so far out into the sea is because there are no longer enough fish near the shore. "In my father's time, they used to catch two tonnes of fish in a single day," Jungi reminisced.
That was a natural consequence of the rapid spurt of industrialisation on Gujarat's coast, following the Kandla cyclone of 1998 and the Bhuj earthquake of 2001. In a bid to resurrect a sputtering economy, swathes of land along Kutch's 400km coastline were cleared out for the construction of industries and ports.
The disruptions eventually reached various parts of the marine ecosystem, interfering with its natural functions. Creeks form fertile breeding grounds and ensure a sustained, regenerating school of fish in nearby waters. Mangroves form a buffer zone between land and water, protecting habitations from cyclones, floods and harsh waves. But massive metal and concrete structures on the coastline destroyed the mangroves and interfered with the flow of the creeks. This, in turn, drove shoals of fish into deeper waters or towards cleaner shores. Several factories and plants discharged toxic waste into the ocean.
When fishermen found their catch depleting, their only option was to follow the fish. "Fishing is all we know to do," Sailesh Suyani, a fisherman from Veraval, told me. "For generations, this is all that we have been doing."
Trawler Trap
A
 line of boats, each painted a different colour, stood shoulder to shoulder on the road towards Porbandar's port. Every single one was rusting, covered in dense cobwebs. Beyond, the city's shoreline stretched grimy and littered with plastic bags and rotting garbage. Dogs, cows and pigs waded through it. The stench travelled far despite the open sea nearby.
"Seventy-five percent of boats in Gujarat are small boats that can't go deep into the sea," explained Dipak Jungi, president of the Milana Boat Association in Gujarat. Being forced to fish in deep seas has left Porbander's fishers with only two options: take loans at steep interest rates to buy a trawler, or work as a labourer on someone else's. One thing was clear: there was no use for small boats anymore.
It posed a problem for Govind, a fisherman from Porbandar who owned two Outboard Motor boats. An OBM is basically a motorised canoe, holding only enough fuel to travel at 15 kilometres an hour. When the fish went deeper into the sea, Govind took a huge loan from moneylenders to buy a trawler.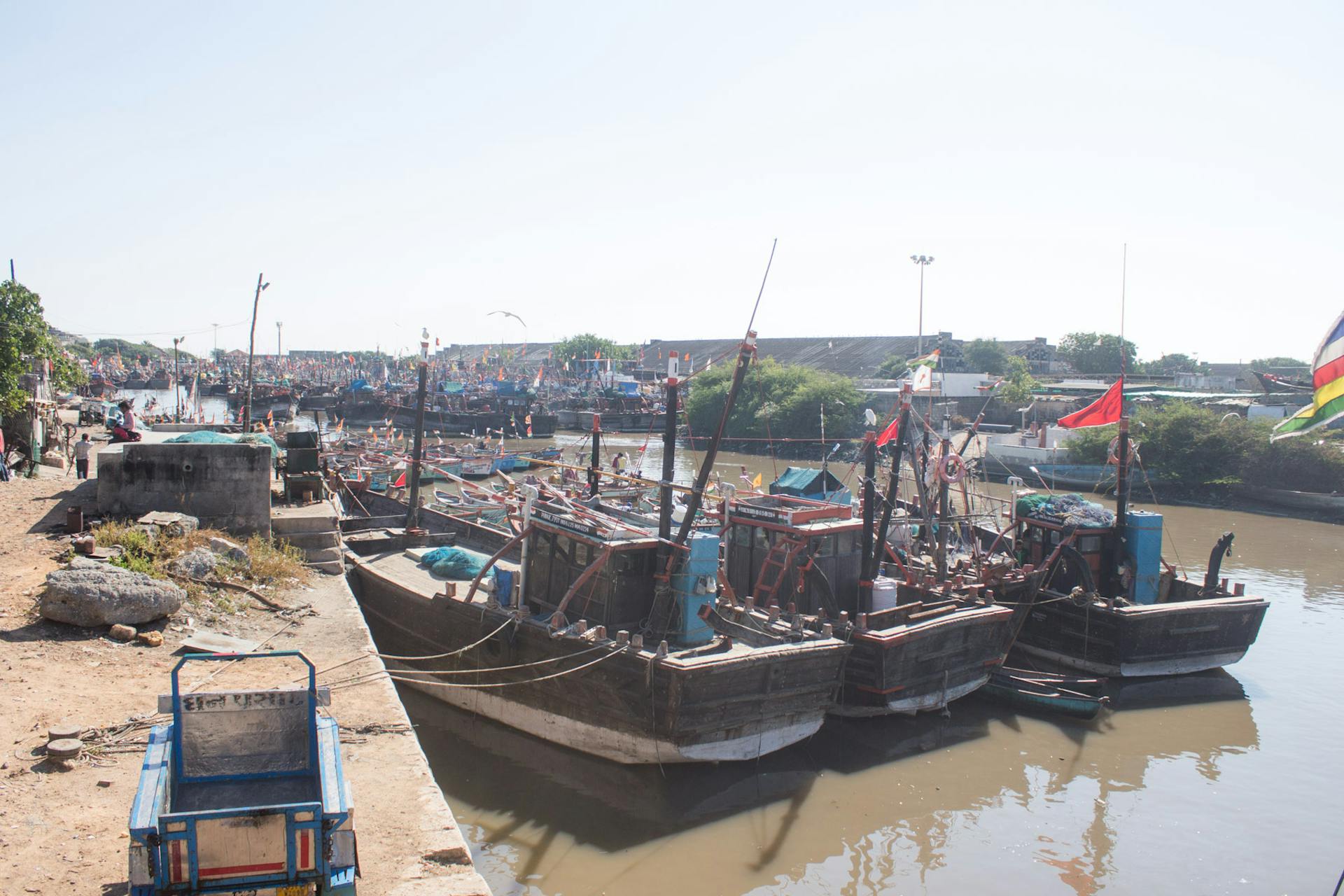 It marked the beginning of his troubles. The expenses simply kept mounting. Ramji Devabha, Govind's uncle, explained the economics to me. To net a catch worth ₹50,000 on the open market, Govind would need to spend a fortnight in the water, using 2,000-3,000 litres of diesel and two weeks' worth of rations. He'd also have to factor in the cost of inevitable repairs to the boat.
If he had anything left over after these costs, he would use it to repay loan installments and fend for his family. When Govind couldn't keep up the monthly payments, he would take his OBM boat to go fishing in the nearby waters. He hoped to catch enough fish to at least repay a small sum.
But his catch was sparse, and he struggled to sell it. "For years now, the toxic waste from Reliance and Essar's oil refineries has been dumped in the sea. On top of that, discharge from Jetpur's dye factories is also thrown here," lamented Dipak Jungi. The Saurashtra Chemicals plant was another polluter in the area. In January this year, when I visited Porbandar, it'd been shut for two months after an accident.
"When the factory is open, the sea is red in colour," Jungi said. The effluents meant that Govind's catch was often inedible.
One day in late 2017, the moneylenders came to take away Govind's trawler. The next day, he killed himself, leaving behind his wife, Sobhana, and three young children. The day after Govind's death by suicide, the moneylenders came back to take away his OBM boat.
Behind Bars
T
he year of Govind's death—2017—was also the year Mavjibhai was arrested by the Pakistan Coast Guards. Mavjibai and his wife Diuben live three lanes away from Govind and Sobhana's house.
At the time of his arrest, Mavjibhai was working as a labourer on a trawler. The boat was in the deep sea on a scorching afternoon in early March. Mavjibhai had spotted a few boats revving towards the trawler. But before he could grasp what was happening, the trawler was surrounded by five Pakistan Coast Guards boats. "They beat us up with wooden sticks," recollected Mavjibhai. "They called us all kinds of names before taking us to court and then to jail."
What happened to Mavjibhai after that was playbook stuff. The process is the beginning of the punishment. The boat number and details of the crew are exchanged with authorities on the other side of the border. This information is then sent to local police stations for cross-checking.
"Each time I would just ask them to plead guilty. This is their best case scenario."
"Often, families find out about their loved ones' arrest only when the local police visit them to verify the information," said Jatin Desai, a journalist and former general secretary of the Pakistan-India Peoples' Forum for Peace and Democracy (PIPFPD). After cross-verification, the information is sent back to higher-ups, following which the dossier is shared with authorities across the border.
"By the time these cases came to me, the fisherman would have already spent over a year or two years in jail," said Justice Nasir A. Zahid over a phone call. He has dealt with several fishermen's arrest cases on the benches of the Sindh High Court and the Pakistan Supreme Court. "Each time I would just ask them to plead guilty," Justice Zahid added. "This is their best case scenario." Since an arrested fisherman typically spent longer than the prescribed sentence of six months in jail, Justice Zahid would be able to release him immediately. But if the fisherman chose to plead not guilty, a lengthy trial would follow.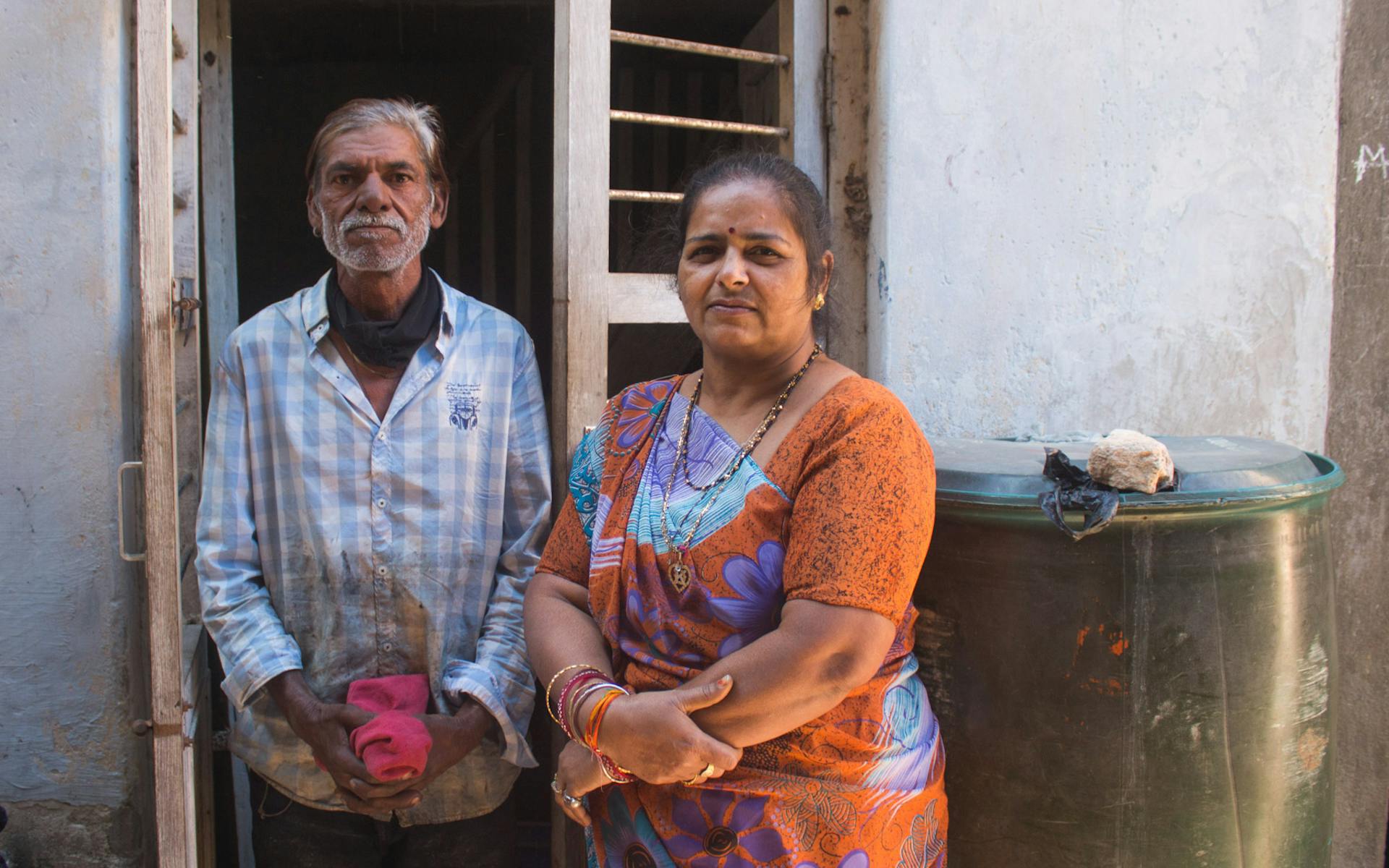 Abuse in jail is common on both sides of the border, according to a 2007 report by the Pakistan Institute of Labour, Education and Research (PILER) and the Pakistan Fisherfolk Forum (PFF). "We were subjected to violence and coerced into confessing that we were spies, possessed weapons, and were asked to snitch on our friends," reads the testimony of Mohd. Jaman, a Pakistani fisherman arrested by the Indian Coast Guard in the 1990s. "The truth was that we are poor fisherfolk, and besides fish, we had nothing on our boats."
"The jail was in a hilly area." This is from the testimony of Anwar Hussain, another fisherman arrested in the late 1990s. "We were taken into an interrogation jail blindfolded. They threatened to bury us alive if we did not confess to crimes we were accused of. The days we spent in Indian jails were the most difficult of our lives."
In March 2019, Noor-ul-Amin, an octogenarian Pakistani fisherman was beaten to death in an Indian jail, where he spent the last two years of his life. Activist groups could not ascertain whether he was beaten by jail authorities or fellow inmates. Between February and April, three other Pakistani fishermen died in Indian custody. "In the aftermath of the Pulwama attack, tensions in both countries were at their peak. The jails were no exception," said M.J. Vijayan, another former general secretary of the PIPFPD.
Mavjibhai's account indicated that things weren't very different within the four walls of Karachi's Malir jail. "We were routinely hit by jail authorities for discipline," he told me. "A lot of times we heard awful abuses about us and our families. Indian prisoners were kept in separate cells from Pakistani prisoners to avoid violence."
"Arrested fishermen would often be slapped with arbitrary charges including terrorism, carrying arms, narcotics et al, even without sufficient evidence," Vijayan said. He also confirmed that neither country has ever convicted a fisherman for a terror-related crime.
Activist groups have toiled for justice since the early 1990s. For years, organisations like PIPFPD, PILER, Human Rights Law Network (HRLN) and several others filed court petitions demanding fishermen only be charged for the offence of trespassing, which carries a maximum sentence of six months. Further, they demanded that fishermen be repatriated within six months of the completion of the sentence. "The Supreme Courts of both countries passed a resolution on this later," Vijayan told me.
But the policy change hasn't started making a difference at the ground level. "The truth is that our government is not interested in speeding up the verification process," said Usmangani Sherasia, secretary of the Gujarat chapter of National Fishworkers Forum.
Vijayan told me that the local verification process often starts after a fisherman has served the sentence of six months. Lawyers and activists have been pushing for the verification process to begin as soon as arrests are made, especially since arrests are notified to three Union ministries—home affairs, external affairs and fisheries—almost immediately.
"But the process which shouldn't take longer than a couple of weeks often drags on for months," said Vijayan. "This is lethargy from the side of one's own government—the same government that should be helping the fishermen."
Letters to Nobody
D
iuben and Mavjibhai's house in Porbandar is decades-old. Moss and black mould had slowly colonised what was left of the crumbling exterior walls. The only source of light in the house's only room was a dim white bulb. A photo of a young Mavijibhai and Diuben was taped to the spotty mirror on the cupboard.
"This is all I had when he was in jail," Diuben told me. 
She'd found out about her husband's arrest when the boat owner came to her house to ask for Mavjibhai's documents. "Because both my children were in their twenties, I didn't have to worry about their education," she told me. But the sole breadwinner of the family was in jail, and Diuben had to take it upon herself to get their daughter married. Her son worked in a town nearby. He earned enough to fend for himself but not nearly enough to consistently send money home.
During her husband's incarceration, Diuben cleaned and sold fish in the narrow streets near her house. She wrote several letters to her husband and diligently called Jivanbhai Jungi, who helped speed up the verification process. For their daughter's wedding, she took out a big loan to ensure no expense was spared. A year later, her daughter gave birth to a son.
Meanwhile, in Malir jail, Mavjibhai spent his days knowing nothing about his daughter's marriage or his new grandson. He received only one of the many letters his wife wrote to him. In jail, he spent his time working in the kitchens, cleaning the premises, or digging soil. For breakfast, he got a single roti and tea. Lunch was two rotis and vegetables. Fish was available on Sundays, but only if the inmates had money to pay for it.
His cell, meant to accommodate 15 people, housed 30. "Every night we slept on our sides to fit 30 people in the cell," said Mavjibhai. "If we went to the toilet at night, there would be no space to sleep when we returned. So we would hold it in, all night long." There was one single type of medication, a tablet, that was dispensed to any inmate needing medication, irrespective of what the ailment was or how severe. The tablet seldom helped, Mavjibhai said.
Committee Adjourned
O
n New Year's Day in 2015, the Indian Coast Guard released a statement about an unidentified boat that had been burnt to a crisp after the four men on board had set fire to it. The Coast Guard claimed that the boat was carrying explosives. It had fired warning shots to ask the men to surrender, but they had chosen to go down with the vessel. Television channels declared that a "26/11 type attack" had been foiled.
But reports in the print media over the next few days, particularly in the Indian Express, suggested that there was more to this incident that met the eye. There was no evidence on record to suggest that the boat posed a militant or terrorist threat. In fact, a high-ranking source told the Indian Express that the National Technical Research Organisation "had intercepted mobile phone traffic involving small-time smugglers operating out of the fishing port of Keti Bandar, near Karachi." (It was common for the Coast Guard to apprehend small-time smugglers selling alcohol and diesel on the high seas.)
Two years before this incident, in October 2013, Pakistan's Maritime Security Agency had opened fire on a fishing boat with five Indians, killing Naranbhai Sosa from Kodinar. Indian news outlets also reported that 30 fishermen aboard five boats near Sosa's were kidnapped by the maritime agency. In the wake of this incident, fishworker forums and organisations like PIPFPD had called on both governments to impose a 'No Arrest' policy. There were also calls to provide monetary help to Naranbhai's family. Both appeals fell on deaf ears.
This was particularly discouraging because a positive step had been taken just a few years earlier. In 2008, the two countries set up a Joint Judicial Committee (JJC), comprising eight retired judges: four Supreme Court judges from Pakistan and four High Court judges from India. The JJC had been tasked with expediting the release of prisoners, particularly fishermen. It had played a role in convincing the Supreme Courts of both nations to direct the repatriation of fishermen within six months of the completion of their sentence.
Judges from Pakistan visited Indian prisoners in Malir and Landhi in Karachi, while Indian judges made frequent trips to jails in Gujarat. "When judges visited the prisoners, they could see first-hand how these arrests impacted the fishermen and how much their health had deteriorated," said Desai. Instances of fishermen being hit with baseless charges also reduced in the years after the JJC had been established.
"This issue of arresting fishworkers is emblematic of the relations between India and Pakistan rather than the relationship between fishworkers of both countries."
Unfortunately, the last time the committee met was in 2013. "The political will to resolve this issue died for both countries," Vijayan told me. In 2018, three years after the conclusion of the initial cohort's term, India nominated four judges for a fresh cohort of the JJC. Pakistan is yet to respond. "As a single person, I don't have the power to revive the committee all by myself," said Justice Zahid, a member of the first JJC. "Both countries need to persistently put pressure on the governments."
Given the deteriorating relations between the nations in recent years, the revival of the JJC has slipped down the pecking order of things that need to be sorted out. This has undone much of the good work for fishworkers' rights. "This issue of arresting fishworkers is essentially emblematic of the relations between India and Pakistan rather than the relationship between fishworkers of both countries," Karamat Ali, PILER's executive director, told me over a phone call.
Once in a while, the states stand at ease and come together for a "gesture of goodwill." Even these have been more weaponised than usual in recent times. Releases are planned in groups, their timing strategised. The events are largely subject to the whims of diplomacy, and are often executed as exchanges between the countries.
When the day finally comes, the fishermen are herded into trains which take them to the Attari-Wagah Border. As soon as the gates open, the Indian fishermen swarm towards the left end of the gate, where an Indian official stands to verify each fisherman by his identity card.
One by one, the fishermen then walk into India, carrying all their belongings in small cloth sacks. (Until recently, they carried bold red bags with 'Edhi Foundation' printed on them, a souvenir from the organisation that housed many of them between release and return.) Fishermen whose arrests and jail sentences were carried out in oblivion then sit through speeches, pose for photographs and praise the governments.
This is how Mavjibhai crossed over to India when he was finally sent home in November 2021, nearly five years after his arrest.
Epilogue
"
I got my Diwali when I saw my wife after almost five years," Mavjibhai, with tears in his eyes, told me in January this year. Since his release, he had spent a lot of time with his grandson. He was happier than he had been in years but memories of jail continue to haunt him. He'd been a teetotaller before his arrest but he couldn't do without his daily dose of desi daaru—local liquor—now.
Of the memories that haunt him, one remains particularly fresh. It was of the day Ramesh Sosa died. "I was in the same cell where it happened," Mavjibhai told me. "Ramesh and I seldom spoke because we were from different villages. And then one day, he just clutched his heart and collapsed. They took him away and later told us that he died."
When I asked about how he kept in touch with his family for all these years, Mavjibhai told me that the jail sometimes received letters. "But once corona started," he said, "we stopped getting letters altogether."
Back in Kodinar, Ranjanben remained unaware that the letters she sent to her husband Ramesh Sosa had stopped reaching him in March 2020. So had his heart medication.
Vaishnavi Suresh is a multimedia journalist and communications executive based out of Bangalore, India. She has been a member of PEP Collective (Photographers for Environment and Peace) since 2018.