Subscribe to our newsletter
Weekly updates with new Fifty Two stories
On a humid May morning in 2021, Dr. Parthajit Majumdar reached Mokalbari tea estate in Chabua town in Assam. He'd arrived from the prestigious Assam Medical College and Hospital at Dibrugarh to conduct the government's Covid-19 vaccination camps. At the estate, he went looking for the Chief Medical Officer and found a petite man with protruding teeth, who pointed at himself when Majumdar asked him where the CMO was. The man's name was Stephen Antony.
Something felt off to Majumdar. Where had this man studied medicine? Antony said he'd gone to St. John's Medical College in Bengaluru, but Majumdar was unconvinced.
"He didn't look like a doctor at all," Majumdar told us.
He voiced his concerns when he met the manager of the tea estate, a man named Anjani Kumar Upadhyay from Uttar Pradesh's Ballia district. "A doubtful character," Upadhyay agreed.
When Majumdar returned to the camp, he asked Antony whether the Adverse Events Following Immunisation kits had reached the estate hospital. "They didn't have those kits, so I asked him to fetch them immediately," Majumdar recalled. "Now, the kit contains three medicines and he couldn't find one of them. He couldn't even recall the name of the medicine."
Back in Dibrugarh town, 30km from the estate, Majumdar contacted Dr. Abhijit Neog, who used to be his senior at AMCH. [1] Neog, the Chief Operating Officer of Guwahati's Arya Hospital, was already a familiar name in the local press. For five years, he'd been on a crusade to expose fake doctors across Assam. Based on Majumdar's tip-off, he took up the case of Stephen Antony. 
I
ndia has a lot of fake doctors. A 2016 World Health Organisation report suggested that more than half of India's doctors practising allopathic medicine did not have a medical qualification. [2] The problem is even more acute in the northeastern states, particularly in Assam; and more so on its tea estates. There's a reason for this: so-called quacks are likely to abound in places where qualified doctors have neither motivation nor incentive to work.
The WHO report shows that six of the 30 districts with the lowest density of secondary school-pass allopathic doctors are in Assam. While trying to estimate the extent of the fake doctor problem in the state, we were unable to find proof of specific numbers. Both the Directorate of Health Services and the Assam Medical Council say that they don't track any data about fake doctors.
Based on media reports, we worked out that at least 23 fake doctors have been identified in Assam in the last five years. Fourteen of these cases were from 2021 alone. Nine of these 14 emerged from tea estates.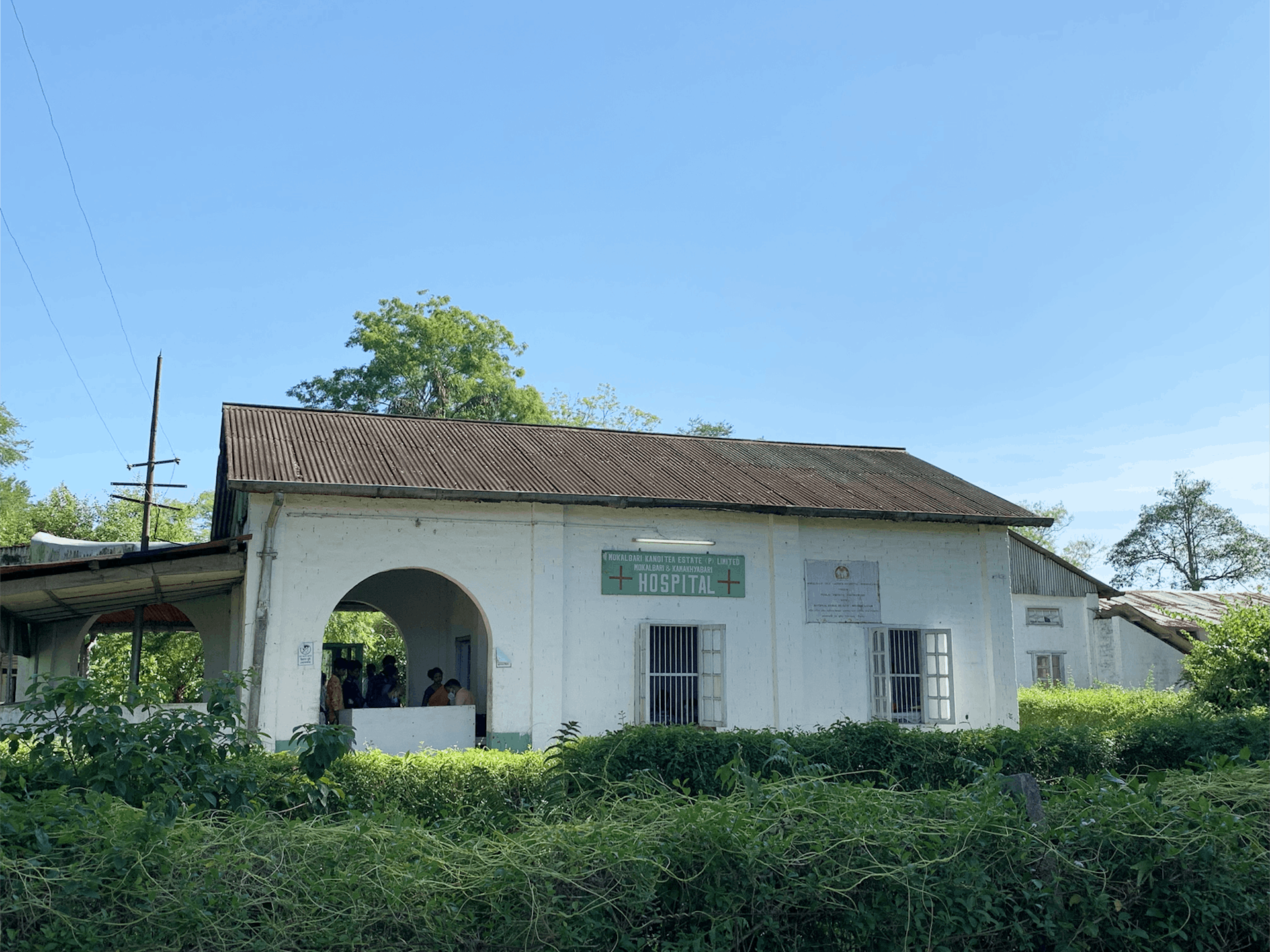 The Assam tea estate is a microcosm of a very widespread Indian problem: our healthcare supply and demand is severely skewed. Policies to cover the deficit exist, but the system for last mile delivery of medical services is often broken. The communities that suffer the most are those that are already doing poorly on socio-economic indicators. In remote and marginalised areas, people may even feel a quack is better than nothing.
But there are perhaps few things more dangerous than untrained and unsupervised medical care. The state's vacuum in this area means that private citizens have taken it upon themselves to weed out fake doctors. This is one such story. It is ostensibly about two doctors, one fake and one qualified, who both attended the same public medical college, from which only one emerged with a degree. But it is also a story of two sets of circumstances: marked by deprivation and desperation on the one hand, and access and accomplishment on the other.
O
ne of the first things Dr. Abhijit Neog asked Majumdar for was Stephen Antony's registration number. When he keyed this into the National Medical Commission database, he discovered the profile of C. Stephen Antony from Malleshwaram, Bengaluru, very much a Batch of 2007 graduate of that city's well-known St. John's Medical College.
Neog matched the information on the website with the estate management's records. No issues there. But one of these details stood out like a sore thumb: the address. Majumdar, who'd met the CMO, was convinced that Antony could not have grown up in Bengaluru. His accent was unmistakably the one of someone from the tea garden community. That brought them to a bald truth: if Stephen Antony had grown up in the local tea garden community, he was simply unlikely to have been able to go to an expensive college like St. John's.
Neog tracked down an email address for Dr. C. Stephen Antony through contacts in Bengaluru and sent in an inquiry. The response came in a few days. Yes, Dr. Antony wrote, that was his father's name. Yes, he studied in Bengaluru. Yes, that registration number was his. But Dr. C. Stephen Antony was not, and had never been in Assam. He had been practising medicine in Singapore since 2009. He had not visited India in years.
Neog wasted no time in notifying Dibrugarh's Superintendent about the imposter serving as a doctor in Mokalbari tea estate. Within days, the CMO was placed under arrest and a suo moto case of cheating and forgery filed against him at the Chabua police station.
Yes, that registration number was his. But Dr. C. Stephen Antony was not, and had never been in Assam.
The investigation revealed the imposter to be 39-year-old Simon Nag, a resident of the nearby tea estate of Balijan. The police claimed that Nag confessed during interrogation. They also said that Simon had failed his matriculation exam. Local TV channels rushed to cover the scandal. "But I treated my patients like any other doctor would," Nag said on camera. [3] "Also, I didn't fail my Class X exams."
In the course of the interrogation, Simon Nag gave the police leads about one Ahmed Ali, who was practising as the CMO in the neighbouring Hatiali tea estate. Ali was impersonating Dr. Ahmed Eyakub Ali, an obstetrics and gynaecology specialist working in a civil hospital in Chirang district. When Majumdar told the real Ahmed Ali about his imposter, he filed an FIR at the Chabua police station. The imposter Ali was arrested in June 2021. That same month, another man practising at Mancotta Tea Estate, around 30km from Chabua, as a 'Dr. Hirak Das,' professor of Anatomy at Gauhati Medical College and Hospital, escaped before he could be confronted.
This case reminded Dr. Abhijit Neog of his first catch.
N
eog first encountered a fake doctor five years ago. His name was Ghulam Mostafa, and he was Neog's colleague at Wintrobe, a private hospital in Guwahati. At the time, Mostafa was also a consultant gastroenterologist at another private hospital in Guwahati and had his own clinic as well.
Neog's suspicions were aroused when he saw a prescription written by Mostafa. "Writing a prescription is unique to every doctor," he explained. "But there is still a style. Mostafa's prescription didn't look like it was written by a professional." By the time he decided to confront Mostafa, the fake doctor got wind that Neog was on his tail. He ran away before a showdown could take place. "I am now more careful in dealing with such people and try to avoid direct confrontations," he said.
One September evening last year, we met Dr. Neog at Arya Hospital in Guwahati. He is a tall and sturdy man in his mid-fifties. His chamber was spacious: examination bed, wash basin, two cabinets filled with files and medical books. A black landline and laptop shared space on his desk. The room had two plush chairs for his patients and visitors.
His other great interest—apart from medicine—is wildlife. He probably gets this from spending a lot of time outdoors while growing up, given that his father was an Indian Forest Service officer. (On one of his expeditions in 2014, Neog recovered a jet boat in Manas National Park; The boat had been used in Edmund Hillary's famous Ocean to Sky expedition in 1977.)
We asked Neog about the methods by which he identified fake doctors. There are often clues, he said: shoddy prescription notes, demeanour unbecoming of a doctor, mismatches in registration numbers. 
Last year, Neog uncovered the fraud of Amit Kumar, who was running a full-fledged clinic in the busy Maligaon area of Guwahati. Kumar had stolen the identity of a dermatologist with the same name who practised in Patna, Bihar. It didn't take long for Neog to identify the smoking gun, botched-up paperwork. "Registration numbers generally come in five digits. This fellow gave a number which ran in lakhs," Neog said. "If a state had seven lakh doctors, it would have been at the top of the health parameters of the country."
In 2018, he'd come across Mithun Choudhury, a rheumatologist who claimed to have completed a fellowship from Johns Hopkins University, US. "When I checked with the university, I was told that Choudhury had attended a one-day online workshop and had received a certificate for it," Neog said. "That's what he showed around as proof."
When he started out, Dr. Neog would be tipped off by people from the Assam Medical College and Hospital network.
Neog said much of his success in tracking quacks was due to his wide network of fellow AMCH graduates. "The sense of fraternity is strong among AMCH students," Neog told us. "Apart from our own classmates, we are also well acquainted with our senior and junior batches. They let me know when they have suspicions about any doctor in their area." On social media, Neog has something of a reputation as a 'buster' of fake doctors. When he started out, he'd be tipped off by people from the AMCH network. But now he gets calls from all across the state, from both doctors and non-doctors.
He told us that he had been offered bribes to step away from pursuing a matter. After he exposed the fake rheumatologist Choudhury, for instance, a group of strangers landed up at Neog's hospital to offer him a bribe of ₹5 lakh. There were dangers to what he did, he said.
I
n September last year, we went to Chabua, where the British founded the first commercial tea plantation in India in 1837.  Mokalbari is one of the bigger tea estates among the 14 in the area. Spread over an area of approximately 286 hectares, it is owned by the Jalan family, and is famous for producing golden tip tea, a fine variety of black tea which is a popular export to the West. The estate currently has 500 permanent workers and 300 casual workers. We were standing in the middle of a rocky, dusty road that cut through the sprawling tea garden, when we were offered a lift in a Bolero by the estate manager, Anjani Upadhyay.
The management had sacked Simon Nag and asked him to vacate his quarters after his arrest, Upadhyay confirmed. But he refused to be drawn into more details. "I don't want to talk about him," he said firmly. "Let's discuss another topic."
After Nag's arrest, Upadhyay told us, the estate had appointed a AMCH graduate called Santosh Kumar. When we visited, the doctor had gone home to Ranchi, Jharkhand. The estate had no replacements. "We have one nurse, one pharmacist, a health assistant and one midwife in the hospital," Upadhyay said. "Serious cases are taken to AMCH in our ambulance." They had advertised the vacancy in newspapers, but were yet to receive a response.
Three local residents we spoke to separately in the vicinity of the Mokalbari hospital told us that Santosh Kumar might have been the first genuine doctor in Mokalbari in a decade. Before Nag, a person who gave his last name as 'Saikia' had worked there for three years. He'd run away from the estate when rumours about him being a quack had started to surface. Saikia was preceded by Ahmed Ali, the fake doctor arrested in June 2021 from the Hatiali tea estate. Lately, a doctor named Chandan Mishra visited the estate thrice a week.
The estate hospital building, dating from colonial times, was in surprisingly good shape. It was whitewashed and had tall ceilings, a winding corridor and six spacious rooms. Here, a Covid-19 vaccination camp was in full swing. More than 500 people were vaccinated here in the last two days, a health worker told us. The nurse who worked with Nag—"Antony sir," as they knew him—refused to go on record about the matter.
Some estate workers opened up to us on condition of anonymity. One person told us that the locals were happy with the treatment prescribed by 'Antony daktor.' "He treated everything: from fever, stomach ache, ulcers to stitching up wounds," the worker said. "He would also deliver babies with the help of midwives. He helped us set up quarantine centres in Mokalbari during the pandemic. He would also see patients from nearby areas at his residence, for a nominal fee."
The locals off the estate told us one thing about Antony we hadn't heard before: that he was a drug user. "Without his injections, he would be quite cranky," one worker said, "Once he got his dose, he was the most amicable person." These allegations are unconfirmed, and Nag was never charged with a drug-related offence. We speculated that the locals who believed that Simon used drugs were willing to overlook it, because there was a consensus that Simon understood the problems of the community better than doctors who came from outside. The locals had chosen not to doubt his credentials until he was arrested.
S
imon Nag grew up on Balijan tea estate, a 20-minute drive from Mokalbari. He comes from a community of plantation labourers [4] brought by the British to work in northeast India's tea estates in the nineteenth century. The tea tribe community comprises close to 17 percent of the population of Assam, but is, historically, one of the most exploited groups in the state. Nearly two centuries after the first tea estate was founded here, the community languishes at the bottom of most social and economic indicators, disadvantaged by social discrimination.
On Balijan Tea Estate, we went to the No.1 labour line, [5] a narrow lane with a cluster of Assam-type houses. [6] Nag's house was one of many identical ones in the lane: blue walls, tin roof and a front porch. It wore a deserted look. A few neighbours we encountered were curious about our work but reluctant to speak about Nag on record because they knew him and his family well. On condition of anonymity, they were eager to speak about the Simon they knew.
The picture that emerged was of a bright young man gone astray, someone who was held up as a model in the community until not very long ago. "There were few people from our locality as meritorious as Simon," said one of his neighbours.
The neighbours were convinced that he had been incorrectly branded as a "matric fail" by the local media and the police. "He scored more than 75 percent marks in his high school leaving exams," a neighbour, a middle-aged ASHA worker, told us. "His Higher Secondary results were good too. When he got admitted to AMCH to study medicine, his family threw a kukura-party"—a chicken dinner—"for everyone in the neighbourhood."
"We heard he got rusticated from medical college after getting involved in a nasty brawl," another man who lives in the same lane alleged. Simon had anger issues that kept landing him in trouble, people in Balijan suggested.
Simon's neighbours and a colleague on the Mokalbari estate, as well as a local journalist, gave us similar accounts of his life before medicine. In the early 1990s, according to these people, Simon's parents were daily wagers working in the tea estates, bringing up three children. Simon was the youngest. His elder sister is now a health assistant in the Balijan tea estate hospital, and his elder brother works as an agent who helps locals make their Aadhaar and PAN cards.
Simon's family are practising Protestants. During his college days, a local church in Dibrugarh had arranged for hostel accommodation at a nominal fee. When Simon was studying at the Aniruddhadeva Junior College in Dibrugarh, he had to mortgage his cycle to buy books.
"When he got admitted to AMCH, his family threw a kukura-party for everyone in the neighbourhood."
"Simon was hailed as an example by our parents as someone who has excelled in studies despite coming from such hardships," one of his juniors from school recalled. This junior's father was associated with the church. Impressed by Simon's academic record, he was the one who visited the then principal of AMCH to recommend Simon for enrolment. Simon was admitted to the MBBS course in AMCH free of cost.
We were unable to establish the facts of the alleged brawl that got Simon expelled from AMCH, but it was clear that the expulsion from college changed the trajectory of his life. He went underground for many years, only to emerge as a doctor practising at St. Luke's Hospital, in the neighbouring Tinsukia district.
A recent affidavit signed by Simon suggests that he worked at St. Luke's for five years, from 2008 to 2013. A neighbour alleged that he was expelled from there within six months of joining after his qualifications were discovered to be fake. He then worked in Shanti Tea Estate Hospital in Duliajan. (We were unable to confirm this with hospital records in either case.) A neighbour from Balijan, as well as Simon's colleague from Mokalbari and a local journalist, all told us that Simon had also worked on a tea estate in Arunachal Pradesh, where he'd met and married a local woman.
T
he tea gardens of Assam are known for their deplorable healthcare standards. [7] Low levels of sanitation and hygiene mean diseases and infections are rampant. Dysentery, diarrhoea and malaria are common: so are domestic violence, child neglect and alcohol abuse.
Unsurprisingly, women are disproportionately affected. "Tea gardens are a difficult place for women, who have to wake up early, finish household chores, work eight hours in the garden and then work at home. On top of that, they do not get the required nutrition," said Nabin Keot, vice president of the Assam Chah Mazdoor Sangha, [8] the largest union of tea garden workers in Assam.
"Most of the time, diseases don't get diagnosed accurately because most garden hospitals don't have x-ray machines and other testing facilities," he said. The management of the tea estate doesn't provide costly—but necessary—medicines and people are forced to manage with the free but often inadequate medicines provided by the National Health Mission.
All of this is compounded by the absence of genuine doctors in many tea estates. We haven't come across any official numbers but Major (Dr.) Jiten Borgohain, a retired military doctor, took a guess. "I will say 40 percent of tea estates in Assam have genuine doctors," he said. "The rest have quacks or no doctors at all. Even among those estates having genuine doctors, a large section comprises retired doctors." Borgohain currently serves at the Daimukhiya tea estate in Tinsukia district. He is also the chairman of Assam Plantation Doctors Committee, a body affiliated with the Indian Medical Association (IMA).
The Plantation Labour Act requires every estate to have a qualified medical practitioner. [9] "The gardens receive a yearly sum of ₹3-4 lakh from the NHM along with free medicines and ambulances," Dr. Borgohain said. "But to avail these facilities, they need a doctor. So when doctors with prior experience of serving in estates land on their doorstep, they hire them without much thought."
One qualified doctor who served at an estate hospital is Dr. Abhijit Neog.
Neog worked for a decade at the Tata-run Hattigor tea estate in Udalguri district. "In corporate estates, take-home for doctors might not be very high but there are lucrative perks," he said. [10] "In smaller estates, doctors get a paltry salary of ₹30,000-40,000 and perks are limited. So, most young doctors don't apply for jobs in tea estates."
There is no standard recruitment process for doctors in gardens, Dr. Borgohain said. Doctors apply for posts via newspaper advertisements or are approached by the management. Some are hired through references. But it is very rare for an actual interview to take place.
More than a small part of the blame for this lies with the government. The Medical Inspector of Plantations, under the ambit of the Department of Labour, is required to monitor the healthcare situation in the estates. There are eight posts for MIPs in all of Assam. Until September 2021, only two of these posts were occupied. (Data collected from the Deputy Labour Commissioner's office indicates that four of the vacant posts were filled up in October.) 
Figures from the Directorate of Welfare suggest that the state has 803 tea estates. Almost 60 percent of these are in the four districts in Upper Assam: Sivasagar, Jorhat, Dibrugarh and Tinsukia. Dibrugarh itself has 177 estates. Until recently, Dr. Apurba Sarma, MIP for Upper Assam, was in charge of supervising the medical facilities of all the 472 tea estates in these four districts.
"Initially, I was in charge of only Jorhat and Sivasagar districts," Sarma told us. "Just before the pandemic, I was handed over the charge of Dibrugarh and Tinsukia, which have not had any MIPs since 2015." Dr. Satyajit Borah, president of the Assam chapter of the IMA, said that the organisation has written to the Department of Labour about the dire state of affairs. "It is absolutely necessary to include medical inspectors in the process of recruiting doctors to tea estates," Borah said. Sifting for qualified doctors among the applicants is just one part of the problem.
There is, we learned, a more fundamental challenge: ensuring safety.
L
ast May, a worker named Bhim Bhuyan was admitted to the hospital at the Romai tea estate, 24km from Dibrugarh. Dr. Borgohain was the CMO there. After Bhuyan was diagnosed with Covid-19, he referred him to the Don Bosco Covid Centre in Dibrugarh. (Government protocol mandated that Covid patients above the age of 50 couldn't be treated at the estate hospital.)
But Bhim Bhuyan reportedly fled from the hospital, and his lifeless body was later found lying on a pavement. The workers of Romai were outraged. Next morning, a mob of around 150 people gathered around Dr. Borgohain's residence. "Some of them were armed with axes and machetes," he said. "We locked ourselves in the house. Luckily, the police arrived soon. Had they reached 15-20 minutes later, anything could have happened."
Other estate doctors have been less fortunate. In 2019, 73-year-old Deben Dutta was lynched by a mob at Teok tea estate in Jorhat district. This followed the death of a worker named Sukra Majhi at the garden hospital, who had been brought in with a head injury after a fall. In the wake of this incident, more than 10 doctors resigned from estate jobs around Assam. The same year, Dr. Pankaj Chandra Thakur survived with broken ribs and fractured bones after he was attacked following the death of a woman worker in a Dibrugarh estate.
The work pressure is also immense. "We start early, at around 7am, and continue seeing patients till 4 in the evening," Dr. Borgohain said. "But we have to be vigilant all the time. In fact, from 8-11 in the evening, there are a lot of cases because many people get ill after consuming local liquor and cases of street brawls also increase."
"Tea gardens are sensitive places and we can't just conduct a blanket search for fake doctors."
The police, on its part, suggested that it has to tread somewhat cautiously on the estates. "Tea gardens are sensitive places and we can't just conduct a blanket search for fake doctors," said Shwetank Mishra, Dibrugarh's Superintendent of Police. "If workers get an idea that a quack had been treating them all this while, we might have a serious law and order problem."
This is the vacuum that someone like Dr. Abhijit Neog hoped to fill up. "You can't get scared of these criminals," Neog told us. "Someone needs to bell the cat. If people lose trust in doctors, that will be dangerous for society."
In the larger scheme of things, Neog's efforts do not address the lack substantially. Under the Indian Medical Council Act, punishment for quackery is a year's imprisonment or a fine that may extend to ₹1000 or both: hardly a deterrent for a determined quack. This legal lacuna allows many fake doctors to get bail easily from court. It is not uncommon for them to resume practice immediately after getting bail.
A case in point is Amit Sengupta, a fake cardiologist arrested from Sivasagar in 2020. He got bail in September 2020. A few months later, he was found practising at a Guwahati hospital run by a religious organisation called Bharat Sevashram Sangha. In June 2021, Sengupta was arrested again.
S
imon Nag, too, got bail within a month of being arrested in June last year. He went back to treating patients on the Mokalbari tea estate, while also staying in the accommodation provided to him by the owners. Not everything was the same, however. On condition of anonymity, a local journalist told us that Nag had to sell his car to secure funds for bail. After that, he had to settle for riding around on a white scooter.
After Nag was fired by the Mokalbari management, we heard, he rented a place in an area a few kilometres from Mokalbari and started work once more.
"Though people from our estate don't go to him anymore, residents of nearby villages like Sangdhora, Khokoraghat, Kosugaon, Kasoni, Agorpara go to him," a garden worker told us. "There is no other doctor for the 10,000 odd people in the area and in Simon's absence, they will have to go to AMCH."
In mid-September, we accessed a copy of a change-of-name affidavit thanks to the local journalist. It had been filed with the Dibrugarh notary and was signed by Simon Nag. He had declared himself as having an "excellent reputation" and practising for the last 11 years.
Other details, including the MCI registration number and the name of the alma mater, had been borrowed from the particulars of C. Stephen Antony, the doctor who now lives and practises in Singapore. The one particular that wasn't taken from the real Antony, to avoid repeating a past mistake, was the address. This time, Nag listed "Pukhurijan gaon, Chabua" instead of "Malleshwaram, Bengaluru".
On the last leg of our reporting trip in September, we stood in front of a ramshackle house in a small village. We were in search of Nag, and a local shopkeeper had led us to this structure which had no signage. The house was in a dilapidated condition, with no plastering on the walls and a precarious wooden door. A white scooter was parked outside the house.
There was nobody inside the first room, which was dingy and covered with tarpaulin. We saw signs of life in the next room. There was a stethoscope on the table, along with a BP machine, a syringe, a prescription pad sans letterhead, vehicle keys, a few pills, and a Red Bull can.
Behind, we could make out two more rooms, one of which had a bed. It looked like the doctor spent his nights here. The back door of the house opened to a lush green paddy field.
When we came back out on the street, a short man with protruding teeth emerged from the shadows. "The doctor has gone out. He will be late," he said. We asked him who he was. He said he worked with the doctor.
A freak finger injury during the bus journey the night before was bothering one of us. We asked the man if he'd be able to help. After a brief pause, he invited us inside. "Let me see what I can do."
He ripped open a fresh syringe, pricked the finger, dressed the wound and handed out two painkillers. He refused to write a prescription. By this time, three more patients had suddenly materialised in the next room.
His fees were ₹300 but he didn't have change for a ₹500 note. We noticed he was losing patience. "Anything will do," he said. "Just pay ₹50." 
Before leaving, we asked one more question: "What is your name?" 
"Antony," he said. "Stephen Antony."
Kasturi Das is a Guwahati-based independent journalist. She writes about wildlife and conservation, environment, travel and mental health. She tweets @Kasturi_Das1.
Nabarun Guha is an independent journalist from Guwahati, Assam. He writes mainly on environment and human rights related topics. His work has appeared in publications like The Indian Express, Mongabay India, Mint, Dainik Bhaskar etc. He tweets @nabarun_guha45