Subscribe to our newsletter
Weekly updates with new Fifty Two stories
Khwaja Moinuddin from Hyderabad uploads videos of his mass cooking efforts on Nawab's Kitchen, his YouTube channel. There are massive, Domino's-inspired cheese burst pizzas on a large iron plate over an open fire and four-layer pineapple cakes topped with cream and cherries. These giant culinary feasts are meant to feed orphans. In one of his most-watched videos, Moinuddin emerges from behind a cart laden with mountains of fruits. In Dakhni, he announces that he's making a "very special dish": fruit custard.
He takes heaps of custard powder from a box, mixes it with water and adds it to heated milk. The thick mixture must be stirred continuously, Moinuddin explains to the audience. Its smoothness must remain intact. One must guard against lumping. Fifteen minutes later, he takes it off the flame and sets it to cool on a slab of sweating ice. He begins to chop up the fruit: grapes, pineapples, and pomegranate seeds that emerge from their pods like small red pearls.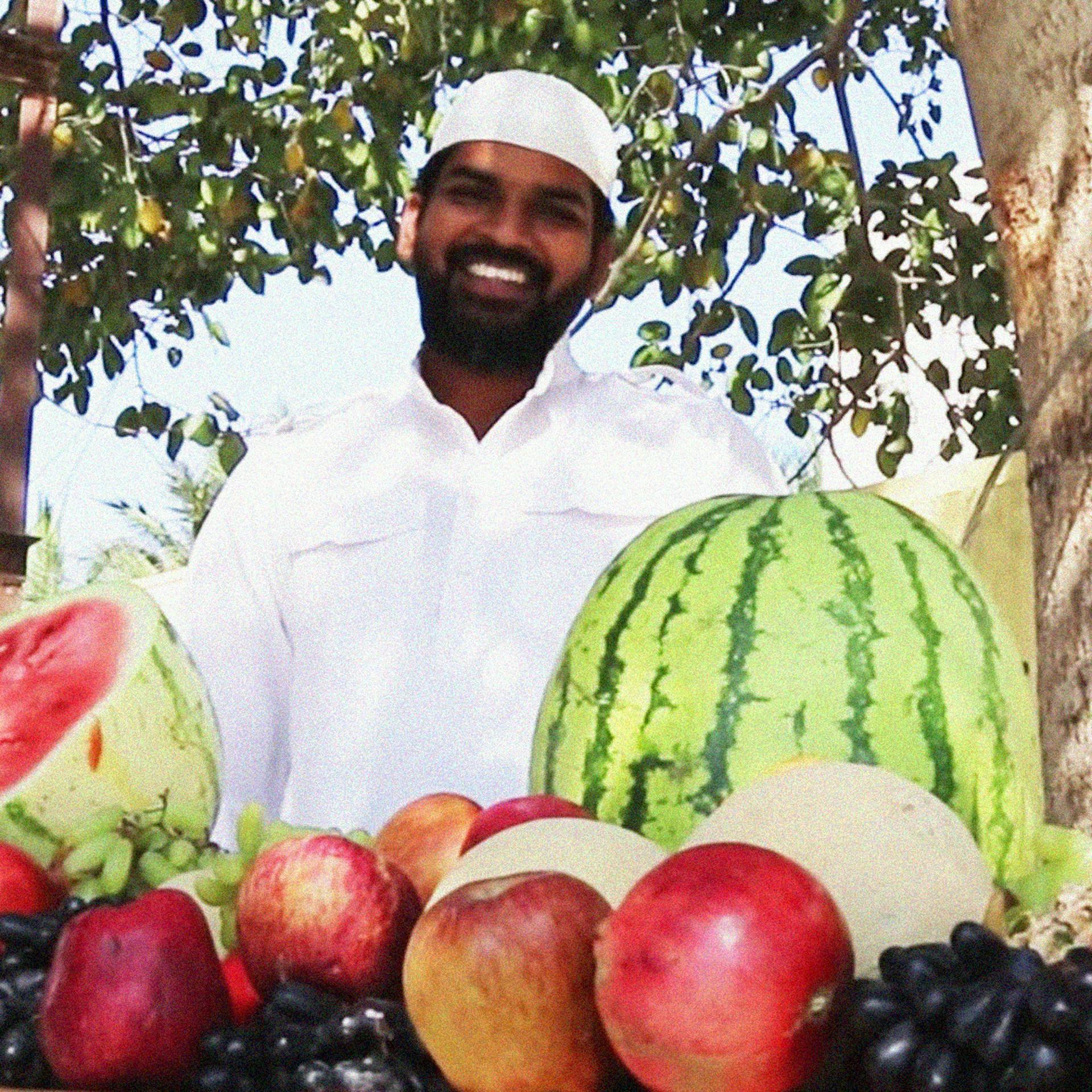 "Mashallah, dekhtay hi pet bhar jaata hai," says Moinuddin, as he assembles the dish by dropping the fruits in the cooled custard: just the sight of it fills the stomach. A garnish of almonds and cashews later, he pours out a helping for himself in a cup and savours the mix with a drizzle of honey.
Fruit custard is one of India's most popular desserts. There is a textured, gloopy version that is eaten with sliced bananas as a post-dinner pudding. Moinuddin's variety, the runnier type, is held together by a medley of fruits.
All kinds of custard draw their appeal from its prized place in India's kitchens from the early 1960s through to the 1990s. It goes together with many childhood memories.
"I grew up on Brown and Polson custard," Saee Koranne-Khandekar, a chef and cookbook author based in Mumbai, confirmed. "My mum would make a thin, pale yellow custard when my brother and I were ill. It was her way of getting some milk and calories in us. Now, as a mother, I do it too."
"Autocratic high-handedness is the only weapon of any avail."
At birthday parties, the dish was served up in a theatrical trifle. At home, mothers poured it on top of store-bought sponge cakes or mixed it into a glass of milk. At wedding "reception buffets" it was laid out in large quantities, the star attraction for guests who wanted to skip the heavier Indian desserts after a large meal.
Urban India's supermarkets now spill over with packaged foods. Staples like idlis, rotis and even typically elaborate preparations like chicken korma can be packed into a box. Over the Covid-19 pandemic, the demand and purchase of ready-to-eat meals and mixes has surged drastically. By April 2020, sales of ready-to-eat foods in India had already gone up by 26%. [1] Online grocery retailer Grofers reported that it saw sales for ready-to-eat foods surge by 170%. [2] Demand for Bengaluru-based MTR's breakfast mixes was up by more than 20%.
But there was a time, long before idli mixes and even instant noodles, when custard powder in tins and boxes was one of the only packaged foods to be sold widely across India and South Asia. It offered speedy, no-frills novelty in a world of textured, painstaking preparations. All a cook had to do was mix it in water, add it to heated milk with sugar, cool, and serve. Some foods are inextricable from tradition. Others catalyse gradual changes in the kitchen and in the lives of those who prepare them. Custard became one of modern India's first foods in the second category.
I
n the early 1800s, a new kind of kitchen came into being on the Indian subcontinent. It was headed by British memsahibs, the wives of colonial administrators whose primary concern was the upkeep of the household. In the tropics, they relied on instructional manuals and cookbooks to recreate the bourgeois British table.
They used them to educate Indian cooks in the proper techniques to roast chickens and prepare finger sandwiches.
Flora Annie Steel's popular The Complete Indian Housekeeper & Cook provided precise instructions for the preparation of several kinds of pudding or dessert custard. One recipe suggested that custard be firmed by heating milk and eggs, garnished with an orange, and set in delicate china to make a "rather fine dish for guests."
The book also contained Steel's varied laments about colonial kitchens. "There is nothing so hard as to manage custard without the proper appliances," she wrote, warning women against the ignorance of Indian cooks, advising that "autocratic high-handedness is the only weapon of any avail." It was important for memsahibs to stay engaged through the process. Otherwise, "attention may be distracted for half a second, and lo the custard has curdled! The caramel burns!"
In all its variations, the custard was a sponge-like mound made by mixing whisked eggs and milk on slow heat. The egg proteins emulsified in the milk: the gelatinous form that characterizes custard emerged. The challenge was to avoid lumping while curdling the eggs on heat. Smooth consistency in the cooking pan helped achieve the agreeably wobbly texture after cooling.
The memsahib custard is not the same as Moinuddin's runny version or even the pale yellow staple that Khandekar remembers from her childhood. It is closer to lagan-nu-custard, a Parsi wedding dish that the community adapted from the crème caramel or caramel custard, whose disputed origins lie between Britain, France and Spain. The story of custard, as we in India came to know it, begins with the production of corn flour and an Englishman named Alfred Bird.
C
orn flour (or cornstarch, as it is known in the US) is a carbohydrate obtained from the endosperm or inner tissue of the corn kernel. Before it began to be manufactured as an edible in the middle of the nineteenth century, it was being used in laundries to make clothes crisper.
Corn flour comes from pounding the kernel into a white powder that forms a non-Newtonian fluid––a liquid that doesn't change viscosity under stress––when mixed with water. Its greatest virtue is that it contributes to thickness and volume without tasting like anything.
Its use as a food product was patented in Britain in 1854 by a man named John Polson Jr., who began manufacturing it in a factory in Paisley, Scotland owned by his father, John Polson, and his partners William Polson and John Brown. Some of their first advertisements declared that the product "was preferred on account of its plainness."
It is now one of the world's most widely used food products. In China, soups containing corn flour are elevated to whole meals. In South-East Asian cuisine, it is used as a thickener for sauces. Indians know it from Indian-Chinese cuisine: corn flour is added to hot 'n' sour soups, the gloopy batter for gobi manchurian pops, and to the sweet tomato gravy for American chopsuey. [3] Today, the Indian corn flour market is one of the largest in the world—it was valued at $1.37 billion in 2018 and is estimated to grow at a rate of 3.9% in the five-year period of 2019-2024. [4]
Even before Brown & Polson began manufacturing corn flour, a chemist named Alfred Bird discovered that it could be used to thicken custard pudding. Bird had first pursued the experiment in 1837, when his custard-loving wife suddenly turned allergic to eggs. He was able to replace eggs entirely by adding to sweetened milk a powder that contained corn flour and salt.
Bird used the powder at home for years. Then one day, he accidentally served the dish to a group of friends. They encouraged him to share the secret with the world. In 1844, he began packaging and selling the product at a small scale from Digbeth, an industrial town outside Birmingham.
By the second half of the nineteenth century, Bird's custard powder and Brown & Polson's corn flour were being sold throughout Britain and its colonies. Powdered custard and its popular accompaniment, jelly, became popular in British school canteens, thanks to the cheap ingredients and cheerful colours.
Bird's custard, in its distinct red and yellow packaging, came to be seen as a staple of British food culture. Eggs, though they made a beautiful pudding [5] , were expensive and prone to contamination. For the working classes, custard powder was more affordable.
By 1935, when Brown & Polson was acquired by an American company, its presence in India was firmly established, as was that of Bird's. But it was only in the first decade after independence that custard powder came into its own.
I
n the upheaval of the transfer of power in 1947, markets collapsed and imports deteriorated. The subcontinent was caught in ruptures of seismic violence and displacement. Marketplaces were burnt down in riots and food production was severely disrupted. Partition had forced lakhs to abandon their homes in Punjab and Bengal.
Among them was a young man named Satpal Malhotra, who left behind his home and job in Rawalpindi and landed up in Pune via Delhi and Mumbai. "Mahabaleshwar near Poona reminded me of my beloved Murree (in Pakistan)," he wrote in his autobiography, Doing It My Way. In 1948, Malhotra opened the Pindi General Store in Pune, where he sold groceries to newly-arrived refugees like himself.
Around 1950, auctioneers began to sell stocks from the surpluses that belonged to the British government. Some of it was a relic of the Second World War, such as the army surplus from places like Jamnagar port, where American soldiers had been stationed.
In 1952, Malhotra, then 24, began to attend these auctions with his younger brother Raj, buying up canned food, oats, and cheese. "Many times, we would buy large quantities of something that was cheap—not knowing what it was," he writes. Raj was dispatched to sell these items to "elite Indians that had the habits of the foreigners."
"They wanted it to sound British, but they misspelled it so it was still Indian."
In 1953, Raj arrived home with a large stock of custard powder, curious about this product that the English were besotted with. Satpal's wife Rajinder followed the instructions on the can to cook the dish. "It was probably Savoy custard, a British brand," Malhotra recounts in his book. "It looked like a lumpy paste, but it tasted good."
The brothers had a feeling they were on to something. In 1956, armed with permissions and a large order from a supplier to the Indian Army, Malhotra opened a small factory that would produce Weikfield, India's first homegrown custard powder brand. "They wanted it to sound British, but they misspelled it so it was still Indian," says Mukesh, Malhotra's son and a company director. It was Baisakhi on the day they opened.
Before Weikfield started manufacturing custard powder, Corn Products Company, which had acquired Brown & Polson in 1935, controlled the market. Like other Western brands, Brown & Polson was expensive and only sold in one-pound (450g) cans. By introducing quarter-pound packets (113g), Weikfield was able to get the attention of housewives who had never tried the dish before.
K
rish Ashok, a food science writer based in Chennai, [6] explained to me that emulsions and emulsifiers [7] exist in many forms around the world: egg yolks, butter, and vinaigrette are all common kitchen ingredients. Indian cuisine traditionally uses starch from rice or tapioca as a melding agent. "In South India, sometimes when dishes like vendhaya kozhambu [8] , or sambar would turn out too thin, rice starch could be added. But for baking and 'western dishes', corn flour becomes the item of choice," Ashok said.
Corn flour was preferred over other emulsifiers because of its relative hardiness. "Yoghurt, for example, is more delicate. And even the hardiest eggs can be prone to breaking in hot or wet weather," Ashok pointed out. "Corn flour will turn gooey when heated and provide a kind of creaming that is somewhat foolproof. Most importantly, it won't add any taste."
Still, corn flour remains a bit of a hack. "Its texture cannot match the mouth-feel that comes with eggs, or even powders like gelatin, which is made from the skin, bones and connective muscle tissue of animals," Ashok explained. But that is exactly the point in India. "A huge reason for its popularity," Ashok said, "is that it is a vegetarian product."
Custard powder has the "green dot" on its packaging—a regulatory reassurance that the food is lacto-vegetarian. Alfred Bird and other Western pioneers probably didn't think about it, but their creation of a plant-based product matched the dominant-caste preferences of those that control India's food regulations, and, to a significant extent, its food culture.
Correlated with the pervasive influence of dominant castes in regulatory affairs and bureaucracy, it's not hard to see, Ashok said, "why a product that espouses vegetarianism will be more visible. Whereas something that doesn't, like gelatin, may be inaccessible to even those that eat meat." There's something arbitrary about it all. "Why are eggs considered non-vegetarian but not milk?" Ashok asked. The hypocrisies of Indian public and private life manifest themselves in food too. Gendered and caste-based notions of ownership, worthiness and profanity have made their insidious way into the life and politics of the kitchen.
I
n late colonial Bengal, the tables of an aspirational class of urban Bengalis underwent a transformation: a "hybridization," as the historian Utsa Ray wrote in her essay "Eating Modernity". This was due in no small part to cookbooks and culinary magazines like the famous Pak-Pranali, founded by Bipradas Mukhopadhyay in 1883.
Pak-Pranali chronicled dishes for middle-class housewives, including dishes from outside Bengali food cultures—both Hindustani (Hindi-speaking) and European. Bengali cooking in the twentieth century resisted being "nationalised," Utsa Ray found. Instead, it indigenized "the foreign influence on cuisine." The historian Aparna Kapadia also points out that cooking magazines "aimed to teach 'modern' women the culinary skills allegedly lost through education and refinement."
It wasn't just culture that these housewives had to preserve. They also had to save money. Modernity and aspiration emerged as ideals, and utilitarianism became an important value of kitchen life.
That, as much as anything, is why many of us in Indian cities grew up eating "Indo-Western" dishes like macaroni salad and chicken patties. It's why our mothers got pressure cookers––a revolutionary new technology in its time––as wedding presents. "While authenticity, attractiveness, and nutritional value remain the dominant values of the new cookbooks," the anthropologist Arjun Appadurai wrote in 1988, "efficiency, economy, and utility are becoming increasingly respectable themes."
Ray wrote that younger Bengalis belonging or aspiring to a growing professional and middle class began to go to restaurants to explore food beyond the caste-prescribed gastronomy of their homes. Something similar happened in Mumbai, where upwardly mobile communities started to go to Gujarati restaurants and Irani cafes, and discovered Hakka Chinese food spreading westwards from Kolkata.
"Why are eggs considered non-vegetarian but not milk?"
Custard "may have been left behind through the dak bungalows—both in small towns and rural Bengal," the food writer Vikram Doctor said in an email. Its vegetarian profile and ability to adapt to any cuisine made it popular even in otherwise traditional establishments. Thaker Bhojanalay, one of Mumbai's oldest Gujarati thali restaurants, serves custard alongside shrikhand and gulab jamun.
At Matheran's Rugby Hotel, the preferred accommodation of generations of Mumbai-based Gujarati weekend warriors, custard used to be on the hotel restaurant's "Western menu," along with cutlets and tomato soup. "It became a symbol for modernity," Doctor said. He remembered dining there years earlier, thinking he "was being rebellious or fancy, which is why I got the custard and not an Indian sweet."
"Actually, even restaurants with a primarily meat-eating clientele often resort to custard as dessert. At New Martin's (a Goan restaurant in Mumbai's Colaba area), beloved for its sausages and beef-fry, the only vegetarian dish is a custard," Doctor recalled. "That synthetic but familiar feel is exactly what you need after a spicy meal."
The second half of the twentieth century was, in short, custard's time to shine. Variations such as the fruit custard were fast-becoming an integral element of Bengali and other Indian cuisines. Weikfield's Mukesh Malhotra said that "it was an easy way to get children to eat a variety of fruit at once." At conferences and gatherings, it became natural for a dessert of fruit custard to follow a main course comprised entirely of heavy Mughlai food.
Puddings made with eggs can spoil in the heat. Conveniently, custard doesn't necessarily need to be refrigerated in hot weather and can sometimes even be stored overnight at room temperature. A 2016 study [9] found only 30% of Indian homes have refrigerators, even though Godrej has manufactured them in India since 1958.
Custard provided women a much-needed breather from the sheer labour involved in cooking. It was quick––so quick, in fact, that it could sometimes become suspect. Ashok told me that the puritanical food culture around which he grew up thought of quick foods like custard as somehow invalid. Many upper-caste communities consider time investment, precision, and meticulousness as prerequisites of good cooking. Sattvic food, the Brahmanical ideal of "conscious" eating, dictates three meals a day, fresh ingredients, multiple sources of protein, and meals that follow a set of totalitarian rules for an apparently balanced diet and palate.
In the cuisines of many historically dominant communities, nutrition is mystified and abstracted into a variety of "secret recipes." The labour of farmers is taken for granted and that of women is normalised. "Ironically enough, I think that really stringent upper-caste men wouldn't eat this," Ashok remarked about custard powder. "Many of them believe that if something is this easy and not exhausting, it is not food."
C
ustard powder still goes into cream buns and chocolate éclairs produced by local bakeries around India today. Fancy patisseries use it in lemon tarts to prevent disintegration in hot weather. The Delhi-based chef Sadaf Hussain told me of another treat in which it is used: Mewad ice-cream.
These brightly-painted carts from Rajasthan once stood on street corners in every big Indian city. Since industrial frozen dessert brands like Kwality Wall's and Mother Dairy cornered the market, Mewad carts are rarely seen in Delhi and Mumbai, but are still found in smaller towns and working class neighbourhoods of big cities.
"Eggs don't hold in the heat for cold desserts, so custard powder is used in kulfis too," Hussain explained. "And jalebis. It is an easy add, and requires no taam-jhaam." [10]
The iconic caramel custard isn't traditionally made with powder: it's made with eggs in the Flora Steel-style, though Indian chefs do deploy the powder as a thickening agent. "But why not?" Hussain, who loves caramel custard, said. Not everyone has the time or an oven in which to make caramel custard the old-fashioned way. The powdered version will lack the softness that comes with the eggs, but the difference with the real thing is not in the least jarring when drizzled with burnt sugar and put in the fridge for a couple of hours.
When Hussain was growing up in Ranchi, custard with sliced bananas was a staple during Ramzan. "After many hours of fasting, it is the perfect dish," he remembered. His own family ate the custard with stewed apricots. "It had a gentle sweetness, not a sugar rush, because that can make you weak."
Hussain has noticed custard's tumble down the pecking order in recent years, not so much a fall from grace as a quiet downgrading. Desserts that were once the preserve of sophisticated establishments have been unleashed on the public in more accessible avatars. Delivery apps, cloud kitchens and primetime cooking shows such as MasterChef have put tiramisus and cheesecakes only a few clicks away from city diners.
As India's economy liberalised in the 1990s and 2000s, franchises of the American quick-service chains paved the way for these new desserts. Domino's brought the choco-lava cake; Subway introduced the molten chocolate chip cookie and McDonald's put fruit pies on its menus. Café Coffee Day, one of the pioneers of India's coffee shop culture, has been quick to latch onto global trends. In 2018, for instance, CCD introduced the "Crackling Brownie," a dense-centred, light-crusted upgrade of its popular dark chocolate brownie. Riding on the craze for moulded semi-circular desserts featured on international cooking shows, it also added the "Raspberry Cocoa Dome" to its menu.
Custard was their forerunner. Dessert, especially in India, has often had an element of theatre (remember the Sizzling Brownie that was the rage in the early 2000s?), and custard lent itself nicely to the occasion. It could be set with patterns—almonds, fruits, bits of cake or a stack of Parle-G biscuits.
Hussain's favourite way to eat custard was in an ice cream called "Shake" outside his school in Ranchi. It was "a thick runny cold custard that my ice-cream bhaiyya, Suraj, would pour into a glass. Then he would drop a scoop of vanilla ice-cream into it, and top it off with broken pieces of kaju or tutti-frutti dots," he said. "Lagta tha, kuch jadoo hi hoga iss mein. [11] We used to go crazy for it. It was like eating some kind of art painting."
A
t Weikfield, Mukesh and his brothers worry that custard has become a "fuddy duddy product." They have brought in a team of young people to revamp the brand's image. "For business, nostalgia is a dangerous wave to ride," Mukesh said. Weikfield has changed its packaging. The cherubic white child has been replaced by tantalizing bowls of fruit custard.
Brown & Polson was recently given a hip makeover by its current owners, the FMCG behemoth Hindustan Unilever. More than 200 other local and international brands manufacture and sell the product across the country. While it is not competition from these brands that worries Mukesh, "it is the competition from other products that keeps (him) up at night."
Custard powder may have lost its sheen, but it still commands a large share of the packaged foods market. "Some of our biggest exports of custard are to the UAE. It is a cultural symbol for them too," said Mukesh. "We are still in business, even if the visibility may be less."
In a recent essay about custard, food critic Vir Sanghvi expressed lordly disgust for the powdered version, calling it "refrigerated vomit" and insisting that one of the "greatest inventions of Western cuisine" has been reduced to "forgery" by the Indian public. Those at the head of a top-down structure of food criticism find it convenient to dismiss dishes like custard as unrefined foods of the past. But, in a nation of a billion, in an age where technology has democratised access to content, purveyors of taste are everywhere.
In a March 2019 video from a wildly popular channel on YouTube, Village Food Factory, Jaymukh Gopinath cooks custard for hundreds in his village in Tamil Nadu. Gopinath's custard video has almost 3 million views. He drinks his custard straight from a chetti, a large iron pot, and wipes the vessel clean.
"Custard from a tin can be enjoyed by everyone, and that is why it is important," said Kainaz Messman, pastry chef and proprietor of Theobroma, one of India's best-loved bakery chains. "At Theobroma, I make my custard tarts with eggs, because I'm aiming for a dense texture. I don't use powder at the shop," she said. "But at home, I enjoy custard and bananas. It's my late night ritual with my niece."
In Sanskritised Hindu set-ups, sweets are gifts of the divine. Steeped in ritual, they are offered to deities by those who seek favours and blessings. The unbroken and unspoken assumption is that sweets are the preserve of the deserving.
But the humble custard powder, ever a symbol of breaking with the past, slipped through the gaps of this hierarchy. It exists in many ways. Make a Pakistani-style "Lab-e-Shireen" by mixing strawberry custard powder with sweetened sewaiyya (vermicelli) and topping it with jelly. Or simply throw bananas in the pastel yellow mixture. Or slurp it straight from the vessel in which it is curdled with sweet milk. Custard belongs to no one.