Subscribe to our newsletter
Weekly updates with new Fifty Two stories
We drive two hours and walk for 20 minutes before the guide spots what we're looking for. Vibrant green stretches to the foothills of the Eastern Ghats, interrupted only by the red of ripened chillies hanging heavy from their stalks. On the other side of a deep ditch with dirt steps leading down one side and up the other, I see what the guide is pointing to: an inter-state border, and the squat, cinder-block structure of the liquor store perched on its lip.
It is March 2020, a few days before a nationwide lockdown. The far side of the ditch is Telangana, where liquor is legal. The near side is Andhra Pradesh, which announced a prohibition law in October 2019. Inside the shop, the manager Srinu says that at least three more liquor shops had cropped up along this border since the law came in. By nightfall, at least 100 people from Andhra Pradesh —"only gents, no women"—will make their way over.
2
020 was a red-letter year for India's conflict with alcohol. When stores were forced to stay closed in the early phases of the long lockdown, WhatsApp groups buzzed with dubious forwards that promised liquor delivery at outrageous prices (₹9,500 for a khamba of Black Label,  ₹8,000 for Teacher's Highland Whiskey). Newspapers reported that people were downing the contents of hand sanitiser bottles to quell withdrawal symptoms. When the lockdown eased and shops reopened, thousands of people crowded together in queues so long they made national news.
In the Indian constitution's directive principles of state policy, the founding fathers advise that "the State shall endeavour to bring about prohibition of the consumption except for medicinal purposes of intoxicating drinks and of drugs which are injurious to health." This owed a great deal to Mohandas Gandhi's ideal of a liquor-free India. In practice, however, the State needs the hefty tax revenue brought in by liquor manufacturing and sales. So complete prohibition is in force in only four states and one union territory: Gujarat, Bihar, Nagaland, Mizoram and Lakshadweep.
Gandhi believed that most Indians did not drink the way Westerners did. His politics arguably required him to underestimate or ignore the role alcohol played in India's own history. His puritanical bid to get Indians to eschew alcohol was linked to the mission to starve the colonial regime of a key source of income. But that was before India achieved independence. In the new nation, premised on a delicate balance of centre-state relations, the topic became more fraught.
The Constitution left it to Indian states to legislate on liquor. Consequently, the various wings of government are often torn between the moral imperative, public health considerations––and the need to finance their own survival. In Andhra Pradesh, this has led to decades of alcohol-related conflict. It has revealed deep divides in class, caste, gender and religion. Now, as the state tries to implement Gandhi's vision, its people must confront how many aspects of their lives will change for good. The matters it will affect range from tourism in Visakhapatnam and government revenues in Vijayawada to traditions of the tribal villages of the Eastern Ghats and the domestic lives of women across the state.
Movement
This is not a story. This is the achievement of the women who have studied in the evening schools. Our village is Doobagunta. We are wage-earners. We produce gold from earth. But what is the use? All our hard-earned money is spent on toddy and arrack. When our menfolk do not have money they sell away rice, butter, ghee or anything that fetches them arrack…. We are women, what can we do? Then the night schools have come. The volunteers are being trained in our village. During training, they read the story of Seethamma. They asked us, who was responsible for Seethamma's death? Her story fits well into our lives. We started thinking!
— Passage from Adavallu Ekamaithe (If Women Unite), a 1990s literacy primer
At the Communist Party of India's office in Visakhapatnam, pictures of Bhagat Singh and Lenin gaze down from the walls, and stacks of a new Telugu translation of The Communist Manifesto teeter in a corner of the room. Here, a group of activists gather to describe the long battle fought by working-class women to arrest the spread of liquor shops in Andhra Pradesh.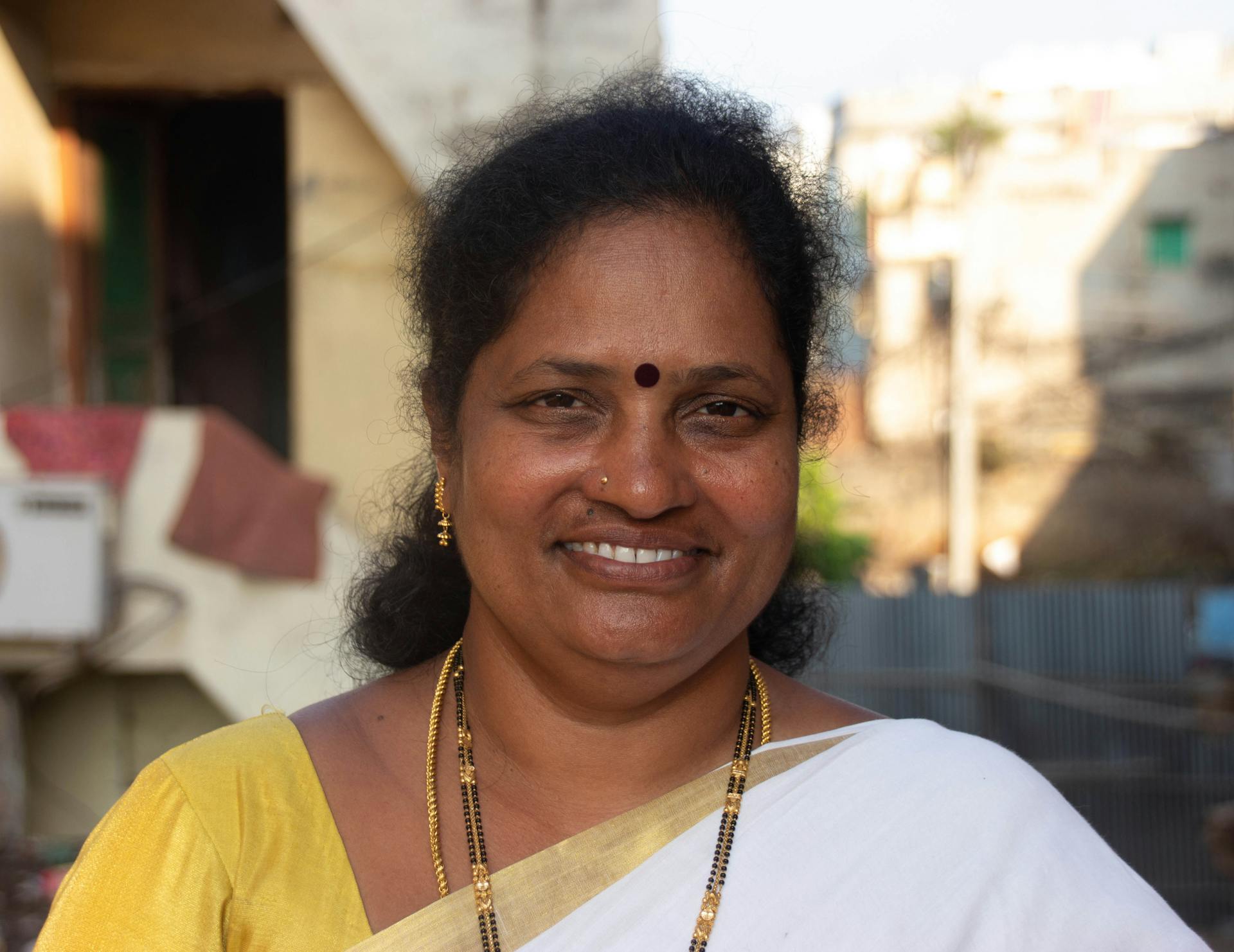 A. Vimala is a CPI member and the district general secretary of the National Federation of Indian Women. There are photographs of Vimala from a decade ago: she's being dragged in public view by four police officers, her face full of anger and pain; she stands, cricket bat in hand, surveying the wreckage of shattered liquor bottles. In 2010, she'd led a crusade of marginalised women against "belt shops," the unlicensed liquor stores of the district. [1]  
Jamisetti Venkata Satyanarayana Murthy, state assistant secretary, was part of that campaign. He recalled the first time they stormed into a belt shop and flung the bottles on the floor. They just bounced around without breaking. "That's when I came to know those were plastic bottles." Vimala and Murthy burst out laughing at the memory. "So, we burned them," he said.
The CPI is part of a longstanding coalition of organisations (including Marxist, feminist, Dalit and youth groups) that have joined together to battle excessive liquor consumption. It has long been a populist movement, less focused on ideology than on what a party official called "working for the downtrodden." Ten years ago, the CPI received a phone call from the state prohibition and excise department. "The officials asked us to stop attacking shops," Murthy remembered. They would receive additional funding if they complied.
But they were not a complying lot. From 1920s America to present-day India, women have been a driving collective force in prohibition movements. In 2019, anti-liquor activists from the Karnataka Madya Nishedha Andolana marched over 400km from North Karnataka to Bengaluru. In Bihar, the women's anti-liquor movement influenced the results of the 2015 state elections. Women form the backbone of anti-liquor protests in rural Tamil Nadu and Maharashtra. The protests have typically been grounded in equal parts hope and desperation—a sense that if alcohol were gone from the home, maybe domestic violence and the worst kinds of poverty might depart too.
Arrack came to be available in small plastic sachets, rather than inconvenient bottles and pots. Labourers were even paid in tokens that could be exchanged for these sachets.
The origins of the movement in Andhra Pradesh go beyond this, though. About three decades ago, there was widespread despair among rural women who witnessed their husbands sink their meagre earnings in arrack. [2] The discontent reached a tipping point in Dubagunta village in Nellore district. A widow named Vardhineni Rosamma—who was later popularly called Dubagunta Rosamma—and thousands of other women joined a state-run adult literacy programme in the early 1990s. One of the booklets they read was "Seetha Katha." It was about a woman who commits suicide after her efforts to reform her alcoholic husband fail. The tale hit close to home.
In 1991, Rosamma and a group of women marched to the local arrack shop where they prevailed on the owner to close it down. Women from neighbouring villages applied the same tactics successfully. Life came full circle for them: the story of their grassroots anti-liquor movement became reading material in the adult literacy groups. It was published under the triumphant title "If Women Unite." By 1993, 500 shops had been shuttered. Sometimes, campaigners used force.
Soon, contractors began fighting back. Police beat the women with sticks. In scenes reminiscent of the climax of Ketan Mehta's Mirch Masala, released a few years previously, they retaliated by flinging chili powder into their opponents' eyes. Communist Party of India (Marxist) state leader Rama Devi, who knows Vimala through anti-liquor organising efforts, detailed how the bureaucracy rose to the defence of the liquor industry. "That was when we came to know," she told me. "The main obstacle was the government."
A
ndhra Pradesh's liquor barons were already a powerful lot by the mid-1980s, when a charismatic film actor named Nandamuri Taraka Rama Rao, founder of the new Telugu Desam Party, was elected chief minister. NTR's government encouraged alcohol production and consumption under a programme called Varuna Vahini, which translates to 'flood of liquor.' Arrack came to be available in small plastic sachets, rather than inconvenient bottles and pots. It was home-delivered. Labourers were even paid in tokens that could be exchanged for these sachets. In the decade leading up to 1991, tax revenue from arrack increased four-fold, from ₹150 crore to ₹630 crore. Andhra Pradesh topped the country in arrack consumption.
Then came the women's movement. The Andhra government responded to its demands and officially banned arrack sales in 1993. But protests continued, because palm wine––kallu, or toddy––and Indian Made Foreign Liquor (IMFL), [3] had replaced arrack in the lives of the menfolk. NTR was out of power by this time. Ever the political opportunist, he promised a complete prohibition if he was voted back in the 1994 assembly elections. He won and delivered on his promise. His victory was short-lived. In 1995, his son-in-law Chandrababu Naidu led a party revolt and ousted NTR. Two years later, Chief Minister Naidu lifted the ban. The state was losing revenue, he said, and bootlegging was on the rise.
I
ndians are drinking a lot more than they used to. According to a report in The Lancet, consumption increased by almost 40% in the period between 2010-2017. Men comprise 95% of drinkers. The 2019-2020 National Family Health Survey also suggests that in five states—including Andhra—30% or more of Indian women face some form of abuse from their husbands. Many women draw a direct line from alcohol to rampant abuse. 
On a hot day in early March, I visited a free medical clinic for truck drivers in Vijayawada. Abdullah Rahim, a lorry mechanic, characterised his drinking as "compulsory." It drowned out the body pain caused by years of lifting heavy equipment. "A ban is nothing," he said. "People can just get liquor from Telangana instead." If alcohol was to be totally cut off somehow, he said, without missing a beat, that he'd resort to ganja.
Later I met Sunita, a nurse in her forties, who works with the Vasavya Mahila Mandali (VMM), a women's non-profit in Vijayawada. Her infectious smile dimmed as she talked about her husband. "Every day he drinks a lot," she said. "He isn't an abusive man but he gets mad if he drinks. He breaks whatever is in his hands and I can't say anything."
It wasn't supposed to be this way. Sunita had a hard childhood—both of her parents died of complications from AIDS when she was very young. But then, Dr. B. Keerthi, director of the VMM, began supporting her. While she was in school, Sunita fell in love with Santosh, who is now her husband. Worried that Dr. Keerthi would object, they married secretly in a temple. Instead, Dr. Keerthi organised a wedding function on the VMM premises. They have two daughters now. The story is romantic, and both Sunita and Santosh tell it eagerly.
When I met Santosh, he was carrying a massive bag of rice in one hand and a heavy bag of utensils in the other. His body aches from years of manual labour. "The liquor bottle doesn't let me feel pain. I don't know if there is god in it." Governments and manufacturers have often taken advantage of the price inelasticity of liquor. "If a meal were to cost more than ₹20 per plate, no one would buy it. But even if liquor is ₹500 a bottle, people will keep buying," Santosh said.
Money
S
omething went wrong in Andhra Pradesh. According to a 2019 report of the Ministry of Social Justice and Empowerment, it is neither the state with the highest prevalence of alcohol use (Chhattisgarh at 35.6%) nor the one with the highest number of total drinkers (Uttar Pradesh with 4.2 crore). But the dependency rate amongst users in Andhra Pradesh is a staggering 43.5%. The national average is 18.5%.
No one I spoke to in the Andhra Pradesh Prohibition and Excise Department addressed that startling statistic on record. A soft-spoken senior official, however, shared his thoughts on condition of anonymity. From 2005-12, liquor licences were distributed through an auction system. There would be around 48,000 bids for about 6,500 shop licences. Bidders would often quote wild figures, he told me. Some paid as much as ₹5 crore and then found themselves in a bind: could they make enough sales to justify the investment?
"To break even," the official said, "they would resort to all kinds of rule violations." The licensee, typically an influential member of the community, would open a series of tiny, unmarked belt shops along with the authorised store. The belt shops would be spread across a wider geography. The excise department largely ignored this practice. The endless supply of cheap alcohol hit rural areas particularly hard. The men dulled the drudgery and ache of manual labour with drink.
When the Supreme Court ordered a ban on alcohol sale within 500m of national and state highways, Andhra Pradesh was among the states that rushed to declassify many highways and call them "local roads" instead.
Few places were more devastated by belt shops than the village of Kappaladoddi, one-and-a-half hours southeast of Vijayawada. A majority of its 900 residents are weavers, famous for their handloom-made kalamkari saris with intricately block-printed patterns. When I visited, a resident named Srinivas Rao told me that, just a while earlier, there used to be about 10 belt shops in the village in addition to authorised stores.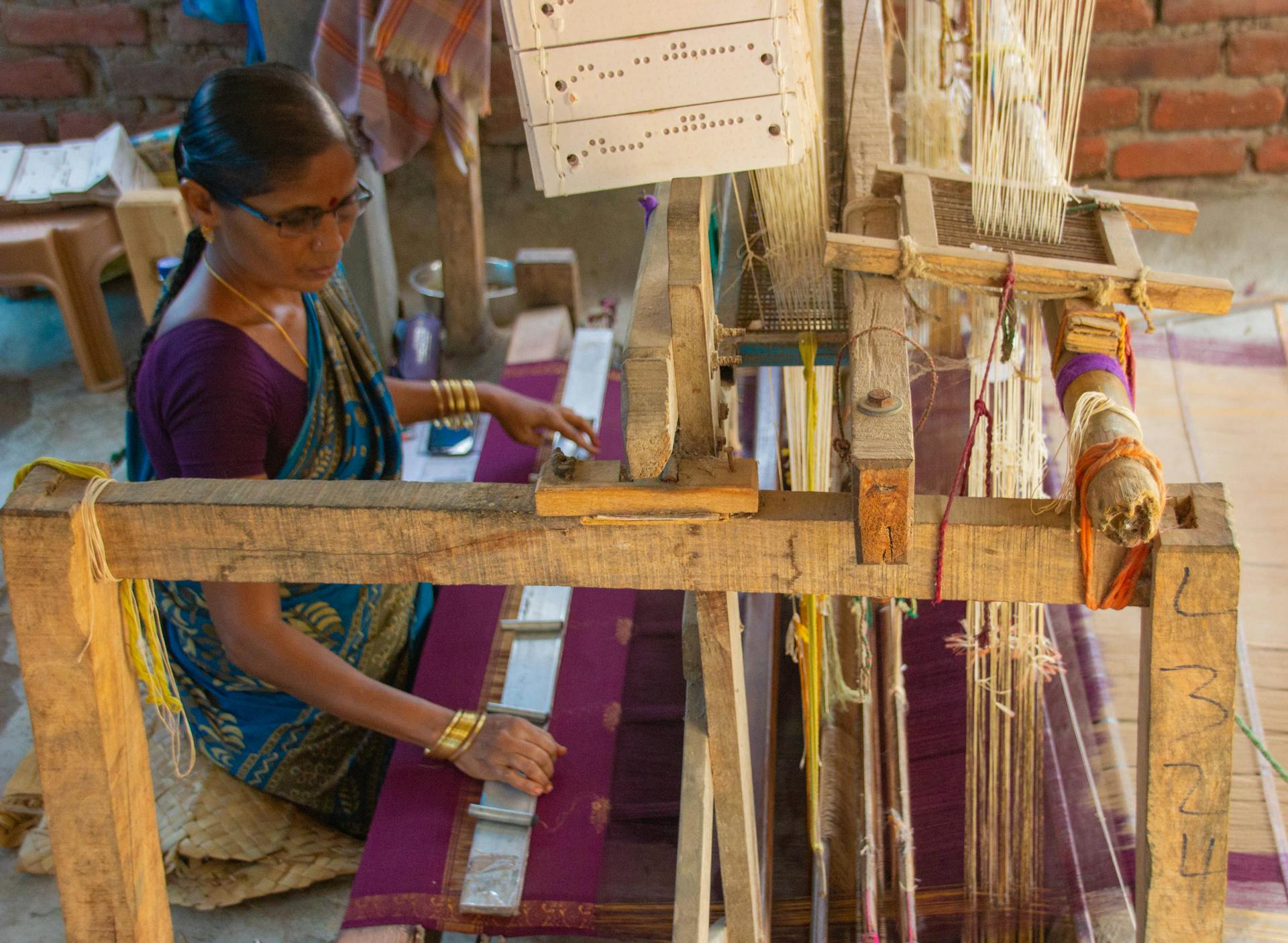 Others explained that it was easier to buy alcohol in Kappaladoddi than to access drinking water, for which they would have to travel for at least two kilometres. I remembered a chant of the women's movement of the 1990s: "We don't want arrack but water to drink!"
Belt shop culture fostered syndicates and widespread corruption. I spoke to social activist V. Lakshmana Reddy about this. He leads the Andhra Pradesh government's Madya Vimochana Prachara Committee, which provides guidance on the effective implementation of prohibition. Until 2019, he said, liquor shop owners "would give ₹10,000, ₹20,000 to excise officials, politicians, police to avoid all kinds of rules and regulations." In fact, in 2012, a scandal broke out when liquor shop owners were found inflating retail prices by 30-40% to recoup their investment on licence fees. Around 70 people, including the then excise minister, had been implicated for bribe-taking.
The excise department official suggested that consumption has also been spurred by a system of sales targets that the department informally imposed on shop owners. "If last year, say I sold 1 lakh cases in my jurisdiction, this time I have to increase it by 10 percent, to protect revenue. So we had to fix targets for shop owners."
That system has been scrapped by the new regime. Yet, this situation—where officials face constant pressure to sell alcohol but are also in-charge of regulating it—is actually quite common across India. Alcohol sales contribute more than 15% of the state's own tax revenue in 21 states. In 2019-2020, the countrywide collection from excise duty on liquor was estimated to be ₹1.75 lakh crore: that is roughly 1% of the country's gross domestic product, or GDP. In 2017, when the Supreme Court ordered a ban on alcohol sale within 500m of national and state highways, Andhra Pradesh was among the state governments that rushed to declassify many state highways and call them "local roads" instead.
I
n Bihar, Chief Minister Nitish Kumar, who aggressively campaigned on the liquor ban plank some years ago, has publicly insisted that the state has not faced a negative financial impact as a result of prohibition. But the data suggests otherwise. From 2016-17, the state's overall revenue dropped by almost ₹1500 crore, "primarily because of reduction in revenue of ₹3,112 crore due to imposition of prohibition." [4] Prohibition enforcement-related activities led to an increase in excise expenditure from ₹49 crore to ₹92 crore.
Mizoram, on the other hand, acknowledges that there has been a significant drop in excise revenue. In a phone conversation, Dr. K. Beichhua, state excise and narcotics department minister, told me that the losses are far outweighed by the social benefits of prohibition. "When a person loses their health, everything has been lost," Beicchua said. Women are an active part of the enforcement arm of the Mizoram Excise Department. He added, "Ladies are serious about fighting social evil, maintaining the family, maintaining the society. Much more serious than the guys. Am I right?"
In Andhra Pradesh, prohibition was one of the key planks on which the ambitious young YS Jaganmohan Reddy fought the 2019 assembly elections. Lakshmana Reddy confirmed to me that the goal is total prohibition by 2024. (That excludes five-star hotels.) The government says it has already closed 43,000 belt shops in the first phase. In October 2019, it took control of liquor retail through the Andhra Pradesh State Beverages Corporation Limited (APSBCL). The government initially intended to close 40% of bars immediately, with the rest to follow. A High Court order has at least temporarily stalled that plan. But the number of authorised shops has already gone down from 4,380 to 3,000, and following the easing of the coronavirus-induced lockdown, the government raised liquor taxes by 75%.
The results of some of these moves were already evident in Kappaladoddi a year ago. All of the belt shops had closed down and a woman police officer patrolled the area daily. A resident told me that the number of habitual drinkers has dropped almost by half after Chief Minister Reddy imposed the new restrictions. Even the official shops had closed down.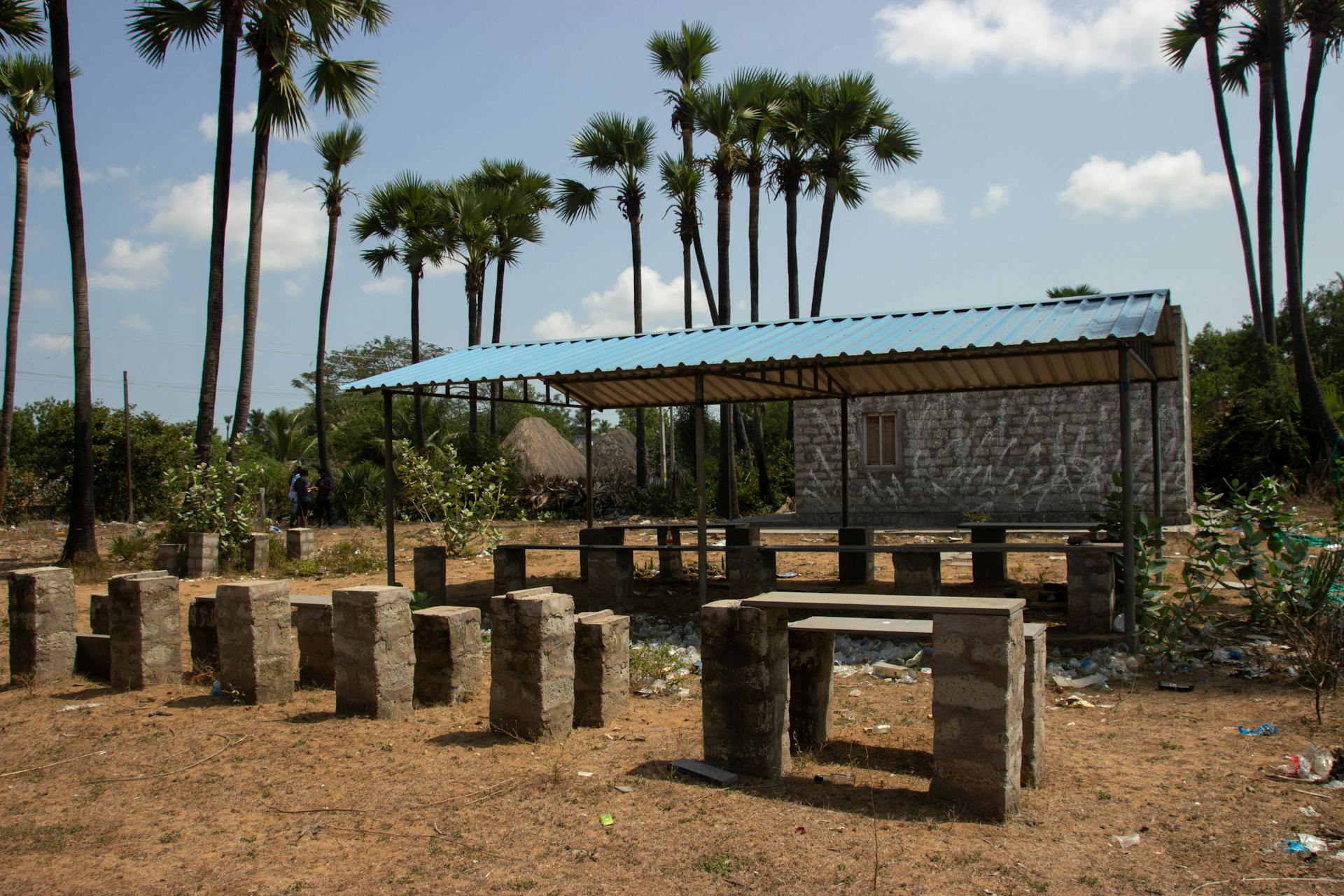 Data from the excise department indicates that the new alcohol policies are having their intended effect of reducing consumption. From May, when liquor sales resumed after the lockdown, until the end of 2020, sales of IMFL cases fell by 36% and beer by 76% compared to the same period in 2019. There is reason to believe that illicit liquor consumption has also dropped: the excise department has redirected 70% of its staff and a large number of police officers to work in the newly established Special Enforcement Bureau, designed to crack down on the illegal sale of liquor and sand.
A senior SEB official told me, on condition of anonymity, that they are "using all means and methods" to apprehend bootleggers. Until mid-January of this year, they had arrested 97,700 people involved in the illegal sale of liquor. The SEB has also destroyed 1 crore litres of fermented jaggery wash used for the production of arrack. On a July day when we spoke last year, the official told me that 267 people had been arrested in a single day. "That's the kind of volume we're talking about."
Following the split with Telangana in 2014, Andhra Pradesh lost a substantial amount of tax revenue produced by the economic engine of Hyderabad. The central government promised financial support to help with budget deficits after the split, but much of that money did not materialise. The switch to the new Goods and Services Tax regime has meant that states have fewer options to generate their own funds. Now, the pandemic has dealt a brutal economic blow. In the budget presented by the Andhra Pradesh government in June 2020, the estimated fiscal deficit was a whopping ₹48,000 crore.
Andhra Pradesh could lose 10% of its self-generated revenue if the government follows through on full prohibition. What is the plan to make up for it? The answer, for now, is to push the problem down the road by raising prices. The excise official claimed that, due to the 75% tax increase, state revenue from liquor sales is steady. Despite the large drop in sales volume, money spent on alcohol from May to December last year actually increased by 9% over the previous year.
Culture
O
nly one out of every 18 women admits to drinking in India—and this is after marketers have gone to great lengths to convince Indian women that they can drink without stigma. After a long day in Kappaladoddi, I decided to combine research and relaxation at a bar called Cocktails! on Vijayawada's main drag, which entices customers with a garish blinking sign featuring clinking martini glasses. Inside, I counted 40 men, gathered around tables, drinking companionably. Two different waiters came up to me, at different times, to ask if I wouldn't be more comfortable sitting in the secluded dining section hidden by fake shrubbery.
To the degree that the stigma around drinking has receded, the gains are mostly available only to those with financial resources. Even the hit Amazon Prime show Four More Shots Please!, which tries to paint a more complete picture of the joys and dangers of drinking as an Indian woman, can for the most part only imagine women with social and financial capital drinking freely.
For wealthy men and women, alcohol can be both a status symbol and an aesthetic experience—a chance to open an old bottle of wine or sip a peaty scotch. It can even offer an opportunity to make a point. On a previous trip, I visited the rooftop of Visakhapatnam's luxurious Park hotel, where I met three women in their early twenties, drinking whiskey. They grew up in Visakhapatnam but they found the town too constricting, so they were all plotting their escapes to places like Australia and Italy. They drained glasses of whiskey, embracing femininity by rejecting its constraints, consciously or not.
"This alcohol apartheid is basically a fallout of colonial attitudes."
Alcohol has been consumed here in some form or another since at least 500 BC, according to heritage liquor expert Aniruddha Mookerjee. Across India, people in rural and tribal communities have been making their own liquor from local products. The varieties are many, including toddy from palm in the southern states; feni from palm or cashew in Goa; the flower-based mahua in several Adivasi belts; grain-based liquors in the Himalayan foothills; rice and millet beers in the north-eastern states of India.
But the colonial system favoured foreign liquors from which the British could profit. A paper by sociologist Indra Munshi Saldanha pointed to two laws passed by the British in the late 1800s that impacted the Thane district within modern-day Maharashtra: "They had the summary effect of blocking the major sources of liquor—toddy, the fermented/distilled juice of palm tree, and mahua drink…by taxing the former beyond the means of the poor and banning the latter." After independence, excise department policies continued to push IMFL into the market at the cost of suppressing local liquors. "This alcohol apartheid is basically a fallout of colonial attitudes," Mookerjee said. This approach disturbed local drinking cultures and the livelihood of some tribal communities.
Desmond Nazareth is the Goa-based founder of Agave India, which makes a variety of liquors, including mahua. He said one of his goals is "to liberate flowers from the domain of the excise authorities, especially when it comes to the rights of tribal people in the forests of central India." The mahua flower, from which the liquor is distilled, is a regulated commodity in most states. Nazareth pointed out the unfairness of this—other raw material like grains, rice and cane sugar are not regulated by excise departments.
Susan Dias, director of the Mumbai-based Native Brews, feels that the regulation of mahua is linked to its close association with Adivasi communities. For years, Dias was entangled in a painstaking state-by-state campaign to deregulate the flower. In the past six months, three states including Andhra Pradesh have allowed—without bringing any legislative changes—the distilling of mahua, but many excise authorities have told Dias that mahua is a country liquor and therefore lacking in value. This despite the fact that in Adivasi communities in several states, mahua is central to cultural and social life.
The approach to drinking in Adivasi communities is often lighter—tied to centuries-old traditions and unburdened by notions of transgressiveness. The National Family Health Survey (NFHS-4) found that more women from Scheduled Tribes drink alcohol than from any other caste or group. "We're a country that drinks, it's part of our culture," Dias told me. Echoing the point, Mookerjee said, "In large parts of central India, in tribes, and in the Northeast, this Brahmanical divide—a term I use loosely—isn't there." [5]
Some states have tried to strike a balance between local and branded liquor: Assam, for instance, now regulates and sells some country liquors made from rice and grains. In Andhra Pradesh, toddy tappers are exempt from the state's liquor ban. The lockdown may have prevented them from working through the peak season last year, but reports suggested that there was an uptick in toddy consumption following the price hike in IMFL.
The government has declared that, in the long-term, only five-star hotels will be able to retain liquor licences. Yet, high-end bars continue to believe that exceptions will be made for them. At Cocktails! in Vijayawada, operations manager Shashank claimed that the bar wouldn't be asked to close down because it had a two-year licence. At Ironhill, a trendy brewery in Visakapatnam, the outlet manager told me that microbreweries are insulated from the prohibition law. Later, a government tourism official I spoke to said that the Andhra Pradesh Tourism Development Corporation will likely obtain liquor licences for many of their hotels.
I
In a tiny restaurant near Konduru, a tribal village in the foothills of the Eastern Ghats, the assignment photographer and I were served a mountain of excellent dum biryani. Konduru, roughly 45 minutes north of Vijayawada, is mainly inhabited by tribal people from the Banjara community. We were there on a mission: I wanted to see just how easy it is to procure illegal country liquor in these parts. 
I spoke to a group of men who seemed eager to chat and take a break from agricultural work. Most of them said they drink daily. "It's our habit," said one man. Toddy is popular here and so is arrack. Occasionally, these men trudge to an official liquor shop near their village to buy bottles of whiskey or brandy. In Naidu's regime, they frequently purchased from official stores. But in recent times, a man called Buji told me, there has been an observable drop in quality. "It is only the right colour. There is no kick now. We could pay ₹1000 and there would still be no kick!"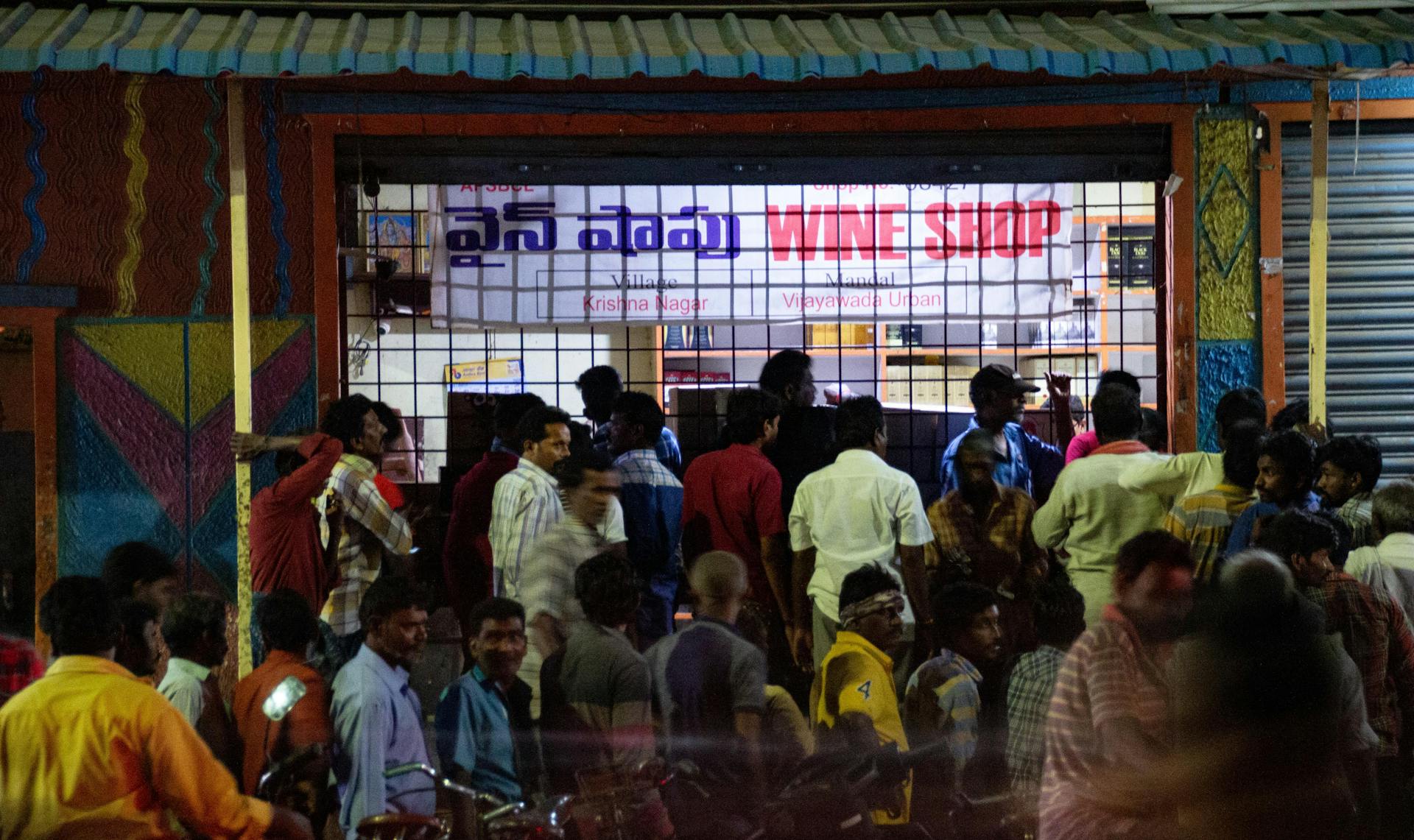 Popular brands have been replaced by ersatz copies. One such dubious drink is Spy HD. This cheap whiskey—packaged in a plastic bottle—has been likened to the packaging of a floor cleaner by an irate Twitter user. Its label erroneously calls it a "produce" (rather than "product") of India. One trucker I met in Vijayawada told me that his head and throat hurt when he drinks now. In Konduru, a man complained that the post-Jagan liquor frequently upsets his stomach.
It has been suggested that the new drinks are protected by political patronage. The popular brands claimed they had not been paid in months and were owed more than ₹1000 crore by APSBCL. Vinod Giri, director general of the Confederation of Indian Alcoholic Beverage Companies, told me that while the situation was not ideal earlier, things have taken a turn for the worse under the Jagan administration. "Companies should be allowed to sell as per demand, and they should be paid for the orders. If neither of the two are happening, then the observation is correct, the popular brands are out."
In Konduru, the men considered the question of what they preferred to drink: shop liquor, arrack, or toddy (palm wine). Buji piped up first: "Local medicine is best." Arrack, specifically, offers the illusive "kick." There was silence, however, when I asked where I could get some arrack.
In Andhra Pradesh, the government amended two laws to make the unregulated sale and production of liquor non-bailable offences. In small towns, it seemed everyone had a story about friends, family, or acquaintances who were caught, especially as local elections approached. The crackdown was already underway, and as more phases of the ban come into effect, an increasing number of Adivasi and Dalit people could be imprisoned with no hope of bail. In July last year, an official from the Special Enforcement Bureau told me that enforcement would not be biased. As of January, 80 people within the police and excise departments have been arrested for falling foul of the new liquor policy, and 237 people from across the government. Still, that's a small fraction of the over 97,000 people the official said had been arrested over the previous seven-and-a-half months for liquor violations. Though no demographic data is available for those arrests yet, similar crackdowns in other states were particularly harsh on the poor. That's certainly what's happened in Bihar.
When Bihar first passed the law in 2016, its stringent provisions promised jail time not just for drinkers, but for the drinker's whole family. Although the law has since been amended, jails were past capacity even during the pandemic and overflowing with undertrials. Vijay Raghavan, a professor at the Centre for Criminology and Justice at the Tata Institute of Social Sciences, worked with a Bihari student, Praveen Kumar, to study the ways in which the law directly impacted the poor. Between 2016 and 2018, 1.3 lakh people in Bihar were put behind bars, almost all of them poor (making less than ₹10,000 per month).
"It's a disaster law," Kumar told me. Among the wealthy, there is a huge demand for alcohol. People simply get it home delivered, Kumar said. Meanwhile, those languishing in prisons are the poor who are arrested for drinking, or Pasi and Musahar people from Dalit communities that have long depended upon manufacturing and selling toddy. "Within the first few days, those without lawyers should be given legal aid, but they get stuck in prison for months on end in the absence of legal representation," Raghavan said. Perhaps the grandest irony, felt most acutely by thousands of marginalised women who pinned their hopes on prohibition, is that members of their own communities have been disproportionately targeted for arrest and imprisonment.
Back in Konduru, it was approaching sunset when my guide got a call from someone who had agreed to sell some arrack. He went deep inside the surrounding forest and returned 20 minutes later with a discreet plastic bag.  He asked me to step indoors—away from prying eyes—to try it. He declined to have any.
It was clear, smelled strong, and measured about one cup. It was surprisingly affordable, given the tight surveillance in the area: only ₹60 for three sachets. My first sip was pleasant, if a bit thin and watery. But I could tell already it had the kick. It reminded me faintly of rum, which wasn't surprising—this arrack was made from jaggery, itself a form of cane sugar. Before we got into the car, the guide requested the photographer to switch the SIM card on his camera, just in case we were stopped and checked.
The next evening, we heard a news report on the radio about a raid by the excise department in the communities we had visited. I drained the remaining arrack packets in the sink to be safe.
Evolution
P
sychiatrist Dr. Indla Ramasubba Reddy has established a de-addiction facility an hour from Vijayawada. It is in the foothills of the Eastern Ghats, nestled in acres of mango orchards. Before a patient arrives at the gleaming facility, they are given minor tranquilising medications to control withdrawal symptoms. The next step is to buttress the patient's motivation to quit. This line of action sometimes includes two drugs to prevent cravings or act as deterrents. All this is carried out only under the supervision of a psychiatrist.
Patients spend the next three months in counselling sessions, yoga and meditation, walking amongst mango and fig trees, playing board games and exercising. In a room dedicated to arts and crafts, a 24-year-old recovering alcoholic who is halfway through his three-month treatment told me he lost a good job in information technology in Hyderabad due to alcoholism. But, he said, the de-addiction centre changed his life: "Hopefully when I go out, I'll know the value of what I lost so I won't repeat the same mistakes again."
It can be useful, when grappling with issues of addiction, to consider how people became addicted in the first place, and what that may tell us about treatment. Professor Robert Dudley, who teaches integrative biology at the University of California at Berkeley, developed a line of inquiry suggesting humans are evolutionarily hardwired to seek out alcohol, a perspective that could encourage a more holistic and forgiving mindset towards addiction.
He calls it the "drunken monkey" hypothesis. It's based on the idea that primates, our ancestors, are fruit eaters. But fruit is hard to spot in the canopy of trees, and so these primates rely heavily on smell—particularly the distinctive smell of fermenting fruit. Like an aperitif, eating these fermented, slightly alcoholic fruits increases their calorie intake, which is advantageous in the wild. This hypothesis about ancestral exposure to fermentation links alcohol to nutrition.
But, Dudley said, "in the modern context with humans, it all goes badly wrong." First off, the process of distillation exponentially increases the concentration of alcohol, and second, liquor has become easy and cheap to buy. "It's a mismatch," Dudley said, "between our evolutionary environment and the modern technological environment."
De-addiction centres are an indispensable aspect of the architecture of prohibition, but they exist in an ecosystem where alcoholism may be hardwired in our DNA. Without access to Professor Dudley's research, the women of Nellore district recognised the destructive power of low prices combined with a sharp increase in liquor availability in the 1990s, when they called for fewer shops in their communities. Leftist women in the CPI acknowledged the correlation when they took aim at the belt shops throughout the 2000s, accusing the government of cultivating this environment for the sake of revenue. Our genetics were not created for these circumstances. How are people supposed to cope?
The police arrived after two days. Those who had won the arrack auctions had a right to sell the liquor, they said. We said we know everything. We threatened that we would go to the collector to lodge a complaint. The warning sent a shiver down the spine of the contractor. But even then he tried several tricks to sell the arrack but could not succeed. Ultimately he closed his shop. With this we became very strong, got confidence. We realised that this victory was possible only through education. We studied well. This year no one dared to participate in the arrack auctions. Why can't you too do it? Think...
— Passage from Adavallu Ekamaithe (If Women Unite), a 1990s literacy primer
For many women, the anti-liquor marches of the 1990s were a moment of awakening. Though the Naidu government's repeal of the ban in 1997 was a setback, the connections they forged led to a blossoming of the arts and a newfound sense of empowerment and solidarity.
Professor Rekha Pande, who taught history at the University of Hyderabad, worked with activists in the Nellore district almost 30 years ago. She looks back with amazement at the creativity of the time. "A lot of issues were discussed. There were so many street plays, so much theatre," she said. Women translated novels from the 1930s. They wrote children's lullabies about the government's bad relationship with liquor and generated popular slogans like sara koru sarkar, or "a government that cheats on liquor."
Pande believes that certain landmark reforms, like gaining representation in local panchayats, came directly as a result of women's anti-liquor activism in the early 1990s.
These women learned that they had strength in numbers. "Maybe not immediately, but it created the feeling that they could take control of their own lives," Pande said. She believes that certain landmark reforms, like gaining representation in local panchayats, came directly as a result of the activism of the early 1990s.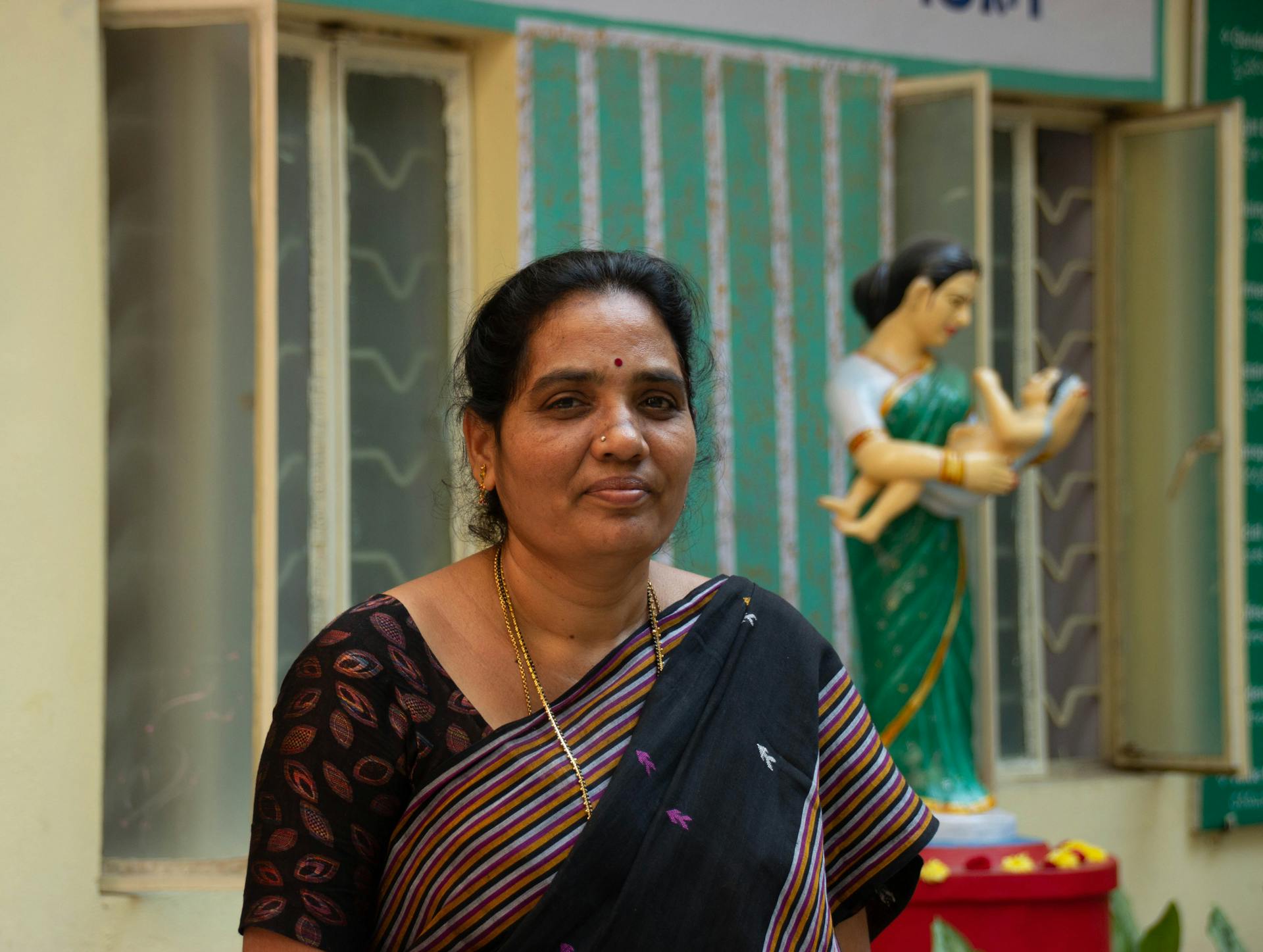 Many active members of the movement will tell you they weren't necessarily fighting for a government-administered prohibition on all liquor, like someone who opposes alcohol on religious grounds might do. They had specific demands, like closing a liquor shop in the village. The same goes for the thousands of leftist activists who were vital members of the campaign; many of them just wanted less liquor. From the initial "flood of liquor" through to the one-size-fits-all alcohol bans, a lot could have been gained by listening more carefully to the women on the frontlines of the battle against alcoholism.
One of those women is R.A. Palle, who leads a women's self-help group started by Vasavya Mahila Mandali, the Vijayawada-based non-profit. On a pleasant evening in the town of Vuyyuru, she and five other women had gathered to discuss the new skills they had learned. Palle had sprung to her feet to demonstrate self-defence techniques. She fended off an imaginary attempt to steal her purse, and then laughed because the moves weren't quite perfect. But, Palle said, "because of the training, we're able to go out bravely." Neighbouring women now call her for help, saying, "My husband is hitting me, he's hitting the children."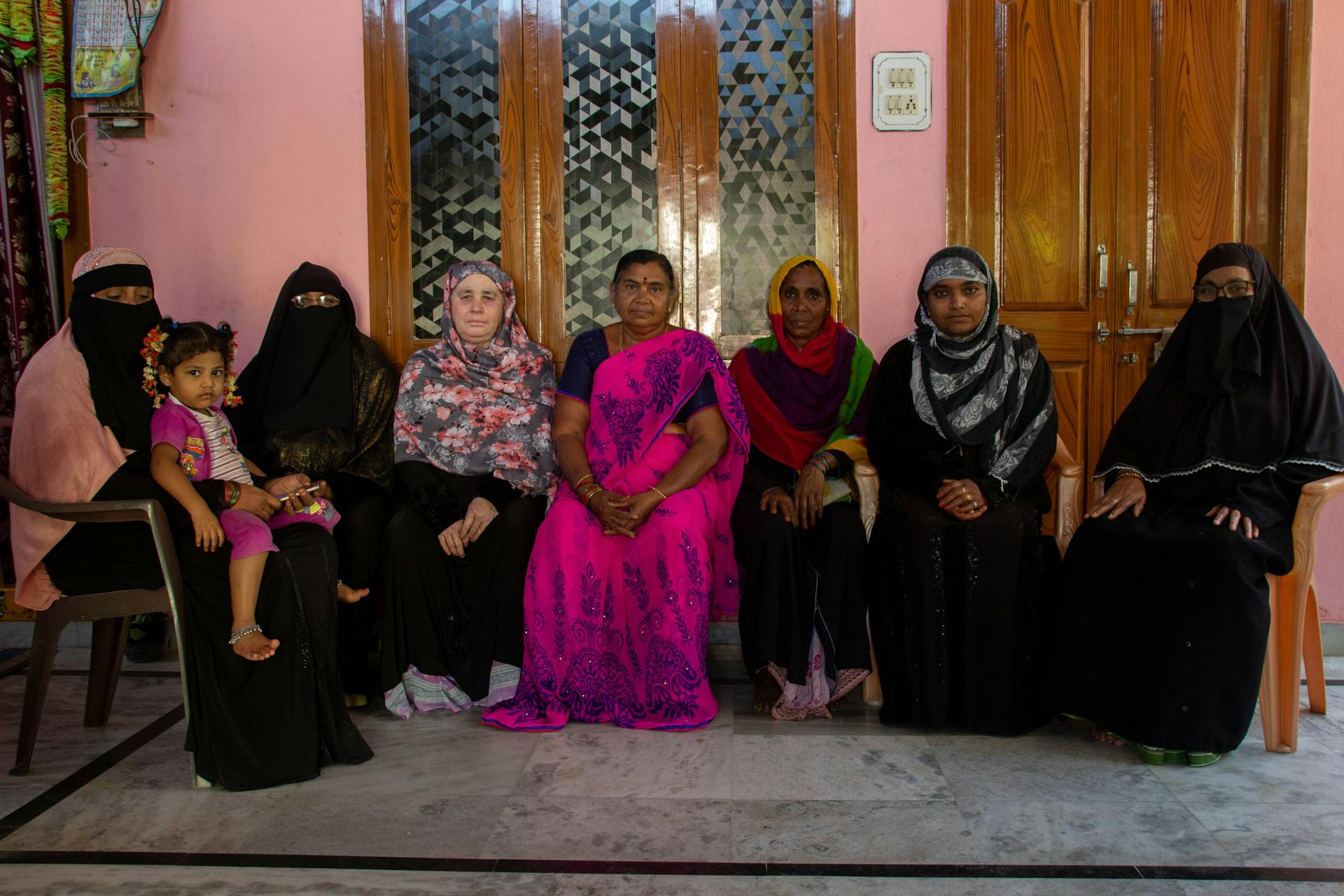 The six women agreed that many of the community's problems revolve around alcohol. One woman is worried about what will happen when the liquor shop where her husband works is closed: "We need that money for our children, to survive." Several mentioned relatives who have no savings because of their alcohol addiction.
But although Palle joined the many women who destroyed arrack packets in the 1990s, she's indifferent to the government's prohibition plan. "That's Jagan's thing," she told me. While she advocates for less liquor in her community, the group is more focused on building women's savings and improving the educational prospects of their children. Now, when problems arise, the women turn to each other and not to the government or the police. Looking around the small circle of women, Palle said, "If you go to the courts, it's expensive. If you go to the police, it takes a lot of time. But if tomorrow something happens to me, they will all come. And if something happens to her, we will all go."
Namrata Kolachalam is a freelance journalist based in Mumbai. Previously she worked in the White House communications office and as a spokesperson for the Obama administration. Her other work can be found at NamrataKolachalam.com and she tweets @nkolachalam.
Justin Nisly is a photographer and writer based in Mumbai. He tweets @justinnisly.