Subscribe to our newsletter
Weekly updates with new Fifty Two stories
On a train that left Arsikere in the princely state of Mysore, two men in their early twenties were on their way to Bangalore, and an uncertain future. It was 1943, a tumultuous year. The Second World War was raging, and British colonialists had harshly suppressed the nationalist Quit India movement. Bengal was faced with famine.
D. Shankar Singh had just sold his small businesses, two touring talkies that rented and screened movies, named after M.K. Gandhi and Jawaharlal Nehru. His companion, B. Vittalacharya, had sold his small restaurant. With the spoils, they were on their way to buy a bigger prize, the film company Prabhath Talkies. Mahatma Touring Talkies and Jawahar Touring Talkies used to make Shankar about ₹300 per film in collections, a not unhealthy sum for those times. But the duo didn't just want to exhibit films. They wanted to make them. Over many dosai and coffees in Vittalacharya's restaurant, they'd decided to risk it, and purchase a studio in the big town.
The train ride proved life-changing for them, in an unexpected way. En route, they met filmmaker C.V. Raju, then a rookie desperately looking for funds to make a film. He managed to convince Shankar and Vittal "not to sink money into a studio," but come and produce Krishnaleela, which he had already started shooting. He succeeded: Shankar and Vittal bought the film's distribution rights for ₹75,000.
In all the excitement, however, the freshly minted producers had failed to notice one crucial detail. In a shrewd performance that outdid the troupe of hapless theatre artistes he had hired for a pittance, Raju had been shooting with a camera but no film. It was wartime; film was strictly rationed and prohibitively expensive. Raju was faking the shooting to demonstrate that he was hard at work.
This was not even his only deception. Shankar and Vittal were also persuaded to make several bottles of whiskey liberally available to the team. They were told that it was important for new "film developing techniques." They learnt of the charades only weeks later, after a tip-off by a technician. There was a massive confrontation, after which Shankar and Vittal took over the shooting. [1]
That was how D. Shankar Singh became a director-producer. Krishnaleela, released in 1947, was the first venture of the newly formed Mahatma Pictures. The film tanked at the box office, but it was the beginning of a crucial chapter in the history of popular Kannada cinema. It was also the start of the studio career of a man of many parts: freedom fighter; Brooke Bond tea agent; touring talkies owner, and cinema pioneer.
M
y own connection with this story runs deep. Shankar Singh was my mother Sumitra Chishti's brother. After their parents died early, it was he who rescued her from the domestic drudgery she resented as a child. He brought her to Mysore and ensured that she wasn't married off as a teenager. She had free rein to become who she wanted to: lover of books, economist, professor at Jawaharlal Nehru University, director of the Indian Institute of Foreign Trade; and, eventually, wife to a Muslim man from Uttar Pradesh, eight years her junior.
Papanna, as I knew him, passed away in 1979. I grew up listening to stories about his influence in the firmament of Kannada pop cinema. I was convinced they needed to be told to audiences and readers outside Karnataka. Finally, in the last week of March this year, I decided to travel to Mysuru to spend time with his wife, my statuesque aunt Pratima Devi, aged 87. I wanted to hear her stories about their adventures in the thick of the Kannada film industry.
Shankar Singh infused life into Kannada cinema in a period when it had nothing going for it. He insisted that his projects were shot within the state, convincing his peers to think beyond Madras, the big southern film centre of the time. His films, in which the story was the "hero," were about a wide range of subjects: mythology; the caste system; Lingayat philosophy and unscrupulous charlatans. His work didn't shy from showcasing sensuality and female desire. Jaganmohini, his greatest hit, had a woman boldly trying to win over the man as a second heroine, and not as an out-and-out vamp. (Jaganmohini also dazzled audiences by deploying the latest special effects technology for its time.)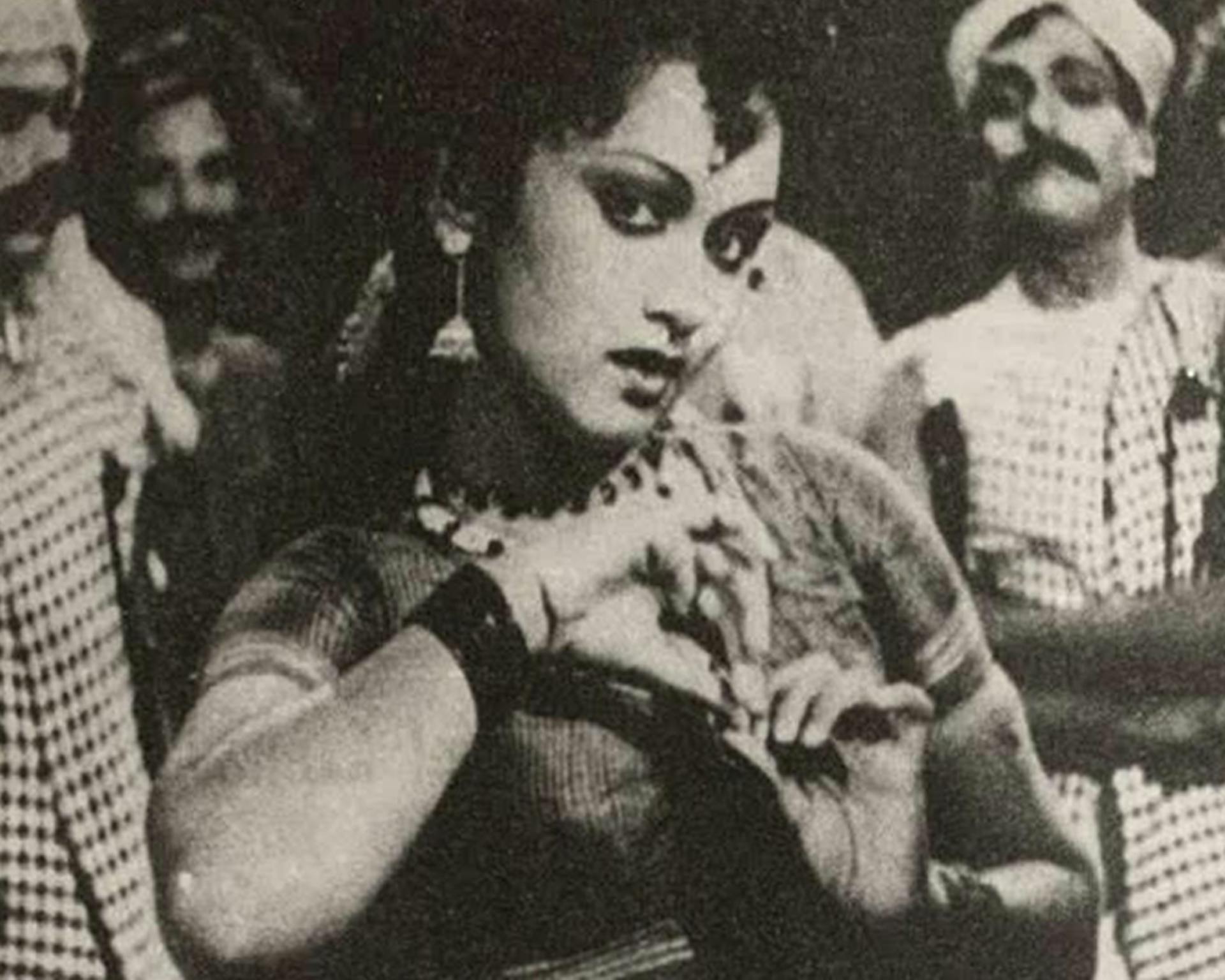 Outside Karnataka, Kannada cinema remains less storied than its counterparts in Tamil, Telugu and Malayalam. The global Kannadiga diaspora isn't as large as that of the other southern states, nor is it as enthusiastic about watching Kannada films. [2] Tamil and Telugu cinema are widely and lovingly chronicled in popular histories in their own as well as other languages. Many blanks remain in the story of the early days of Kannada cinema. This story, about an early pioneer whose birth centenary falls on Independence Day this year, attempts to fill a few of those.
S
hankar Singh was born on 15 August 1921 in the princely state of Mysore, in an unusually named family. The Kannadiga Singhs of Arsikere could never pinpoint their own provenance with certainty: the town was home to them for as many generations as memory went back. Shankar Singh's children said that an ancestor may have landed up in Mysore State as part of a Rajput army centuries ago. An alternate theory was that the original Singh was part of troops recruited from the north by the Mysore maharaja.
The youngest of three brothers, Shankar Singh was sent by his doctor father to Calcutta, where, Dr. Dhan Singh hoped, his son would become a Licensed Medical Practitioner. But the free-spirited Shankar had other things on his mind. He returned to Arsikere as a Brooke Bond tea agent, before he threw himself wholeheartedly into the Quit India movement in 1942.
In 1943, Shankar and his brother Anant Singh spent six months in Hassan jail as political prisoners. After he was freed, he got back his old job with Brooke Bond, but his heart wasn't quite in it. He went on to hold posts in the district Congress committee, and even served as a municipal councillor in Arsikere. He was nagged by the thought of doing something different.
So he set up two 'touring talkies' named Mahatma and Jawahar. [3] Very few towns in India had cinema theatres at the time, so enterprising folks like Shankar would travel to Bangalore and bargain with film distributors to obtain the reels of new releases. They would cart these back to the towns and screen them in temporary venues, typically tents set up for the purpose. If enough audiences were eager, the film was screened every night of the week. That made it a hit, and the touring exhibitor could make profits of up to ₹300.
"Mysore was a city with calm self-confidence. It took in modernity with good cheer, restraint and innocence."
One of Shankar's talkies stayed in the towns, while the other roamed nearby villages. Awestruck audiences could dissolve their worries for a few hours and immerse themselves in the world of story and sound unfolding on a cloth screen before them. It gave Shankar a massive kick to be spreading the gospel of cinema.
Mysore town in the early 1940s was in the throes of political activity. The apparatus of the princely state, beholden to the British and wary of the Congress's nationalism, was cracking down on satyagrahis, even shooting several Congress workers and farmers dead on a couple of occasions.
But Mysore itself was "a city with a calm self-confidence," said Chandan Gowda, a scholar who is currently working on a book on Mysore. "It took in modernity with good cheer, restraint and innocence. A number of well-known writers, intellectuals, Carnatic musicians, stage actors, modernising dewans"—chief ministers to the royals—"among others, conferred on it an awareness of itself as a special place."
These were the qualities that made the city well-suited to a burgeoning film industry. In the mid-1940s, the transport entrepreneur G.R. Ramaiah, along with eight other investors, had started Navajyothi Studios on eight acres in Saraswathipuram. The multi-floor complex, with a full sound studio, would become the epicentre of the Kannada film industry for the next few years. Until then, Kannada films had to go to Madras for post-production work. Shankar Singh's Krishnaleela, which he rescued from C.V. Raju, [4] turned out to be the first film to be fully produced in Mysore.
O
ver the late 1940s and early 1950s, Tamil cinema was already challenging the dominant social order. The Hindi movie industry, rocked by Partition, was committing itself to Nehruvian visions of modernity and freedom. The Kannada audience, in contrast, appeared not to be in the mood for such interventions, and early filmmakers focused their attention on an ever-popular category, folklore and mythology.
Shortly after Krishnaleela, Shankar and Vittal made Bhakta Ramadas, a film about the seventeenth century composer of Carnatic music. After it flopped, the general advice to the young men was to pack their bags and return to Arsikere. They stood their ground. Their next experiment with folklore, in 1949, was Nagakannika. The lead character, played by Jayashree, would morph into a snake on a full moon day: a transmogrification depicted using techniques that were unusual for their time. Nagakannika became a huge hit, successful enough to be dubbed into Tamil and Telugu.
The Kannada film industry was now 15 years old. Sati Sulochana, the first Kannada movie in recorded history, was made in 1934. But it had produced fewer than 30 films. The Hindi, Tamil and Telugu industries were already established, and had a head start on technology. In Mysore state, cinema was still centred around Bangalore, and smaller towns were still in transition from the travelling talkies to the cinema hall.
Navajyothi Studios became a landmark accomplishment. Even Tamil stars came to work there. Most memorably, a certain M.G. Ramachandran, shot a film called Maruthanad Elavarasee there in 1950, with his co-star, V.N. Janaki. There was a huge upheaval in Mysore when it came to be known that MGR and Janaki were in love. Janaki was married at the time, with a son, and Ganapathi Bhat, her make-up artist husband, threatened to register a case of abduction against MGR. The fracas only ended when one of MGR's local friends stepped in. That friend was Shankar Singh. (MGR and Janaki finally married in 1963, and I was told that MGR never forgot Shankar Singh's favour.)
In 1951, Mahatma Pictures' Jaganmohini created a record when it became the first Kannada film to run for 100 days. The plot involved a reborn woman returning to woo her much-married man back. The film's talking point was its 14-year-old actress Harini, originally from Udupi and already a popular theatre artist in Madras. It became a sensation in towns like Davangere and Bijapur, not least because it featured scenes in which Harini variously wore a wet, white sari and a bikini.
There were reports of farmers selling their cattle to be able to watch the film multiple times. After the film was screened for 25 weeks straight, an agitated District Commissioner in Davangere cancelled the licence of the hall. "It took Shankar Singh's determination and good legal support to be able to reverse the decision," said director S.V. Rajendra Singh, Shankar Singh's son and former chairman of the film academy in Karnataka. [5]
S. Vijayalakshmi, Shankar Singh's producer-actor daughter, told me another Jaganmohini anecdote. Since music records used to be released before the film, Mahatma's team had been able to get hold of the record of Kamal Amrohi's Mahal. After hearing the "Aayega Aayega" track, they were able to quickly rustle up "Yendo Yendo" for Jaganmohini. Critics were misled into thinking it was Mahal that lifted from the Kannada original. [6]
After that wild success, Mahatma Pictures churned out five to six films annually for the next two decades. Shankar's strength was shoestring production, Nagaraj Singh told me. Nagaraj, who used to be a film producer, is Shankar's son from his first marriage to Sundarabai.
He said that within the industry, the style came to be known as the 'Shankar Singh Technique.' Shankar minimised the use of expensive film stock by discouraging second takes. To ensure his performers got it right the first time, he organised extensive rehearsals. Shankar also preferred long shifts so that work got done at one go, Nagaraj said. In his book Kannada Talkies, Dr. K. Puttaswamy writes that Shankar Singh brought "a great deal of discipline into Kannada cinema."
"Mysore's MGM" was also known for introducing performers who would go on to become household names. In 1952, the icon-in-waiting Dr. Rajkumar faced the camera for the first time on the sets of Shankar Singh's Sri Srinivasa Kalyana. From his fee of ₹30 for playing a rishi, he bought a shawl for his mother. Shankar also appeared in the formative career moments of two other actors who, along with Dr. Rajkumar, formed the golden trinity of mainstream Kannada cinema—Vishnuvardhan, and "Rebel Star" Ambarish.
Vishnuvardhan's father H.L. Narayana Rao happened to be a close associate of Shankar Singh and his family. When the director Puttanna Kanagal was looking for a fresh face to play the lead in Naagarahaavu (1972), Shankar Singh recommended Vishnuvardhan. The rest is history.
When Ambarish moved to Saraswathipuram for higher studies from Mandya, it was Shankar Singh again who made a vital introduction to Kanagal. Ambarish made his debut with Naagarahaavu, in a short, antagonistic role. (Ambarish faced the camera for some shots in Bangarada Kalla, Shankar Singh's last film, although these never made it into the final cut.) Even B. Saroja Devi, who went on to become a Tamil and Kannada superstar and one of MGR's favourite co-stars, made her debut in Shankar Singh's Aashadabhooti in 1954.
For Shankar Singh, the most significant of these stars had already appeared in Krishnaleela, which was not only the foundation of his professional partnership with Vittalacharya but also the starting point of a relationship that would change his personal life. The set of Krishnaleela is where he first met Pratima Devi.
Of the many artistes C.V. Raju had duped into performing before his empty camera, one was a teenager named Mohini, cast as the important character of Radha. After Raju was booted out of the film by Mahatma Pictures, Shankar Singh quickly applied himself to learn the art of direction. The renowned choreographer B. Sohan Lal [7] was called in to help improve the prospects of the film. He agreed to do so, but conditionally: his fiancée would play Radha. Mohini had to settle with playing a gopi.
She was consoled by the director himself, sparking a love affair that would last till the end of their lives. Mohini became Pratima Devi, and the two were married. [8]  It caused controversy: Shankar Singh already had a family and children with Sundarabai. Bigamy was legal at the time, as was marrying a 14-year old girl; but by no means was the union universally approved of. Indeed, the gossip and criticism would last for some time, long after the couple had settled into a happy working partnership and domesticity.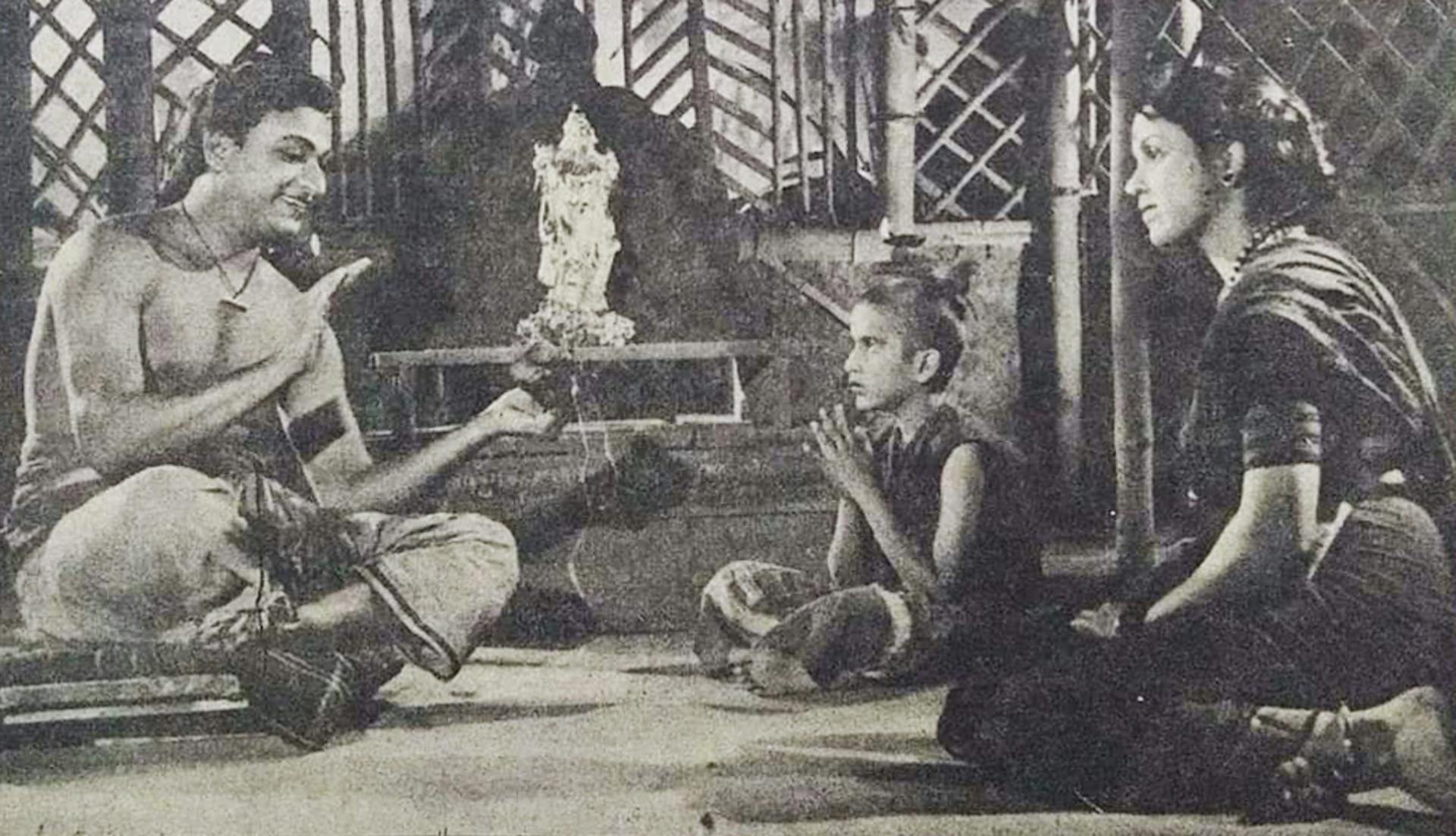 In Jaganmohini, Pratima Devi played the part of the wife who wins over her man, even as the restless spirit played by Harini fights for his affections. It was a star turn. She went on to act opposite Dr. Rajkumar in Bhakta Cheta, Shankar Singh's remake of K. Subramanyam's Tamil film with a strong message against untouchability. (The Tamil film had angered Brahmanical conservatives when it was released in 1940. Mahatma Pictures took their time to make it, and only put it out when Shankar Singh felt Kannada audiences were ready for the push. It was his first film that was unabashedly about the message, direct and provocative.)
Despite the attendant tensions, Shankar Singh managed to keep the children together. Tiffin boxes would be exchanged between aa mane and ee mane—this house and that house.
A remarkably striking-looking Udupi girl, Pratima was born as Mohini into a Saraswat Brahmin family in Kalladka. As a child, her hands were full with chores and farm labour, from milking the cows to bathing them twice. Pratima dreamed of a life in theatre: Upendra Shanae, her brother-in-law, helped with the drumming at local Yakshagana performances, but the girls of the family were prohibited from attending.
Pratima's mother would send away the jaatre people, village festival organisers who, struck by Pratima's looks, came around to ask if she was interested in performing. When Shanae got a job at the textile mills in Ahmedabad, he invited his mother-in-law and Pratima to come stay with him. Pratima recalled listening to Subhas Chandra Bose address a gathering there in 1939, as well as going to Sabarmati Ashram. (The import of that place dawned on her only later, she said.)
Tragedy struck when Upendra Shanae died suddenly. The women returned to Udupi. By then, Pratima had made up her mind—she wanted to spend the rest of her life playing different people on stage.
When one of her elder sisters went to Bombay to study, she told her mother that Pratima would accompany her. In fact, this cooperative sister dropped off the 11-year-old Pratima with the Hiraneya Drama Mandali theatre troupe, on the outskirts of Udupi. When she returned two months later, her unsuspecting mother thought she had been with her sister all the while. "But my life changed after that," Pratima told me. "So when people came looking for artistes for Krishnaleela, I insisted and went. I was less than 15 years old when I found myself on the sets."
I asked her about what it was like to enter Shankar Singh's family as a second wife. He was a large-hearted man, Pratima Devi told me. He ran an open house and a large kitchen. For his young wife, he bought a house close to his original home with Sundarabai. Despite the attendant tensions, he managed to keep the children together, and tiffin boxes would be exchanged between aa mane and ee mane—this house and that house.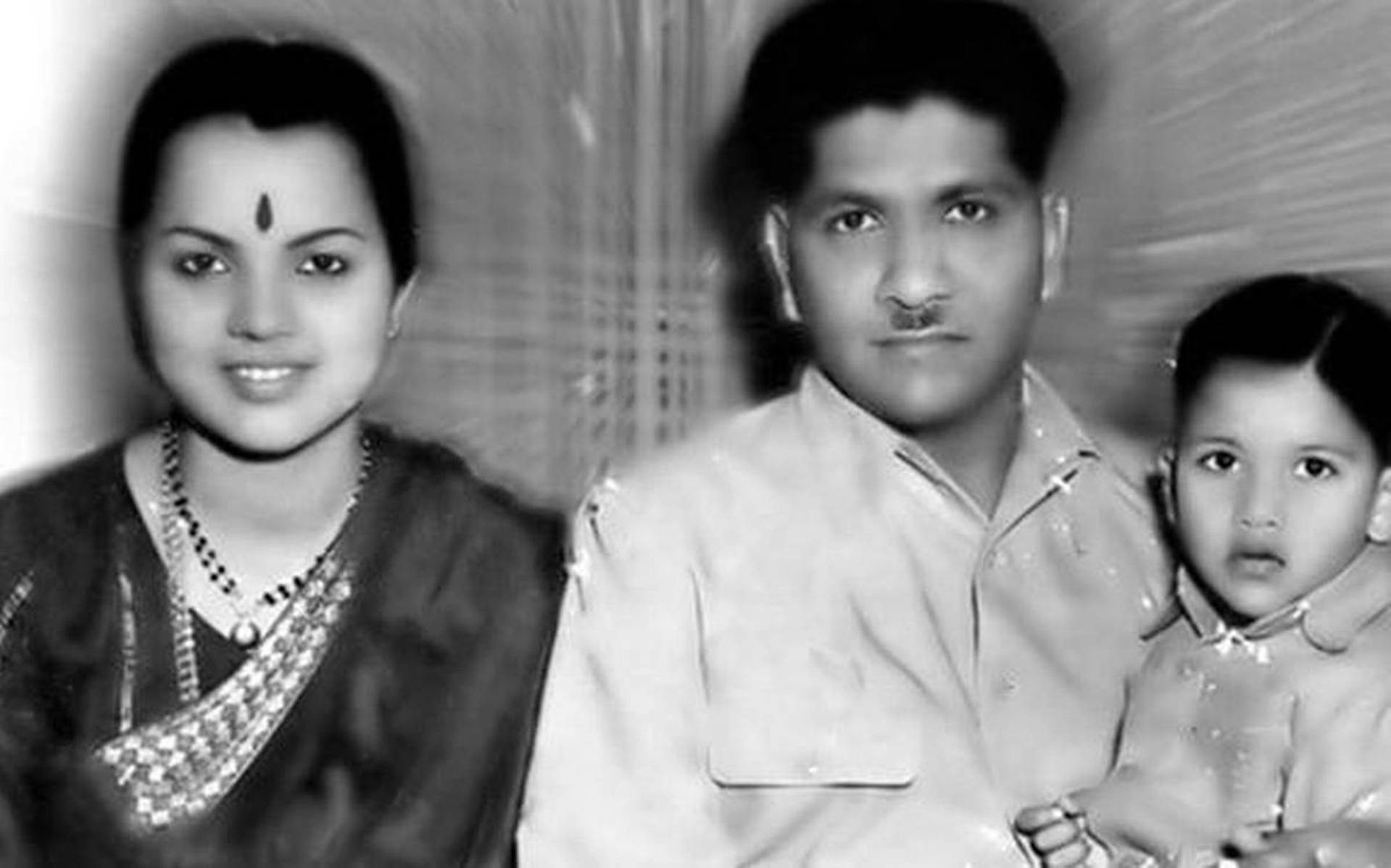 Apart from his own siblings, Shankar Singh took responsibility for many of his nephews and nieces. They all relied on Papanna, who ensured that they were clothed, fed and educated. His children would wear the same clothes as their cousins. Pratima Devi slowly grew accustomed to sharing her home with so many people. Gradually, she said, she gained acceptance and respect among the large brood that flocked around Shankar Singh.
T
here were more milestones for Mahatma Pictures over the years to come. Three reels of Prabhulinga Leele (1957), the story of a revered Lingayat saint, were shot in colour. This was done in close coordination with the technical team of V. Shantaram, who at the time was experimenting with grand themes and dances. The visual spectacle of "Pyar Kiya Toh Darna Kya" and Mughal-e-Azam was still three years from release.
There were also speed bumps. The writer Narendra Babu once narrated a story about a sainted Shiva devotee to Shankar Singh. Shankar, captivated, acquired the script and started shooting immediately, as was his habit. But the writer had sold the same story to the reputed director B.R. Panthulu in Madras, best remembered for films like Modala Thedi and School Master. Panthulu called Shankar Singh from Madras and asked him not to bother with making the film since he was making one on the same script.
A peeved Shankar Singh ran an unprecedented three daily shifts and completed the shoot in a span of 28 days. Panthulu was reportedly shocked when Shivasharane Nambiyakka released, though he did complete and release his own version. Shankar Singh's effort was pure grandeur, meant to make a point rather than money. (This was just as well: the film was not a great success.)
Shankar had learned to hold his ground in hard battles. In the mid-1950s, his own comrade Vittalacharya left Mahatma Pictures to produce films in Madras. Shankar, despite repeated entreaties, stubbornly refused to join him. In the Madras studios, Kannada and Malayalam cinema were given second-class treatment. Tamil and Telugu cinema had the first priority for floor space, and Kannada films would often only get the night shift after 10pm.
The Kannada-enthusiast in Shankar Singh refused to countenance this. He lobbied the Karnataka government to make their newly created state the hub of Kannada cinema. In 1962, he prevailed upon the chief minister S. Nijalingappa to provide a subsidy for films made in Karnataka. This was an old connection: the CM was a fellow freedom fighter and Congressman from the Arsikere days. Then finance minister Ramakrishna Hegde agreed to provide a subsidy of ₹50,000 to films shot wholly in the state. (The government levied a surcharge of a rupee per ticket for its film fund.)
Here is where the stories of Karnataka's popular cinema and its arthouse cinema happily intersected. The subsidy provided a fillip to the Kannada New Wave, which went on to receive critical acclaim around the world. The 1960s and 1970s were a period of frenzied activity for towering Kannada literary figures. There was a kind of renaissance in the world of art, theatre, writing and cinema.
Award-winning writers like Shivarama Karanth, Girish Karnad, P. Lankesh, Baraguru Ramachandrappa and Chandrasekhara Kambar turned their attention to directing films. Theatre personalities such as T.S. Nagabharana started working in cinema, too. Filmmakers like Girish Kasaravalli made their first movies because of these state subsidies.
Government policies, the film writer Jayanth Kodkani explained, "led to the encouragement of independent expression or offbeat themes in cinema. The Film Finance Corporation"—later the NFDC—"was a major boost."
Popular Kannada cinema started paying attention to literary works in the late 1960s. In Kannada Talkies, K. Puttaswamy argues that this is what set the stage for the new cinema of the 1970s. The popular writer Triveni's novel was adapted to Beli Moda. Chakrateertha, based on Tha Ra Su's work, Mallamanna Pavada based on B. Puttaswamaiah's novel, and Eradu Mukha, adapted from the work of Aryamba Pattabhi, were all produced following this. Films like Aruna Raga, Upasane and Bangrada Manushya were easily more popular than the books they were based on.
In 1970, Pattabhirama Reddy made Samskara, based on the famous novel by U.R. Ananthamurthy. That screenplay was written by Girish Karnad, who also starred in the film. If there was ever a watershed moment in modern Kannada cinema, it was this: Samskara won a National Award for Best Feature Film and inspired a generation of filmmakers to work on literary adaptations.
The Kannada New Wave was steeped in the influence of Italian neo-realism and the French New Wave, as well as Kurosawa's vibrant sentimental epics. But, Kodkani pointed out, they were also indebted to their political inheritance, what Karnad called "a product of a generation associated with Nehruvian dreams." In this, the one-time proprietor of Jawahar Touring Talkies had played his part.
From the late 1960s, Shankar Singh began to move away from direction and production. For the next decade, family and guests got together in the Singh home to discuss politics and cinema over food and drinks every evening. He was content to experiment with screenplays, while his sons—the eldest from each wife—took charge at Mahatma Pictures.
Every weekend, he organised picnics in Srirangapatna, a place he was drawn to because of its desolation and scenic beauty. A dip in the Cauvery was followed by a feast of biryani and mutton cooked on the spot. (He was partial to the biryani made by a legendary Mysore caterer, Abdul Sattar.)
Shankar Singh died on 19 September 1979, never having left his beloved Mysore for greener pastures elsewhere. Fittingly for the timing of this story, Mysuru is due to get a Film City soon, after multiple delays and controversies. It owes much to the legacy of the man who refused to go to Madras to shoot Kannada films.
"
You do know, Seema, that I actually started it all, dabbling in films and acting, before he decided to enter the film world," Pratima told me. Not only had she embarked on her life as an artist before Shankar Singh, she also continued to act after he was gone, experimenting with diverse genres, including comedy and musicals. In 2001, she won the Rajkumar Lifetime Achievement Award. Her last film was Rama Shama Bhama in 2005. In Shankar Singh, she told me, she found a man who understood what drove her and how she wanted to spend her time.
Unusually for a woman actor of her time, marriage didn't spell curtains for her career. In fact, it was the start. "My life began in true measure after I met him," she said. "With others, I had to keep offering explanations about what I wanted to do or be. With him? He just got it and understood." It was the finest thing anyone had told me about Shankar Singh, and put my mother's freedom into perspective.
"You do know that I actually started it all, dabbling in films and acting, before he decided to enter the film world."
There was, of course, a flipside which is perhaps harder for the chronicler to swallow than the subject. Pratima's career could blossom as long as it was within the "home" production house, Mahatma Pictures. In his lifetime, she wasn't permitted to do films with other directors. She had to look after the children and keep the house running too, she said.
While our conversation focused on Shankar Singh and his legacy, it was clear to me that it was Pratima Devi who had truly overcome insurmountable odds to live the life she had. In her own way, she smashed Brahmanical barriers and transcended the status quo. For the young granddaughter of a priest in the holy town of Udupi, to even think of a career in show business would have been sacrilege.
Twelve days after I returned to Delhi from Mysuru to write this story, Pratima Devi passed away in her sleep, just short of her 88th birthday. The story became all the more urgent. There were now two legacies to preserve.
K
annada cinema is still burdened by many of its historical issues. "Despite incredible talent, for many decades, popular Kannada films had no market beyond Karnataka," Jayanth Kodkani told me. "There was no marketing approach. Kannada movies had to compete with films made in other languages even within the state. The size of this market has meant that producers couldn't mount movies on lavish budgets like elsewhere."
The propensity of audiences in Karnataka to accept movies in other languages has meant that fewer screens are available for Kannada films. Even now, mainstream Kannada cinema is considered a 'remake factory.'
But there have been bright spots in the new millennium. The film writer Vivek M.V. told me that Yogaraj Bhat's Mungaru Male (2006) and Suri's Duniya (2007) brought audiences flocking into theatres. In 2013, Pawan Kumar's psychological thriller Lucia got the attention of non-Kannada film-lovers too. It broke new ground in filmmaking and inspired many young directors to experiment.
Finally, in 2018, KGF: Chapter 1 became the first popular Kannada film to truly cross over to pan-India audiences. The Prashanth Neel-directed film, based on a story of a goldmine, a superhero and his forays in Bombay, went head to head with Shah Rukh Khan's Zero at the box office and came out on top. A highly-awaited sequel is in the works.
For now, these films are islands of their own excellence. Popular Kannada cinema continues to lurk in the shadows of its south Indian counterparts. Tamil consistently sets new standards for fresh, exciting popular cinema; Malayalam has hit the sweet spot, with a new generation of filmmakers riding on an OTT boom; the Telugu film industry often comes closer to Hollywood's technical brilliance and recession-proof blockbusters than even Hindi cinema.
In a sense, contemporary Kannada cinema faces challenges similar to those faced by Shankar Singh in those pioneering days. Now, Puneeth, son of Dr. Rajkumar, and his company have pledged to be more experimental. An exciting crop of directors in their late thirties are keen on pushing the envelope—people like Rakshit Shetty, Rishab Shetty, and Anup Bhandari. They needn't look far for historical perspective: only at Mysore and the life of Shankar Singh.
Seema Chishti is a writer and journalist based in Delhi. She has worked in print, radio and television, in English and in Hindi, since 1990. She was the Delhi editor for BBC India and a deputy editor at the Indian Express. She is the co-author of Note by Note: The India Story (1947-2017), a history of independent India told alongside the sound of Hindi film music for each of the years. Her endeavour remains to tease out, untie and then help interpret the many strands of change in a large and diverse country.