Subscribe to our newsletter
Weekly updates with new Fifty Two stories
Escape
The two boys don't quite agree on how it began. Ashish says that he and some other boys stole Rahul's bread while he was in the bathroom. Rahul says it was all part of a plan. They agree on the main thing: on the morning of 20 February 2016, Rahul stepped out of the makeshift bangle factory in Jaipur, with a ready excuse. If Sonu, their trafficker, asked, he was going to say he was hungry, and plead to be allowed to go out to buy bread: hard, sweet gol paape buns, to be precise.
He and some other boys had been trafficked there from their homes in Bihar by a man named Sonu. Sonu made the boys work until midnight every day. Breakfast was two pieces of paape with chai. Their only other meals were what they could scramble together with a meagre supply of potatoes and rice, and some takeaway food that Sonu brought at the end of the day. The boys typically had dinner only after midnight.
Rahul was somewhat familiar with Jaipur from a previous stint at a sari factory in the city. He was playful and self-assured, the only one of the boys who dared to talk back to Sonu. Sonu would often beat him for this, but Rahul did it anyway. It earned him the tag of sanki, eccentric, among the children.
Luck was on Rahul's side that morning. Sonu stepped out to fetch some pots of water, and left a back door open. He'd only be away for a few minutes.
Rahul sneaked out. This was the first time he had left the house, which also served as a factory, since he had arrived more than a year earlier. From his earlier time in the city, he remembered a police station about two kilometres away. He ran towards it. The glass and lac powder in his clothes and hair shimmered in the sun. 
B
ack at the house, Ashish and the other kids began work for the day. Sonu returned to find Rahul missing. The other boys told him Rahul was washing clothes.
At around 11am, there was a knock on the door. "There were three locked doors between us and the knock," Ashish said. "Sonu peeped through the outer door, tiptoed to us and whispered, 'Hide yourselves.'"
The children normally obeyed Sonu unquestioningly. But that morning, they found courage and decided not to hide, Ashish told me. "We didn't know how it'd work out, so we didn't do anything drastic. We just continued making bangles."
Sonu opened the door to find that there were two vehicles full of policemen outside the house. Others had gathered to see what was happening. Rahul stood in the midst of it all.
The police arrested Sonu, whose real name was Toufeeq. They conducted a search, took photographs, and recorded the children's statements, before charging Sonu with child trafficking, wrongful confinement, employing children in hazardous work, and physical assault. "I was so relieved we were saved," Ashish said. "I was sure Sonu would have killed us some day or the other."
Rahul could have just escaped when he got out. When I asked Rahul why he didn't, he said, "If I had left, the other kids would've been stuck. Sonu would've killed them."
What about the danger to him, I asked. Rahul shrugged. "Hum darbe nahi karte hain." I'm not scared.
Labour
N
early 24 million children are employed as labour in India. One in ten of these children work in Rajasthan, many in its capital, Jaipur. [1] Tourists love the city's bangles, but the industry that makes them largely comprises home-based workshops built on the backs of underaged workers. As a result of the forced labour, children suffer a range of ailments, including severe neck and back pain, and deformed knees from extended hours of squatting.
A large proportion of these children come from one state. Of the 1061 trafficked children rescued in Jaipur between January 2019 and December 2020, almost three-fourths were from Bihar. [2] Four child labourers at Jaipur's bangle units died between July and November 2020, The Indian Express reported. [3] All were from Bihar, between 12 and 16 years old.
Gaya district, in particular, is a major centre of this trafficking. While reporting this story there, I met three children with work-related musculoskeletal disorders of the neck, including one with an abnormal growth on his neck. All of them had previously worked in bangle factories in Jaipur or Hyderabad. None of the children had received medical attention.
"I couldn't bring back my brother's body. I did his last rites with an effigy made of paddy straw."
Neither had Shashikant Manjhi. On 11 July 2020, Manjhi, a 13-year-old boy from Gaya, who worked at a different bangle factory in Jaipur, complained about his terrible neck pain on a phone call with his sister-in-law. Two days later, he called her again, and asked her to collect some money from a bank account in which his employer was supposed to have deposited his salary.
Later that day, Shashikant died. His brother, Mithilesh, alleges that he died because he was physically abused and not fed properly during the Covid-19 lockdown. "The factory was shut and the employer complained about feeding him," Mithilesh told me.
At the time, the country was under partial lockdown, and travel was expensive. The employer had not deposited Shashikant's salary dues either, Mithilesh alleged. A travel agent promised Mithilesh a one-way train ticket to Jaipur for ₹5000. "I couldn't afford it," Mithilesh said. "I couldn't bring back my brother's body. I did his last rites with an effigy made of paddy straw." Shashikant's employer, who had also trafficked him from Gaya, is now in jail.
Typically, the chances of a child trafficker being convicted are slim. In 2019, out of the 1019 cases of human trafficking involving children that went to trial, only 30 cases saw convictions. [4] There are many reasons for this abysmal conviction rate, according to Deepika Reddy Allana, Program Advisor at The Freedom Fund, an anti-trafficking organisation. Evidence is often weak, courts are not child-friendly, prosecutors are overworked, and cases come up many years after children are rescued, which often makes testimony inaccurate or weak. Some survivors are not even notified when their cases come up for hearing.
Cases are also impeded because survivors largely belong to oppressed castes, and are uniquely vulnerable to pressures within and beyond their communities. All the victims of child trafficking in three separate cases that I spoke to for this story—four out of the five boys rescued in 2016, three boys rescued from a bus to Jaipur in 2020 and Shashikant Manjhi's family—are Musahar.
Musahars are classified as Mahadalits, an umbrella term coined by Chief Minister Nitish Kumar for some of the poorest and most marginalised communities among Scheduled Castes. None of the trafficked children's families owned land, and all faced severe economic pressure. An individual that an outsider views as a trafficker, or an abuser, may often be seen by these families as an employer, even a saviour.
Traffickers are likely to be a neighbour or a cousin or uncle from the same village. Rahul, for instance, lived just a kilometre away from Sonu. So, even though the Jaipur police caught Sonu red-handed, it was possible that he would get away scot-free. It was going to be easy for him to influence the testimony.
Trafficking
A
shish first met Sonu in his village—Samod Bigha—in the winter of 2014. He was in Class 7, though he hardly attended any classes. Sonu was from Solara, a neighbouring village, but lived in Jaipur. He told Ashish tales of life in the big city, of its beautiful monuments, its good food––and a good school, where Ashish could study. All Ashish had to do was learn bangle-making. He would only have to work an hour or two a day and he could earn ₹2200 in a month. He would not have to pay for food or a place to stay. He could send all the money to his family.
Ashish says he was tempted when Sonu mentioned the school. His family's circumstances had made the offer attractive in any case. His father worked in a brick kiln and barely made ₹2000 a month. He spent most of it on alcohol. His mother worked in the fields around the village. During the harvest season, she would get one bojha, or bundle, for every dozen she reaped. That meant that, for three days of work, she would earn two, maybe three kilograms of rice, far too little for their family of seven. "There were daily fights in the house over money," Ashish said. "As the eldest child, I felt responsible."
Any hesitation he felt turned to delight when Sonu gave him an advance of ₹2000. Ashish immediately ran over to his friend and a cousin to tell them about the plan. Soon, Sonu was proselytising about studying and working in Jaipur to a group of six children. He paid ₹2000 to each of them to seal the deal.
Ashish didn't sleep the night before he left. He had packed his school bag with clothes. His mother would never let him go away to a far-off city, so he didn't mention the plan to her.
The children met Sonu in Solara, which is 35 kilometres away from Samod Bigha. Another boy from Sonu's village joined them here. This was Rahul. The next day, Sonu took the seven children to Gaya. From there, they boarded a train to Delhi. Travelling together would be fun, Ashish thought, but Sonu made all the boys sit separately. He himself sat on a seat far away. Once they reached Delhi, the group boarded a bus to Jaipur.
In Jaipur, Sonu took them to a bangle-making workshop run by his aunt. When he entered the house, Ashish noticed several children labouring away. One, who seemed no more than 10 years old, squatted on the floor, working with the ease of an expert. "I imagined how young he must have been when he started there," Ashish said.
Sonu kept the seven new children there for 15 days to train them in bangle-making. "Here, I saw the kids being beaten brutally. I knew we'd be treated the same way soon," Ashish said.
Back in Gaya, Ashish's mother had returned from work to find that he was missing. "Hum pagal ho geli hal ro ro ke. Kuch pata na chalit hal laikawa ke. Hamra lagit hal ki hamar laikawa ke mar delai koi," Ashish's mother, Sheela Devi, told me in Magahi. I lost my mind crying. I had no information about my child. I dreaded that somebody had killed him.
T
he children were moved to a new place after the training. Another boy from Sonu's aunt's workshop joined them. The new factory was a dingy three-bedroom house with no open space or ventilation. The eight children lived, cooked, ate and worked in the same space. Sonu occupied one big room. "There were three doors between us and the outside world; they were always shut," Ashish said.
Sonu began working them for long hours. "I had never sat that long, even to study," Ashish said. "I thought I would lose my legs." They squatted on the floor, with their necks craned down, eyes glued to the bangles as they set tiny stones in them. They coughed as they inhaled the fine glass and lac dust they rolled the bangles in to make them shimmer. Soon enough, Ashish had trouble breathing.
The children weren't allowed to step outside the factory. Even for haircuts, Sonu took them out at night one by one on a scooter. Ashish said one reason for this was that the children's bodies, hair and clothes were covered in glitter. "During the day, anybody could see we worked at a bangle factory." A child named Devanand had been assigned cooking duties besides bangle-making. "Sonu would give me a kilo of potatoes and ask me to make it last for two meals for the eight of us," he told me.
The beatings were the worst of all. When a child couldn't or wouldn't work, Sonu would flog them with whatever he could get his hands on. Often, this would be one of the wooden rolls on which the children hung the bangles. Rahul, who wasn't afraid of talking back to Sonu, bore the worst of it. He told me Sonu would lock him up in a room, tie him to a chair, and beat him with a stick.
Sonu often threatened to dismember and kill the children. Ashish recounted an instance when he reminded Sonu about his promise to enroll him in a school. "He said, 'You're here to work. And, if you run away, I'll chop you into pieces, tie your body parts in a sack and dump them. Crows will feast on you and your family will keep looking for you forever.'"
Phone calls to family members were forbidden. Instead, Sonu would send word through others that he was taking good care of the children. These tactics are part of the standard playbook of employers in the bangle-making industry. The activist Suresh Kumar said that they employ children because they need small, nimble fingers to handle the tiny pincers that are used to set stones. "Also, children can be crammed into small houses," he said. "They are free or very cheap labour. They are easy to intimidate and unlikely to retaliate or run away."
This was the world the children escaped––one they described in startling detail when they testified in court. Like so many trafficking cases in the Indian judicial system, theirs might have faded away. But Kumar wasn't about to let that happen.
Preparation
F
or two months after the rescue, the children stayed at a government-run children's home in Jaipur. Ashish told me he had respiratory trouble, and suffered from a severe cough and cold throughout this period.
Meanwhile, Sonu brought the parents of all five rescued children to Jaipur at his expense. It was his attempt to persuade them to testify on his behalf in the hearings, which would begin later in 2016 in a district court in Jaipur. [5] But the plan fizzled out, and the parents returned without seeing their children.
After Jaipur, the boys stayed at a children's home in Gaya for over a month. In June 2016, Ashish and Rahul returned home. It had been more than 18 months since they left.
That year, Suresh Kumar expanded the work of Centre DIRECT, an anti-trafficking non-profit, in Gaya. From a partner NGO in Jaipur, Kumar, who is Centre DIRECT's executive director, received a list of children rescued from Jaipur over the last two years. Ashish, Rahul and three other children from their group were on this list. Kumar met Ashish in March 2017, and began to work to secure justice for the children.
"You've come back alive once. Don't push it. Who wants to get entangled with these people?"
For that, it would be crucial to get the boys to testify. The boys were fearful. They did not know what it meant to appear in front of a judge to talk about what Sonu had done. "Our trained counsellors, with the support of pro bono lawyers, organised many mock testimonies. 'Tell the truth,' we kept harping," Kumar said. After two months of counselling, all five children agreed to testify.
But even if they were less scared now, there were other concerns. "I had no money," Ashish said. "Who would want to lose workdays and forgo wages to go to court? I didn't." Centre DIRECT offered to cover travel expenses to and from Jaipur. The organisation was also worried that the children might be re-trafficked, or pressured by the trafficker to testify in his favour, something that is fairly common in such cases. So the NGO supported the families with small amounts of money.
There was considerable resistance from within the families. Ashish's mother, Sheela, said, "I told him, 'You've come back alive once. Don't push it. Who wants to get entangled with these people?'"
She had reason to worry. Sonu, who was out on bail, had been calling regularly. He spoke politely, and told Ashish how he should testify. He wanted Ashish to say that he reached Jaipur on his own, that Sonu took good care of him, and provided him with food and education.
Sometimes, he would threaten them. "Sonu used to say, 'I'll kill anyone who testifies against me. I won't shoot, I'll send his photo to someone who'll do it for me. Nobody will know where he disappeared,'" Ashish said. Petrified, Ashish would say yes whenever Sonu told him to testify in his favour.
But the boy could not forget what had happened. "I have endured injustice," he said. "I was very angry. I thought, when I have an opportunity, I'd teach him a lesson."
In many cases of trafficking that stretch across state borders, summons simply never arrive, but Centre DIRECT ensured the summons were served correctly in this case. As the hearings were in Jaipur, they coordinated with a fledgling network of organisations working on trafficking from Bihar to Jaipur. [6]
For legal support, the network put Centre DIRECT in touch with the Jaipur-based Centre for Child Protection. Their lawyers assisted the public prosecutor in the case. The legal team decided to work with a recent amendment to the Indian Penal Code which provides for imprisonment of 14 years to life for trafficking more than one minor. [7] It was a powerful, if untested, legal strategy.
In November 2018, almost three years after the rescue, Ashish received a summons from a Jaipur court to testify in the case. He, Rahul and two other children were ready.
Testimony
O
n 28 November 2018, Ashish sat outside the court of the Additional District and Session Judge No. 9, Jaipur City. He was slated to appear at 12 noon, along with Rahul and another boy.
As he waited, he felt a gaze fixed on him. Looking up, he saw Sonu walking towards them. Ashish's fists tightened and his jaws clenched. His head reeled a bit. Rahul, sitting next to him, grew angry.
"Ashish! Is that really you?" Sonu said as he came closer.
A constable accompanying him asked, "Is this Sonu?"Ashish nodded. By then, Sonu was close enough to touch him. A shudder ran through Ashish.
"Aye! Don't you come close to the kids," roared the constable. Sonu stopped in his tracks. The fear on Ashish's face was palpable.
Deena Nath Maurya of Centre DIRECT, who'd accompanied the children to Jaipur, calmed Ashish down. A woman from the Jaipur children's home told him that Sonu couldn't harm him. "Just don't be afraid," she said.
When his name came up, Ashish got into the witness box. He told the judge that Sonu forced him and other children to work in his bangle factory. He spoke of how meagre the meals were and how they weren't allowed to step out of the house. He also spoke about physical abuse: "If we slacked in work, Toufeeq would hurl whatever he could grab at us."
Each child's testimony reinforced the others'. Devanand identified Sonu for the judge. Another of the boys, whose parents were daily wagers, testified that Sonu made them work from 6am until midnight.
The defence argued that the boys were adults. Under cross-examination, the daily wagers' son denied that he was above 18 or that he was a drug addict.
The prosecution called Dr. Rajkumar Sen, the physician who had conducted a medical examination of the five boys after the rescue. Dr. Sen pegged their ages at between 11 and 17. According to him, Rahul and Devanand were around 14 or 15 years old, the daily wagers' son was between 14 and 16, Ashish between 15 and 17. Another boy was estimated to be around 11 or 12 years old. In his cross-examination, the doctor granted that the children didn't have visible injury marks and that they were not suffering from any disease or malnutrition.
But the children recounted graphic details of abuse for the court. "If we asked to call home, he'd lock us up in a room and thrash us; he'd lift us up and slam us down. He'd tie me up in that room and beat me up," Rahul told the court. "He told us he'd kill us if we didn't work."
"My head was whirling. I didn't think that what I said in court would have such an impact."
The prosecution wanted to put Sonu on the stand. But when it was time for his testimony, Sonu was missing. Rahul believed that Sonu fled because he and the other children gave strong testimonies against him. "He ran and hid himself in the bathroom," Rahul said.
Sonu's lawyer had asked to cross-examine the children, but didn't show up at the appointed time. Later, Sonu filed an application to reopen the cross, but the court rejected it. It admitted the children's testimonies as final.
Two weeks later, the court heard the testimony of the fifth boy. The boy denied knowing Sonu, and said that Sonu neither brought him from his village nor made him work in a bangle factory. He denied knowing any of the other children.
In his cross-examination by the prosecution, however, he admitted that he had been rescued by the police from the same house as the other children. In fact, he had been rescued during the same raid as the other children. The court declared him a hostile witness. Maurya said that the boy later told him that Sonu's associates had taken him to Jaipur, and kept him confined until his testimony. This boy, who didn't respond to my requests for an interview, is part of the group of rescued children that Centre DIRECT supports.
Sonu gave his statement eventually. He denied knowing any of the children or bringing them to Jaipur. He also denied any involvement in the bangle-making business. He claimed to be a student. He said that the police apprehended him and took his photograph while he was out enquiring about the fees of a private college. The landlady, Mobina, testified that she rented the house to Sonu for ₹3000 per month. She claimed that he used the place to study and wasn't involved in the bangle-making business. 
But by this point, Sonu knew he was in big trouble.
Kidnapping
F
rom here on, Sonu's strategy centred on getting the children to retract their statements or to get their family members to testify in his favour. He called Ashish's mother Sheela frequently, and asked her to come to Jaipur and make a statement in court. "He'd say: 'Either come with me or give your thumb impression on a statement. I'll pay you,'" she said.
After Sheela repeatedly refused, Sonu came to meet her in person in May 2019. She tried making excuses to avoid going to Jaipur with him: there had been a fight between Ashish and his father, she said; there was a wedding in the family, she added.
At the mention of the wedding, Sonu offered Sheela ₹12,000 for a gift and other expenses for the event. Money was always tight, so Sheela took it.
She also received a call from Rahul's mother, Sumitra Devi, who said she was going to Jaipur with Sonu. She asked Sheela to join her, along with the parents of two other children.
Sheela took the money, handed it over to a relative, and prepared to go to Jaipur. Her rationale: "Since I've accepted money from you, I'll come with you. But I won't say what you ask."
Sheela set out for Solara, Sonu's village, along with two other parents. What she didn't realise was that Sumitra had called under pressure from Sonu, who was sitting with her as she made the call. Sonu had been working on Rahul's family, subjecting them to persistent and aggressive pressure, even enlisting some of Rahul's extended family for the job. In January 2019, Sumitra had informed the police station in writing that Sonu and his family had been threatening them, but an officer let Sonu's father off with a warning.
On 2 May, Sonu's maternal uncle and a few others gathered at Rahul's house. They demanded that Rahul change his testimony, or that Sumitra go to Jaipur to testify in Sonu's favour. While Rahul got into an argument with them, Sumitra escaped. Sonu's uncle and a cousin of Rahul's forcibly squeezed Rahul between them on a scooter and sped away.
Sumitra hid in a mango orchard outside the village, wondering what to do. It was midnight when she returned home and found out that Sonu's associates had kidnapped Rahul. If she waited till morning to get help, Rahul might well be on his way to Jaipur. She decided to reach out to Centre DIRECT. Their office was in Gaya, 12 kilometres away. There were no buses or autos to take her there.
Sumitra walked for three hours to reach the office. She knocked on the door and woke Maurya, who also lived in the same building. After she told him what had happened, Maurya took her to the Paraiya police station, closest to her village, where the police registered an FIR for kidnapping, wrongful confinement, and extortion.
Back in Solara, earlier that day, Sheela noticed that Sumitra wasn't home. "Now I was afraid," she remembered. "Despite being from the same village as Sonu, she wasn't going with him." Sonu, who had stopped being polite once they reached Solara, brushed aside her concerns and said that Rahul was coming with them.
Sonu took her to his house along with two other sets of parents from the same group of children. Here, Sonu's grandmother, parents and sister beat their chests and cried in front of them. They pleaded with them to save their boy. "I told them I wasn't there when my son testified," Sheela said. "They wouldn't benefit from my going to court."
Sheela and the others stayed in Sonu's house that night. The next day, Sonu, along with his uncle, took Sheela, Rahul and four others in an auto to the train station. Sonu had taken the others' phones. "He asked for mine as well," Sheela said. "But, I didn't give it, saying I wouldn't be able to go with him if I couldn't manage things at home: the father-son fight, and the wedding. I told him I had to call Ashish frequently to calm him down."
Sheela was keeping in touch with her son on the phone. She'd assumed they would board the train at Gaya railway station, and told Ashish as much. Sonu still hadn't suspected anything was amiss, but Ashish now patched Maurya on the call. Maurya decided to go with the police to Gaya. By then, Sumitra's FIR had already been registered. "Keep calm, come to Gaya, we'll rescue you at the station," he told Sheela.
But instead of going to Gaya, the auto sped to Guraru railway station, about 25 kilometres away from Gaya. Sheela was frightened. She got on the secret group call again to convey the information.
At Guraru, Sonu hurriedly shoved them into a local train. "I started to cry," Sheela recounted. "What if Sir (Maurya) didn't arrive in time? Where would Sonu take us? What would he do to us? I was very scared."
"When Sonu couldn't find me, he took my mother," Ashish said. "He thought I'd come to rescue my mother and he could blackmail me into changing my testimony. If not, he could always get my mother to contradict my statement."
The police arrived at Guraru too late. Then, they missed catching the group again at AN Road, another station down the line. By now, the train had sped past six stations. It was time for another group call.
The next station was Dehri-on-Sone. A bridge on the Sone river causes a traffic bottleneck. Before they can enter the station, trains have to halt on the bridge for a while. Maurya started coordinating with the police. At around 10.30am, the train reached Dehri bridge. Another call: Maurya added Dehri-on-Sone police to it. Sheela told them they were on the bridge.
The train remained stationary on the bridge for more than 30 minutes. Sheela grew anxious. Then, she noticed some people in her bogie. They repeatedly looked down at their phones, and then at her. "I immediately knew it was the police. They were trying to match me with a photo," Sheela said.
The photo was of Sheela in front of the Hawa Mahal at Jaipur, taken by Sonu's associate when Sonu had taken her to Jaipur on the pretext of meeting Ashish. "That's the only decent photo of mine, taken on a bada mobail,"—a smartphone, she said. Ashish had sent the photo to Maurya, who forwarded it to the police.
"Earrings, yes, sindur, yes, same bangles as in the photo," Sheela said. "I pulled the pallu down from my head so that they could see me well. I was having trouble keeping calm."
Suddenly, people gathered around Sheela. Her companions grew puzzled. Sonu, who realised what was happening, slipped away in the melee, but the police detained his uncle. A team from Paraiya police station, where Sumitra had filed the FIR, arrived that night and took custody of him. The two mothers had foiled Sonu's plan.
Judgement
O
n 28 August 2019, four months after the kidnapping, the court convicted Sonu under various sections of the Indian Penal Code and the Juvenile Justice Act. The children's testimonies established that they were wrongfully confined and physically abused by Sonu, the court observed. It noted that the medical examination confirmed that all five boys were minors.
The judge said there was no evidence to support Sonu's claims that he had been studying in Jaipur. All his education documents were from Bihar. The fact that he had rented a three-bedroom house to prepare for competitive exams without even enrolling in a Jaipur college refuted his claim of being a student.
Most importantly, the court found that charges against Sonu under Section 370(5) of the IPC, which provides for life imprisonment for trafficking more than one minor, were proven beyond doubt. "A lenient approach towards the accused is not justifiable," the court noted.
On the day of the judgement, Ashish was attending a course at a computer centre run by Centre DIRECT in Gaya. He hadn't thought about the case much since his testimony, and not at all since the kidnapping. "Focusia hai sab," he told me. It's all for show. He didn't think anything would come of it, and was more worried about finding work.
A trainer at the centre told him the news about the judgement. "Umar qaid," he said. Life imprisonment. "I had never imagined it. My head was whirling. I didn't think that what I said in court would have such an impact." The court had also ordered Sonu to pay a fine of ₹1.46 lakh, which would be distributed to the four boys who testified against him. It also issued a recommendation letter to the Rajasthan State Legal Services Authority, asking it to pay compensation to the four boys.
Ashish felt vindicated. "Since the judge saw it, now, I was feeling that my anger was genuine."
S
onu's conviction was unprecedented. Its impact was felt in both Gaya and Jaipur. Jaipur's courts have convicted five more traffickers since Sonu's conviction—three of them have been sentenced to life imprisonment. "The conviction created a stir among traffickers, they were terrified," Narendra Sikhwal, former head of Jaipur's Child Welfare Committee, explained. [8]
Meanwhile, in Gaya, more rescued children are willing to testify. In September 2020, 19 children from Gaya were rescued from a bus just before it entered Jaipur. I met three of them and their mothers. The mothers have all signed agreements with Rajasthan Police to turn witnesses for the prosecution. Deepika Reddy Allana of the Freedom Fund told me that the network has so far helped more than 140 children to travel from Bihar to testify in Jaipur's courts.
Encouraged by Sonu's conviction, Centre DIRECT is now building more than 50 cases involving 254 children to prosecute a dozen traffickers, Kumar said. All the cases involve child trafficking from Gaya to Jaipur bangle factories. According to Kumar, a single individual traffics more than 100 children every year, and there are between 12 and 15 local child traffickers in Gaya district. A single conviction has the potential to save a thousand other victims.
Traffickers have become more alert after Sonu's conviction, too. "Earlier, they didn't take a case seriously; now they are scared," Kumar said. "But, this also puts the survivors and potential witnesses at a greater risk."
Rahul's story is a case in point.
Threat
I
n November last year, I met Rahul on a sunny afternoon in Solara. 
When he saw me, he flashed a broad smile that bared his protruding teeth. He had blonde-burgundy highlights in his hair and wore a white shirt and dark track pants. In the courtyard of his one-room house, he showed me a brick wall under construction, just about a foot high. This was where he intended to build a room once his compensation money came through, though he had no idea when that would be.
Some men and children gathered around. One man watched me keenly. As Rahul began to tell me how Sonu had lured him into going to Jaipur,  the man grew impatient and began grumbling. I requested him to wait for his turn to speak.
When Rahul said that Sonu betrayed him, the man butted in. "Sonu isn't wrong; he's a very good man," he said. "If Rahul hadn't lied, he wouldn't be rotting in jail today. It's all Rahul's fault."
The interview descended into commotion. Over a dozen young men began hurling abuses at Rahul. People gathered around.
When I intervened, the man grew more aggressive. He began hurling abuses and making physically threatening gestures towards Rahul, a Centre DIRECT worker, and me. "Sonu gave Rahul a job," he said. "He took care of him really well, like a brother. But, after all that, Rahul is making him suffer."
Rahul's temper flared up, and he shouted at the man to leave. The interview descended into commotion. Over a dozen young men began hurling abuses at Rahul. People gathered around. Some women piped in to say that the men were drunk, and shouldn't be taken seriously. They tried to take the shouting man away. But, then, they began to abuse Sumitra, Rahul's mother.
Sumitra slumped to the ground. "Because of Sonu, my extended family is going to murder my son someday," she said. "My child is going to get killed."
Rahul would tell me later that the abusive man was the brother of one of his kidnappers.
Leaders
S
ome survivors are determined to change the stigma that surrounds victims who take the fight to the traffickers.
In March 2019, around Holi, a man from Dehri-on-Sone came to Ashish's village. He picked up four children from the village, intending to put them to work at a highway dhaba. He was leaving the village in a car, with the children in an auto behind him, when Ashish called the Sherghati police station, the one nearest to the village. The police rushed to the spot and rescued the children. The mother of a rescued child abused Ashish and his mother for preventing her child from "making money." Ashish told her about what he had gone through in Jaipur. It took days for her to accept that Ashish wanted to help her child.
The rapid police response was a result of the sustained efforts of Vijeta (literally, winners), a group of 25 rescued children, who now run an anti-trafficking movement in Gaya. Ashish leads the group, which was formed in 2018 with members from a dozen nearby villages. [9]
The group holds monthly meetings and organises awareness campaigns. Members speak to vulnerable children, tell them about their own experiences, and advise them to be careful. Ashish said he asks children to call him if they notice signs of trafficking in their village.
He said he found it difficult to explain to parents why they shouldn't send their children to work when they're so poor. "But it's my responsibility to stop other kids." With several trafficking rackets active in the region, amidst high poverty, rescued children are at high risk of being re-trafficked. "Especially the ones who haven't testified yet or whose trafficker hasn't been convicted or even arrested," Ashish said.
The pandemic has exacerbated the financial stress of these families. It has also made Vijeta's work harder. They haven't had a physical meeting since March 2020. Video calling hasn't worked, since most of the members don't own smartphones. "We don't even have money to recharge talk-time," Ashish said.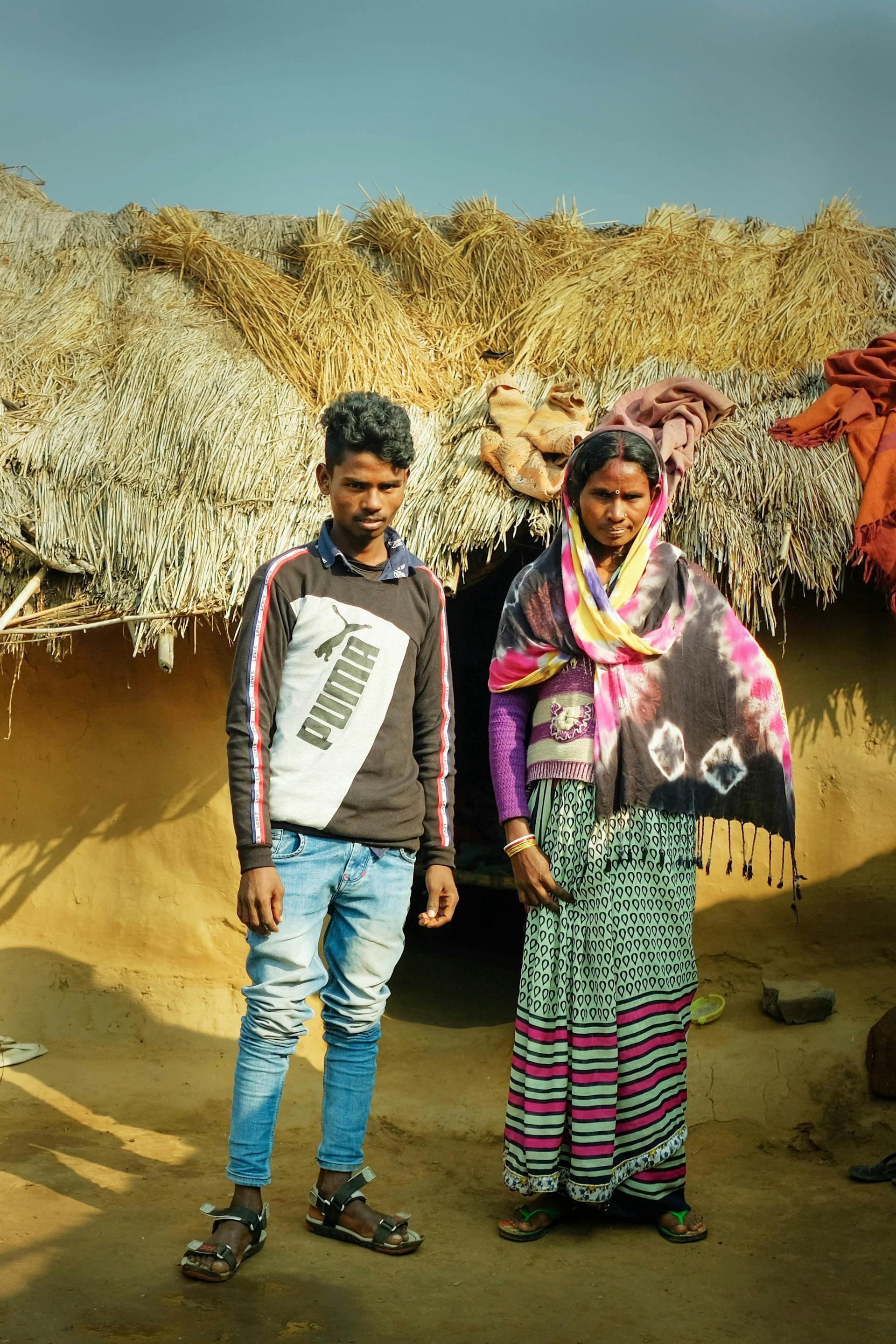 A
shish is also worried about his own future. His anti-trafficking work isn't going to pay, he said.
The children received a "Bonded Labour Release Certificate" after their rescue. It allows them to access monetary compensation from the central government. But they've only received ₹20,000 of the ₹2 lakh that the central government is supposed to pay on the employer's conviction. They also haven't received their share of compensation from the ₹1.46 lakh fine that the court ordered Sonu to deposit.
Rahul was working as a construction labourer in 2014 when Sonu trafficked him. Six years and one court appearance later, he does the same job.
Ashish often thinks about the time he spent at the children's home in Jaipur, after he was rescued and before he returned home. "I had no stress, got my stomach's fill, and I got to study, finally! I liked it so much I didn't want to return home," he said.
Ashish's Class 10 results came in this April. He secured a second division and became the first matriculate in his family. He has also picked up some basic computer skills at a Centre DIRECT outlet. He takes up agricultural labour jobs every now and then, but tries to focus on academics. "Getting a job didn't work out for me," he said. "Only an education can transform my life."
And, when his life transforms, he hopes to build a pukka house where he can hang newspaper clippings of his story, which include photos of him. "Matti ke ghar me thode lagta hai,"he said. It doesn't look like much in a mud house.
Note to readers: Ashish, Rahul, and Devanand are over the age of 18 now. They consented to be named in this article, wanting to share their stories under their own names.
Monica Jha is an independent journalist based in Bengaluru. She writes about marginalisation, gender, and technology.