Subscribe to our newsletter
Weekly updates with new Fifty Two stories
"Yasmin Wasti was barred from wearing a sari because this is not our national dress."  
I read this line in a March 1981 edition of Mayyar magazine I bought from a secondhand books seller in Karachi. The article was a mean-spirited takedown of Madam Noorjehan, claiming that the iconic musician had lost her voice. Why had the state-run Pakistan Television allowed Noorjehan to appear on air in a sari but barred newsreaders like Yasmin Wasti from wearing it, the author asked?
Mayyar had an axe to grind. But reading how Yasmin Wasti was told not to wear a sari felt enraging and surreal. 1981 was the year the military regime of General Zia-ul-Haq, as part of its 'Islamisation' campaign, barred female broadcasters from wearing the sari. I was reading this in 2019. Zia had been dead for 31 years, killed in a plane crash.
Still, it felt like he had spent the past three decades reaching out from the wreckage of his military aircraft and into closets, plucking out the sari and erasing it from the middle-class Muslim Pakistani woman's wardrobe. Today, the sari in mainstream Pakistan has become a bit of a taboo. It evokes stares and double-takes, and the inevitable question: "Are you Indian?"
The sari has survived and thrived as formal wedding wear. But Pakistani street style has been stripped bare of the casual, everyday cotton sari. The only women wearing saris in regular life on the streets of Karachi, Pakistan's most diverse and cosmopolitan city, are Hindu or Zoroastrian women, and ageing senior citizens. In other cities in Pakistan, the sight of a woman on the street in a sari is a rarity.
For young middle-class Muslim women, the sari was largely an affectation of the past or something to wear to a wedding reception––until Instagram. Over the past year of staying home and staring dejectedly at a phone screen, the app has become Pakistan's great shopping mall and fashion show in the cloud.
Pakistani Sari Instagram is unlike Indian Sari Instagram. Here, there's little mention of politics or weaves or debates about handmade versus machine-made. There's very much a 'yasss queen' vibe in the comments, though on the pages of brands the conversation can devolve into body-shaming over women's midriffs.
Everyone wants to 'normalise saris': brands, [1] the sari-wearers of Instagram, women on Twitter. What does this mean? "For me, it means you shouldn't have to think twice about choosing to wear a sari over a shalwar kurta or jeans," said Mina Malik-Hussain, a writer and TV show host in Lahore who is a fixture of Pakistani Sari Instagram.
All this talk of 'normalisation' feels cribbed from some diplomacy handbook, as if one needs to go sign a peace treaty with the sari, or have backchannel talks in some neutral capital. What it ignores is that the idea of a sari has always been 'normal' for a lot of Pakistanis. They're just not on Instagram. The things privileged Pakistanis yearn for—drinking chai at a dhaba, walking, wearing saris—represent routine or hardship for working-class people.
Offline, a sari can evoke all kinds of reactions. Zehra Nawab, a 29-year-old multimedia journalist, illustrator, and actor, was at a friend's house in Karachi and had to get to a meeting. She booked a ride via Careem, a car-hailing service. Zehra was wearing a patterned blue cotton sari, paired with a black blouse and jhumkis. When she got into the car, the driver turned around to take a second look at her. A couple of minutes into the drive, he asked whether she was Hindu. 'Because you're wearing Hindu clothes.' She said no. Was she Christian, he asked. Had she come from 'somewhere else'?
Every woman I've spoken to who isn't from a minority faith and wears saris in Pakistan at home and to work has a similar story. The assumption is always the same: they must be Hindu, or foreign, or both. They must be from anywhere but here.
One
I
n 1947, Partition cleaved the Indian subcontinent into fragments and disputed territories: Pakistan, split between West Pakistan and East Bengal; and India in between. Villages were torn, birthplaces and graves left abandoned, territories were disputed.
The refugees who came to West Pakistan set about rebuilding their lives in a place that was wholly unprepared and under-resourced. In Pakistan's early years, the sari was everyday wear for Hindus and women from Bengal. Zoroastrian women in Karachi and Lahore wore saris, just as they had in undivided India. Their high-profile role in urban Pakistan's private education system is the reason many Pakistanis associate saris with their teachers. [2]
Daywear in West Pakistan was shalwar kameez. A 1947 photograph by the acclaimed Life photographer Margaret Bourke-White, [3] shows nearly everyone at a women's work meeting in Karachi dressed in shalwar kameez and plain dupattas.
If there was one ethnic group that would become associated with the sari in West Pakistan, it was Muslim Mohajirs. The term 'Mohajir' loosely refers to migrants from regions like Uttar Pradesh, Madhya Pradesh, Bihar and Hyderabad. They settled in the cities of Karachi and Hyderabad in Pakistan's Sindh province. In their trunks and memories were the garments of their previous lives: these included the gharara and the sari. Mohajir women continued to wear the sari at home, to go out shopping, and, as the country began to find its bearings, to work, at schools and in banks and at companies.
So the sari became daywear for women in Karachi, the first capital of Pakistan, and was worn without comment. "Women mostly wore saris casually—cotton saris, chiffon and georgette," said Mohammad Azam, who runs Saree Centre in Karachi's Bohri Bazaar. If women weren't wearing saris, they wore ghararas, like Ra'ana Liaquat Ali Khan, the wife of the first prime minister, or Fatima Jinnah, a key society figure and the sister of Pakistan's founder Muhammad Ali Jinnah.
In other provinces in West Pakistan, things were different. In Balochistan, the North-West Frontier Province and the tribal areas now known as Khyber Pakhtunkhwa, women wore trousers and tunics with traditional embroidery. For Punjabi Muslim refugees, saris would only have been a customary part of the trousseau—the jahez from their family's side, or the bari, the gifts given by the groom's family. [4] Punjabi women typically wore the shalwar kameez with a dupatta.
The shalwar kameez became the garment of West Pakistan. But soon after Partition, regardless of ethnic identity or familial connections, Pakistan's new and old elite, its landowning families, and the wives of bankers and business executives, adopted the sari as formal wear. Begum Nasim Aurangzeb, the daughter of the military ruler General Ayub Khan, a Pashtun who seized power in a coup in 1958, often wore the sari on official visits abroad.
In the 1960s, upper-class families began going to photography studios for wedding and family mementoes. In these images, women are often wearing chiffon and silk saris. 
Shahid Zaidi's family founded Zaidi's Photographers, one of Lahore's oldest photography studios. "After Partition, there was a dull period of several years when people didn't have enough money," Zaidi, who is 78, told me.
"In the 1970s, a trend began. It was to take a 'couple photo' after the valima in a studio," Zaidi told me. "That carried on for a good 20-25 years, that was the period when people came to the studio as a ritual, almost as a part of getting married." The wearing of saris was very elitist, Zaidi said. But it wasn't just for wedding portraits in a studio. People also wore saris to feel good about themselves and for specific occasions.
Mirror's issues were full of detailed descriptions of the outfits worn by attendees at parties in Dhaka and Chittagong and Quetta and Karachi.
Until the late 1970s, saris were wherever you looked: in popular culture, in films, and on television, in advertisements for everything from Tullo cooking oil to Tampax. The pages of Mashriq newspaper's Akhbar-e-Khawateen magazine from the 1960s are full of images of women wearing saris: attendees at a talk by the activist and poet Begum Sufia Kamal visiting from East Pakistan; a silk glove-wearing guest at the wedding of the newscaster Rahat Saeed. Every week, the magazine advised readers to try out some new trend or the other, ranging from bell bottoms to buying Dhaka saris.
Socialites like Muneeza Basir, the mother of musicians Nazia and Zoheb Hassan, or the actor Jahanara Farooq Hai featured on the cover. When Mahboob Bakhsh, a sari boutique, opened in 1966 at Mehboob Market in Karachi, Zeb-un-Nissa Hamidullah, the groundbreaking editor and publisher of the society publication Mirror was invited to open the store. Hamidullah knew a good sari: Mirror's issues were full of detailed descriptions of the outfits worn by attendees at parties in Dhaka and Chittagong and Quetta and Karachi. "Mrs Qizilbash, recently back from Karachi, was looking smart in a midnight blue sari while Mrs Kirmani wore a lovely South Indian silk sari," reads an account of a dinner party in Mangla in 1970. [5]
Nasir Amin, who works at New Hassan Sari Emporium in Karachi's Mehboob Market, recalls a tailor in the area who was a 'perfect master.' "There was a—God rest his soul—Master Bagga who could take one look and make a blouse," Nasir Amin recalled. "He would take one look at you and say 'Okay beta, go home, I will sew your blouse.'" Now, despite its name, Hassan Sari Emporium no longer stocks saris. They sell embellished bridal wear.
"
The universal dress among women in East Pakistan, rich or poor, is the sari," a Pakistani government publication noted in 1959. [6] This was true whether they worked in agriculture or at home. "Very few, except school girls, occasionally wear the salwar and qamiz, so popular in West Pakistan," the publication noted. This East Bengali culture was beamed into West Pakistani homes through television and newspapers, and it influenced the way women dressed.
"In the 1950s and 1960s, and until the 1970s, we would also wear a bindiya with a sari, because this was a cultural thing," Rumana Husain, a Karachi-based children's author and artist, told me. "You don't become a Hindu by doing it. When there was East Pakistan, whether you're a Muslim or a Hindu there, it was a cultural thing. Putting flowers in your hair or wearing a bindi didn't smack of communalism."
Saiful Islam is the author of Muslin: Our Story, and the head of a project to revive muslin in Bangladesh. He explained that while the sari was more "universal" in the East, it was more of a "social outfit" in the West, worn to look more attractive at events. "In the West, the sari seemed to begin where the kameez ran out, though there were and increasingly are kameezes that have occupied the luxury end in looks," he wrote in an email. In his view, no Bengali textiles were worthy enough to be promoted by West Pakistan, save for Banarasi silk, worn by the elite.
It was always clear that the rulers, based in West Pakistan, were not going to emulate or celebrate the culture of East Pakistan, which became the independent nation of Bangladesh in 1971 after a brutally violent repression by the Pakistani Army and the ensuing war between Pakistan and India, which intervened to aid Bengali nationalists.
Saiful Islam was born and lived in West Pakistan until he was a teenager. "Not till the rumblings of 1968 and eventually the war of 1971 did we feel that we did not belong," he wrote. "It was during 1971 that, insulated though we were from the direct resentment of the Urdu-speaking public, that I felt those same Urdu words were being used in an unending and negative manner, where we were being despised for being closer to Hindus."
It was the cultural differences—the language, the culture, and perhaps, even, the sari—that West Pakistan wanted to decimate. "This is a war between the pure and the unpure," a Pakistan Army major told the journalist Anthony Mascarenhas, who wrote an incredible reported account of military operations in East Pakistan for The Sunday Times of London. [7]
The sari became a symbol of liberation and independence. "During the pre-war period, as West Pakistan continued to level threats against the East's population, nothing seemed to symbolise the total commitment of the population towards the Liberation War more than to see women in saris marching with guns on their shoulders, preparing for the bloody struggle," Saiful said.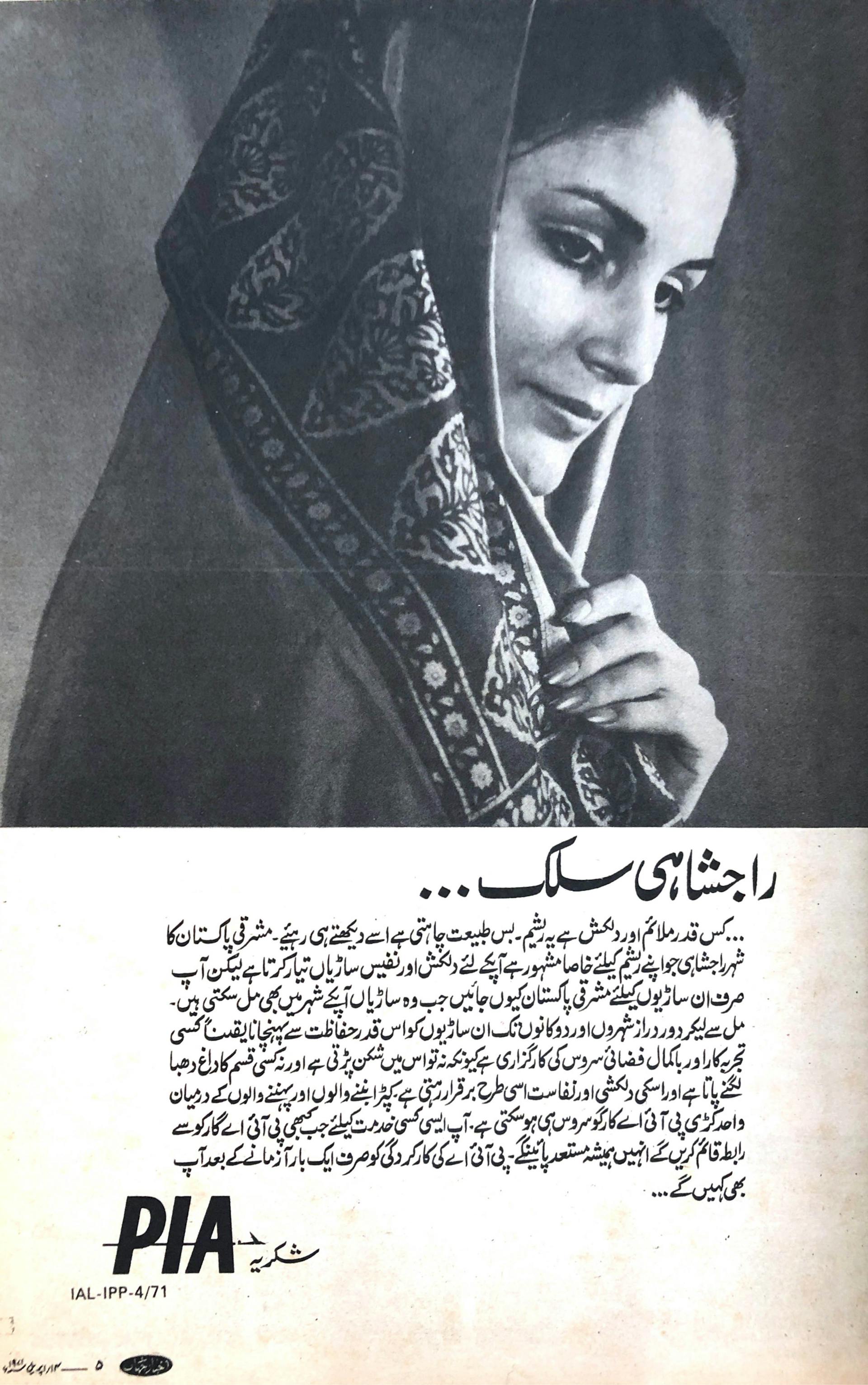 Thousands of women were raped in the brutal military campaign in East Pakistan in 1971. Even as Pakistan's official airline advertised silks from Rajshahi in East Pakistan, the government embarked on mass killings. [8] Nilima Ibrahim's A War Heroine, I Speak includes the deeply traumatic account of Tara Nielsen detailing how she was kidnapped and raped by army officers and held in a detention camp.
"We were not allowed to wear sari or a dopatta because they considered them a health hazard. Some girl in some other camp had hanged herself using her sari, we were told. So we only wore a blouse and a petticoat: torn and dirty, barely covering us. Once in a blue moon, they would bring a supply of cheap clothes and threw them at us, the way rich people distribute clothes among the beggars on the eve of a religious festival."
I
mages of Karachi and Lahore women in saris from the 1960s and 1970s don't hint at some quintessential Pakistani identity of the sari. Everything from the blouses to the fabrics seems strikingly similar to saris worn in India at the time.
"If I can visualise my mother's cousins on either side in the 1970s, I can see all of them wearing saris with sleeveless blouses," said Fatma Shah, a consultant in Lahore who writes about heritage textiles. "This is, I'd say, very middle of the road. These were not ultra-westernised, modern women."
In 1973, a chiffon sari-clad Nusrat Bhutto, the wife of the premier Zulfikar Ali Bhutto, explained Pakistani dress codes to a reporter. "In my country, we do not show our legs. We show a little here," she said, gesturing toward her neckline, "and a little here," pointing to her midriff. "But not our legs. We do not have the miniskirt in Pakistan, you know."
Two
I
n 1977, General Zia-ul-Haq seized power in a military coup and continued to rule Pakistan until he was killed in the 1988 plane crash. Over 40 years later, it is hard to believe how much of an impact Zia had, how he is still alive, omnipresent in the way he presided over transformations in the way Pakistan believed (criminalising Ahmadis from practising their faith), loved (punishing women for adultery), dressed (the sari became taboo), or celebrated (no, thank you). [9]
The Zia regime did something more insidious: it began to erase women altogether, to rid the public consciousness of the female form, to strip women of any choice. In 1980, the government directed female employees to cover their heads. This meant that employees of the state broadcaster Pakistan Television (PTV), like newsreaders and TV show hosts, had to appear on air with a dupatta covering their hair. One of these was the host Mehtab Rashdi née Channa, who was told she could walk onto the set wearing a sari, but with the pallu over her head. (She could let it fall off only once she was seated.)
"I never understand this. The language that you and I are speaking right now also came from there."
"Now President Zia was going to tell a Pakistani woman how she should dress and present herself?" she later recalled. [10] "I preferred not to appear on TV than to agree to his superficial policies." Mehtab's run on state television ended when the general manager of PTV got a call from the Presidency, saying that if Mehtab couldn't cover her head, she couldn't appear on air.
The Zia regime also wiped makeup off the faces of PTV's broadcasters. "Even if you'd applied simple makeup at home, they'd make you wash it off," former broadcaster Arjumand Shaheen recalled in a conversation with her ex-colleague Mahpara Safdar, who noted that there were stories in the papers about the barefaced women on television. [11] This was rolled back later. "I heard much later that Begum Zia told Zia-ul-Haq that 'What is this bar you've placed on these girls, give them permission again to wear makeup,'" Arjumand said.
In Women of Pakistan: Two Steps Forward, One Step Back (1987), activists Khawar Mumtaz and Farida Shaheed detailed the extensive campaign to control what women wore. In 1982, the government mandated that women in public colleges had to cover their heads with a dupatta. Other directives followed: women could only appear for 25 percent of the time in a commercial, as part of a campaign against 'obscenity and pornography.'
The government's campaign on what women wore extended to the sari, according to Two Steps Forward, One Step Back, which described it as an absurd proposition initiated by the right-wing. "The attempt failed because there are too many women in the higher ranks of government who have always worn saris and continue to do so. Short-lived as it was, this attempt to ban the sari indicates the confusion that exists between what is national and what is Muslim." (Women officers on non-combat duty in the Pakistani Army, including the medical corps, still wear the sari as a uniform.)
When the sari––no, when women started becoming less visible, the sari started to die out from the Muslim woman's wardrobe. The only women who got away with wearing the sari on public television during the Zia years were larger than life figures like Madam Noorjehan, relegating the sari to an older generation.
The sari had finally acquired a religious and national identity. Suddenly, it was not quite Pakistani. "I never understand this," Rumana said. "The language that you and I are speaking right now also came from there. So why did you make that the national language? So this isn't a thing." [12]
Three
F
or some, the sari is a symbol of a bygone time in Pakistan's history. There are Facebook pages and Instagram accounts dedicated to the idea of a purana Pakistan, endless scrolls of black-and-white photos of Queen Elizabeth and Ava Gardner visiting Pakistan, of cabarets and clubs, and women wearing saris.
But what this seems to perpetuate is the misconception that the sari was only worn by the elite and that the past represented a halcyon era, much like photos of Afghan women in skirts in the 1970s, or images of women with uncovered hair in Iran before the Islamic Revolution.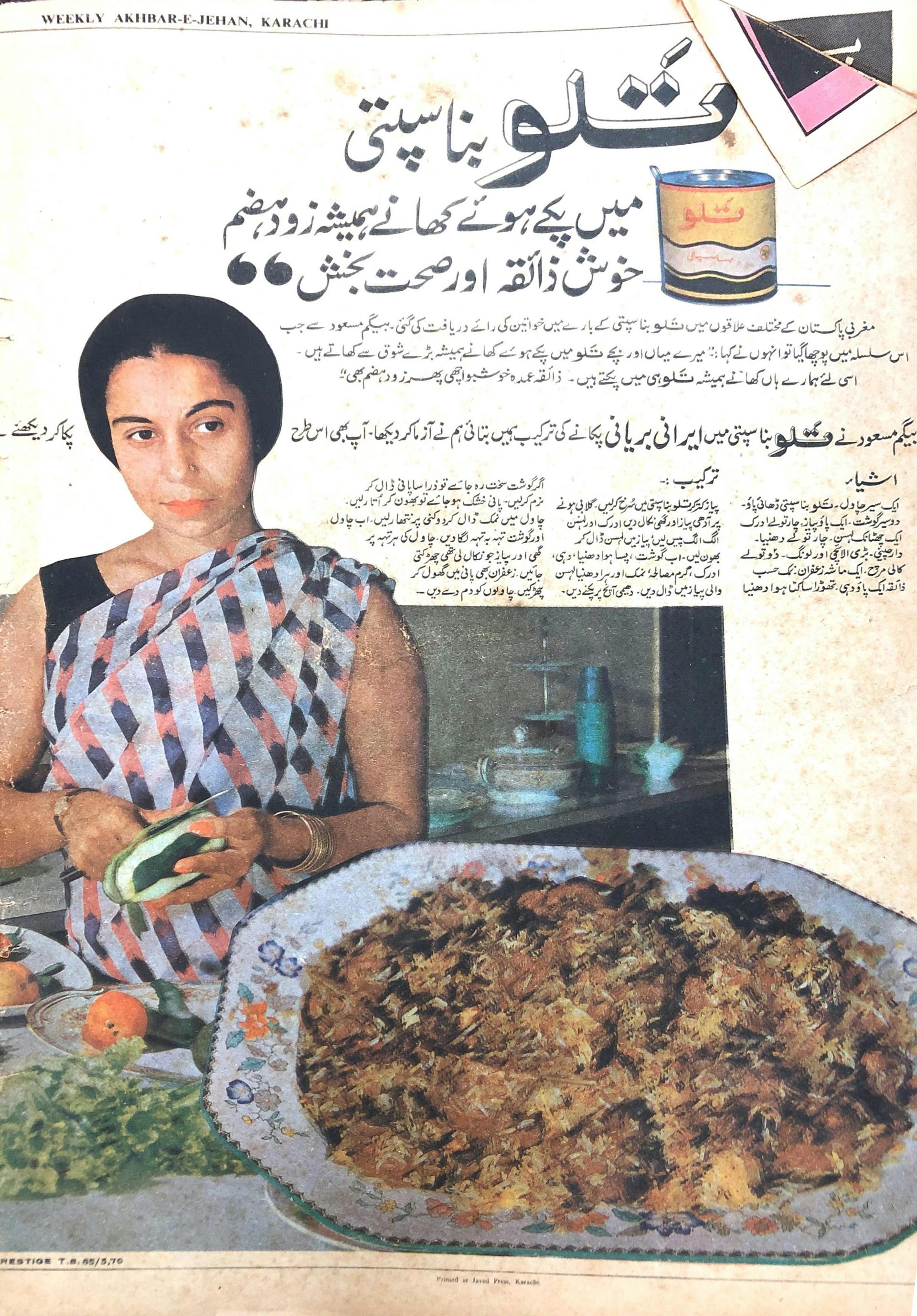 By the 1990s though, even the elite had largely abandoned saris in favour of the shalwar kameez for daywear. The sari was limited to wedding wear or school and college 'farewells.' All the way up the prime minister, the shalwar kameez dominated the 1990s. While Nusrat Bhutto had continued to wear a sari even during the repressive Zia years, her daughter Benazir wore the shalwar kameez, often paired with a boxy jacket.
The shalwar kameez was showcased in ads, at retail stores, in designer collections, and was worn by actors and visiting celebrities like the late Princess Diana. Twice-divorced Prime Minister Imran Khan, who recently blamed Bollywood for the divorce rate in Pakistan, has often commented on women's wardrobes. In a television appearance in 2012, he said: "I used to tell my wife—ex-wife—Jemima that she never looked as good in western clothes as she did in shalwar kameez. I still say that a woman looks better in shalwar kameez, whoever it is."
The academic Aliya Iqbal-Naqvi grew up in a household where saris were a part of everyday life. Her grandmother wore a sari to work; her mother draped a sari before her parents went out for the night. But by the time Aliya was a teenager in the 1990s, wearing a sari was not a straightforward proposition. "It became clear that occasions had to be chosen carefully, and it was a little bit more of a big deal than I thought it would be," she recalled.
In late 1980s and 1990s Karachi, the sari, the Mohajirs' Urdu dialects, and the men's pyjama, all became markers of identity.
The sari still didn't die out in Karachi. Mohajir women, and writers and artists and activists continued to wear the sari. The woman most synonymous with the sari on television in the 1990s was Zubaida Tariq, a home cook turned television cooking show host and chef. Her rise to fame is probably comparable to the initial frenzy around Khana Khazana and Sanjeev Kapoor, though she truly eclipsed him and everyone else. She owned around 1400 saris. Until her death in 2019, she was one of the few women in public life who wore saris all the time: to sleep, to film her show, to weddings, and she even appeared on television to demonstrate how to wear a sari.
But the late 1980s and 1990s were also a period of significant turmoil for Sindh's Mohajirs. Political violence had caused the state to crack down on the Mohajir Qaumi Movement, a political party that represented urban Mohajirs. There was a protracted period of street warfare marked by strikes, kidnappings, enforced disappearances, and brutal violence. The sari, the Mohajirs' Urdu dialects, and the men's pyjama, all became markers of identity.
In Punjab and other provinces, where the everyday sari was not that popular to begin with, the sari was easily replaced by the shalwar kameez. "In the decade of the nineties it had virtually disappeared from formal or informal wear in Punjab," Fatma said.
Many Hindu women also stopped wearing the sari after 1992, when the demolition of Babri Masjid in India precipitated riots which targeted Hindus and Hindu temples in Pakistan. "This marked the first time that women had changed their dress," said Paras Devji, from the Meghwar community.
Meghwar women wore ghaghras and blouses as daily wear, and saris only at weddings. "But, post-Babri, women abandoned the sari, and we abandoned the ghagra choli, because women's ghagras and saris were snatched. Women stopped applying the bindi. Older women would cry when they would wear the shalwar kameez, because they found it so strange."
Paras got married shortly after the Babri Masjid riots. Her husband insisted she wear a shalwar kameez for her wedding, not a ghagra. He didn't want to take her out while she was wearing something so identifiable.
E
very so often, there's a feature story about how the sari is extinct in Pakistan, or is back, or might be going extinct. If the sari did, indeed, make an exit, how does that explain the various 'sari emporiums' that sell formal Banarasi saris for weddings? Or the fact that wearing a sari to a wedding is still a part of urban culture? Or women like Aliya Iqbal-Naqvi, who wear the sari every day, sans agenda?
There's a certain stop-dead-in-your-tracks element to first encountering Aliya. For years, every time she showed up at an event, I would invariably find myself having simultaneous conversations on text and in person with someone who would ask about her and her saris. Perhaps it's because for a long time, Aliya Iqbal-Naqvi was the only young person you'd ever see out in a sari during the day in Karachi's elite milieu, the world of People Like Us.
When Aliya began working at a university in Karachi, she realised she didn't have a work-appropriate wardrobe. "It was really the first time that I was working a daily 9 to 5 job," she told me over coffee. She was wearing a kota doria sari paired with a patterned Japanese georgette blouse purloined from a different sari. "Whenever one does that, it hits you around week three or so, that 'Oh my god I don't have work clothes.' Around the same time, my grandmother, who is still around and is 101, had just retired from her long career."
"Suddenly I inherited this trunk-load of beautiful, antique, well-worn, softened, old cotton saris and it solved my problem," she said. "I was comfortable enough carrying them. The transition into daytime cotton was quite easy. But it was definitely precipitated by the need to have a daily work wardrobe that I felt was formal."
In Lahore, Mina Malik-Hussain said that wearing a sari is still perceived as being overdressed. "I do wear them out and about—not all the time, because it's still seen as an unusual sort of outfit," she said. "I don't really wear saris to do the school run or go to Al Fatah"––a department store in Lahore––"but that's not because I'm shy or embarrassed wearing one. Sometimes it's still a little eccentric to be wearing a sari to pick up your kids from school."
Dress codes at colleges, universities, and in the workplace are now stringent. Violence against women is more overt and visible than ever. The sheer scale of the anger, misogyny, and harassment targeted at Women's Day marches is indicative of just how little a woman's voice is valued, let alone her choice of how to dress.
Even if women want to start wearing the sari, and can navigate the social and familial barriers, it's hard to begin. It's almost entirely impossible, outside of Karachi, to walk into a shop in a random bazaar or into a retail store in a mall and buy a cotton sari.
None of the cheap, casual saris sold in local street markets are made in Pakistan. Everyday saris in cotton, voile, polyester mixes are imported from Bangladesh, Sri Lanka, and India via Dubai. Shopkeepers in Karachi say not everyone can get a hold of shipments that must be painstakingly cleared through customs authorities. Many shops have closed down or pivoted to selling other fabric. Imports also don't run on any kind of fixed schedule. This is how sari sellers in Karachi have operated for decades, offline, without marketing or Instagram: just them, yards of fabric and all those years of experience.
Four
O
n a weekend afternoon, I made my way to the Ranchore Lines bazaar, past butcher shops and displays of meat, where there is a row of sari shops. I'd been there a day before, in the late afternoon, and every sari shop was packed with buyers.
Mohammad Asif has worked here for around 20 years. Most of his customers were Hindu, he said, who live in Ranchore Lines or come from other pockets of the city where Hindus live. He doesn't stock expensive saris because his customers can't afford them. Sales are higher around Raksha Bandhan, when people buy saris as gifts. The cheapest possible saris available are inexpensive cotton bandhani and georgette saris imported from India and Bangladesh.
Karachi vendors like Asif sell cheap 'fancy' saris that cost a few thousand rupees and are made locally as well as imported from India. These are either 'replicas'—a new addition to the Pakistani fashion lexicon—of designer saris, and can be sold with images of the original model or actor who wore them, or 'catalogue' saris, which are imported from India and sold in pre-packaged boxes. The 'catalogue' saris feature embroidery or kundan work on 'fancy' fabric like net or polyester silk.
Asif has some non-Hindu customers as well, though they're mostly older Mohajir women. "I can't say why women stopped wearing saris," he said. "I think it's just left for older women, who wear saris with a resham border. Other people have stopped. Now people have more awareness, it's considered mukhtasir (limited) in Islam, so it's a good thing. When we talk to Bihari customers, [13] they wear this still, but the younger ones don't."
When I started to tell Asif that I like buying saris, he stopped me: "No, you're fine", gesturing at my outfit: a loose shalwar and a long-sleeved kurta, the clothes I wear when I'm out reporting, the clothes that are not mukhtasir, even though yard for yard, a shalwar kameez uses less fabric than a sari, petticoat, and blouse combined.
For the upper middle-class sari wearer in Karachi, there are still a few shops that sell less flashy saris in finer cottons and nicer prints. These include the Dhaka Sari Emporium in Mehboob Market, or Saree Centre at Bohri Bazaar. [14] These shops don't have the mainstream recognition of any retail brand. If anything, it feels like the keepers of this knowledge are the women who consistently wear saris, who know the best tailors for blouses, and can drape a sari instead of wearing stitched versions.
The Instagram brands fall into two broad camps. There are the homegrown sari brands that are making everything from hand-painted organza saris to lawn [15] block-printed creations. "For the farewell and such events, you look for the sari because it is now a thing here in Pakistan," Sidra Ali told me. Sidra and her mother run an Islamabad-based label called Chaap. [16] Chaap's designs for its cotton-mul saris include block prints, architectural drawings and hand-printed verses. Sidra felt that there were "many people in the art community who were craving something like this for a long time."
Then, there are the brands selling imported Indian and Bangladeshi cotton saris, in the same vein as the shops in Karachi. The prices for these imported saris are comically higher than those sold in the shops. A cotton sari in Karachi costs around PKR 1500 (around INR 750), but online can sell for up to PKR 6500 (around INR 3200). One 'catalogue' sari that originally sells for around PKR 1100 was being sold online for PKR 9500.
I
n recent years, Pakistani brands have started making and selling saris again, most notably the retail brand Generation, though these are also fairly pricey, ranging from PKR 4000-9000. (A brand-name lawn outfit can also cost just as much.)
Other brands like Ethnic and Chapter 2 have also added saris, though they seem to sell out fairly quickly. And then there is Banaras Colony, in the north of Karachi, the mothership of Banarasi fabric in Pakistan. Post-Partition, migrants set up their handlooms in shacks here. Silk saris and fabric woven in this area are sold to regular customers as well as in bulk to high-end shops and markets across Pakistan. Over the last couple of decades, weaving has largely shifted to power looms and computer jacquard.
One morning, I made my way to Banaras Colony. I had expected to find a sprawling bazaar, but the market comprises a few streets of unassuming shops; workshops are elsewhere in the area.
Inside, though, I was stunned out of my jaded self at the choices on display. Prices were significantly lower than in the rest of the city. Additionally, shopkeepers here were nice to their competitors and colleagues. There was none of the usual 'I'll give you your money back if the other shop sells it to you for a lower price' sniping of other bazaars in Karachi. Perhaps this is because the businesses are now run by second-and third-generation families, and everyone's lives and work revolve around this fabric.
"Their designing is good, but our fabric is much better."
"We're doing this Banarasi work in this small Benaras," said Muhammad Ahsan of New Banaras Silk House. Ahsan showed me a variation of a jamdani sari made locally, a much softer version than the jamdanis of Bangladesh, and a soft Banarasi chiffon sari. But there cannot be a Pakistani Banarasi, according to Shefalee Vasudev, the editor of the India-based web publication The Voice of Fashion.
"Banarasi has a Geographical Indicator tag. A certain weave belongs to a certain region because it has origins there, it has history there, it is loomed by the influence and impact of various cultures there. I am completely, almost stunned, by the idea of the Pakistani Banarasi," Shefalee said. "It's like saying I can make Gucci in India. Of course, I can make it, but it'll always be fake, a derivation."
Opinions vary on the popularity of the Banarasi sari in Pakistan, but Ahsan and other shopkeepers said sales are still decent. Buyers include visiting expats and those shopping for wedding gifts and trousseaus. To attest to the pureness of the chiffon, shopkeepers have a lighter at the ready. "The way to recognise if something is pure is to cut a piece, and then burn it. It should smell like hair burning, and it turns to ash," said Shoaib Ansari, a salesperson. "If you cut a piece of polyester fabric, it doesn't burn like that. We keep trying this and show this to customers."
I wonder what makes a sari Pakistani. Is it the propensity for longer-sleeved blouses, or a preference for stitched saris, with their perfect pleats an apt replacement for the lack of draping skills which are normally passed down generations? The shopkeepers of Banaras Colony had answers: Pakistan has better fabric, more advanced techniques, more colours. Ahsan pointed out that the designs are different: "In India, you'd get elephants, peacocks. In Pakistan, we have paisleys, roses, flowers, jaals, motifs." Salesperson Shoaib, whose family is originally from Uttar Pradesh, told me "their designing is good, but our fabric is much better."
There are other places in Sindh where saris are made. One such place is Bhit Shah, home to the shrine of the poet and mystic Shah Abdul Latif Bhittai. In addition to their shops and crafts fairs, ajrak artisans from Bhit Shah sell saris online. If you fall down an ajrak rabbit hole, you'll inevitably be served up recommendations for Indian pages with designs that are strikingly similar to the ones in Pakistan: artisans on both sides are working from a similar pool of motifs. Shefalee noted that there is a difference in the ajrak designs made on either side of the border: the intensity of the indigo dye. "The indigo dye is used far more in India," Shefali said. "That's replaced by black in Sindh."
F
or the past two years, I have worn a sari almost every day. My decision was borne out of many things: annoyance at the Mayyar article; the fact that Zia had managed to rid such a basic part of everyday life, and necessity. I didn't have much of a desi wardrobe left after a couple of years abroad. Wearing saris is easier, comfortable, and—after a few years of weight gain and being unsure of myself—makes me feel much more confident than shalwar kameez.
Everyone in my neighbourhood stares. But they stare anyway, regardless of what I'm wearing. The harassment is silent, omnipresent, but not physically menacing. It doesn't bother me any more than constant harassment does, which is to say that it bothers me all the time. My sari wearing is different from that of a working-class Hindu woman, whose life as a minority is poles apart from my experience of living—or wearing a sari—in Pakistan.
To make a sari 'normal,' as brands and influencers would like, also means changing the way society perceives the garment. It's important for the sari to not be seen as scandalous or un-Islamic. Wearing it should not require parental or institutional permission. It needs to thrive beyond the Instagram shoots in verandas, driveways and surprisingly sparse rooftops. But this would require actual engagement with the city, of learning what it's like to work on the streets in a sari or lug your groceries home on foot. 
It's easy to chalk up wearing a sari to an undercurrent of rebellion, a quiet fuck you to the world, a desire not to give in to Zia; after all, writers and activists, the kinds of women who did not cave to dictators are still the most visible sari wearers on television and at protests. It would be just as simple to say that the sari can be worn stripped of any political context, to only feel and look good.
To wear the sari in Pakistan today is to recognise its roots in war, trauma, and middle-class liberal guilt, in social mobility, and in the ability to make choices. For now, my choice is to keep General Zia—and Imran Khan—out of my wardrobe. I'm lucky to get to make it.
Saba Imtiaz is a Karachi-based writer and the author of Karachi, You're Killing Me! You can read more of her work here.