Subscribe to our newsletter
Weekly updates with new Fifty Two stories
For more than 40 years, a red-facaded building in Thiruvananthapuram, adorned with a golden hammer and sickle, has been the headquarters of the Kerala unit of the Communist Party of India (Marxist). This is the famed AKG Centre, from where the CPI(M)'s policies and positions are decided and communicated. This, too, is where many of the cloak-and-dagger battles within the party take place, hidden from public view.
In February 1994, G. Shaktidharan, then a 30-year-old editor who worked at Deshabhimani, the party's Malayalam-language mouthpiece, was summoned to the AKG Centre to meet with its seniormost leaders. Among them was the iconic EMS Namboodiripad, who had served as the first non-Congress chief minister of any Indian state. Also in attendance were E.K. Nayanar, who had by then served two terms as chief minister; and P. Karunakaran, Deshabhimani's general manager. [1]
Shaktidharan, known for his high-profile investigations, was asked to look into a controversy that involved the state's cashew development board. The leaders told him of documents containing evidence against one of the tallest communist leaders in Kerala's history—K.R. Gouri, popularly known as Gouriamma. She had been ousted from the party a few weeks earlier on allegations of indiscipline and corruption. Rumours had begun to circulate that the Congress, then the ruling party, was wooing her. The CPI(M) desperately needed to counter the controversy and defend itself against her fiery public attacks.
Shaktidharan set about the task. He met with people in the state secretariat who helped him access government files. The files were wrapped in a clean white mundu, loaded into an Ambassador car and driven to AKG Centre. "Gouri was a very important person to the Congress but the leaders of the party made sure to help me with whatever I demanded," Shaktidharan told me. At AKG Centre, three photostat machines ran overtime to make copies.
The documents pertained to an allegation that some years earlier, as industries minister, Gouri had arm-twisted the Kerala State Cashew Development Corporation into engaging a businessman known as "Chemmeen Cherian" as an agent for the import and export of cashews. They formed part of a larger set of accusations, including the allegation that she had arbitrarily changed suppliers to the corporation, causing a loss in profits. The chairman of the cashew corporation had written to Gouri twice in December 1989, objecting to this move, but received no reply.
The party state secretariat and the national politburo ordered an investigation into the matter in July 1990. It concluded that there was merit in the allegations. Gouri was demoted from the state secretariat to the state committee. [2] The party leadership wrote to Nayanar, then the chief minister, asking him to order a government investigation. Gouri, who was also the vigilance minister at the time, was herself forced to order a probe into the matter.
"EMS was making sure that Gouriamma was politically finished."
As the issue gathered steam, the Left government was voted out of power, and the new Congress government, under the veteran leader K. Karunakaran, ordered fresh inquiries, even involving the Central Bureau of Investigation. The precise findings of these investigations were not revealed at the time. But some CPI(M) leaders began to believe that Karunakaran was using the findings to manipulate Gouri. On 1 January 1994, the state committee of the CPI(M) expelled Gouri for anti-party activities.
In the days that followed, Gouri lashed back. She addressed a packed press meeting at her house in Alappuzha. She gave interviews claiming, among other things, that the controversial decisions had been taken in Delhi, in EMS's presence; it was Nayanar himself who had sent her to the national capital for the meeting, she said. Leading newspapers devoted considerable space to Gouri's statements, making CPI(M) leaders jittery.
In stepped Shaktidharan. Between 4 March and 7 March 1994, he published a series titled "Kashuvandiyude Thodu Polichappol"—When You Skin a Cashew. It was carried with the byline "special correspondent."
More than two decades later, Shaktidharan told me why he didn't take credit for those stories. In between receiving the documents and publishing the material, he'd returned to the office and said: "If I am to write, I will have to name others, whom I see as equally involved in this. I have evidence."
"You need not look at them," Nayanar shouted at him, displeased. "Do what you are being asked to do." Shaktidharan said he was uncomfortable with this. "If I just have to do what you are asking me to do, it can't be printed in my name," he objected.
Then EMS called Shaktidharan back for a one-on-one meeting. He told Shaktidharan that he was right about the involvement of others. "But the party can't take that position now," he said. "Gouriamma is hell bent on destroying the party."
It was EMS, Shaktidharan said, who told him to use the byline "special correspondent" to assuage his discomfort at being forced to do a political hit job. 
EMS said that once the stories were published, he would compile them in a book, and write a preface to it himself. "EMS was making sure that Gouriamma was politically finished," Shaktidharan said. According to Shaktidharan, the series was a huge hit. Gouri's position was destabilised further. But, in Shaktidharan's eyes, "EMS became a very, very small man." [3]
K
erala is often lauded as one of India's most gender progressive states. Its gender development index is the highest in the country. It scores high on female literacy and labour force participation. But all this obscures its deeply embedded patriarchy, even in public life. The state fares poorly when it comes to enabling women to wield power in government, as members of the legislature and executive. 
Since 1957, the number of women that Kerala elects to its legislative assembly has never crossed 10 percent of its total strength. In 60 years, only eight women [4] have been part of the cabinet. Unlike states such as Uttar Pradesh, Bihar and neighbouring Tamil Nadu, Kerala has never had a woman chief minister.
In this context, the scale of Gouri's achievement as a woman in Kerala politics truly stands out. She is the most prominent and powerful woman politician the state has ever known. She was the only woman in its first cabinet, in 1957, serving as revenue minister. (For a quarter century after, Kerala had no other woman minister.)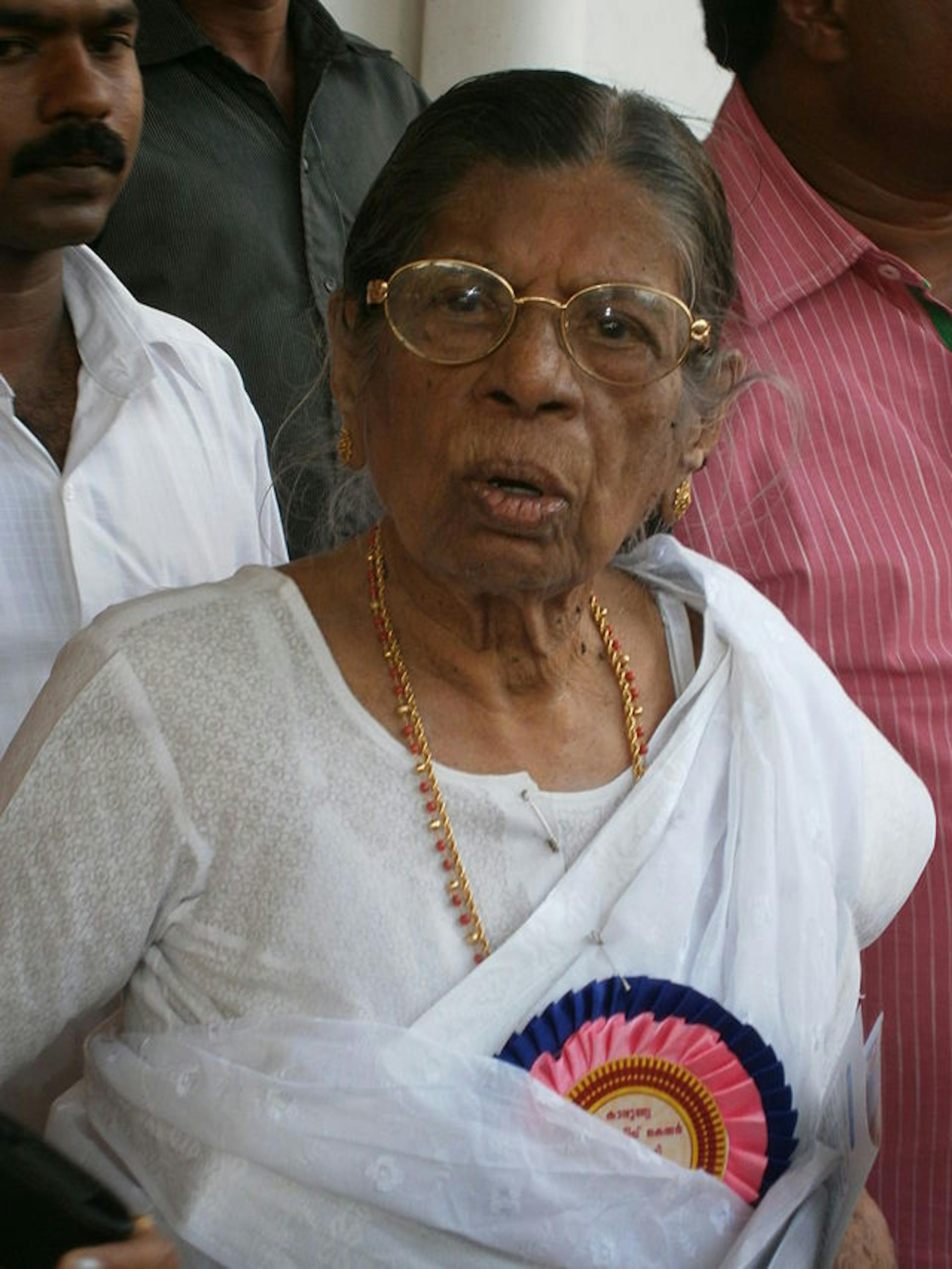 She led six ministries and held more than ten portfolios, including excise, law, agriculture, social welfare and temple administration. She piloted landmark bills into law, including the epoch-making land reforms bill, a women's commission bill and an anti-corruption bill. She earned a reputation as a brilliant administrator. The fact that Gouri was Ezhava, from a backward caste community, made her achievement all the more singular, because while Ezhavas formed the backbone of the party, it was shaped and dominated by upper caste men. [5]
Gouri was a natural candidate for chief ministership in the heyday of her career––so much so that the CPI(M)'s campaign in the 1987 election included slogans and posters advertising her as the CM candidate. It was not to be. On coming to power, the party promoted E.K. Nayanar, a Nair man, to high office. Gouri had to be content with a post in his cabinet.
One rainy evening in May 2016, I knocked on the doors of a modest two-storey house in Chathanadu, in the heart of Alappuzha town, just a stone's throw away from its beaches and backwaters. Gouri, then 97, lived here with a niece and caretakers. "Not many journalists turn up these days," Aneesh, the lone security guard posted at the house, told me.
I sat in the portico and waited to be ushered in. After an hour, I was shown into a simply furnished drawing room, whose walls were adorned with several large portraits of Gouri. Gouri herself sat in a wooden settee, her body slight and frail, her hair and clothes unkempt. She was a commanding presence, and evidently displeased by my intrusion.
Her attendants instructed me to sit across the room from her. Her hearing had weakened with age, and I found myself having to shout to introduce myself and ask her questions. I asked if I could move closer to speak to her. She grunted her refusal. Age hadn't dulled her famously brusque temperament, a trait that some associated with no-nonsense efficiency, and others with a rudeness that was a bad fit for politics.
I asked Gouri about the 1987 election, when she had come so close to the CM chair. "It was understood that I would be made CM if the party wins," Gouri told me. "The person who didn't let me be the CM then was E.M. Sankaran Namboodiripad. He said that I am incapable. In my opinion, I wasn't a bad minister at all. But maybe I wasn't as smart as EMS."
The Early Years
K
alathilparambil Raman Gouri was born on 14 July 1919, in the Pattanakkadu village of Alappuzha, in the princely state of Travancore, the seventh of 12 children. Her family was prosperous and well respected. In her grandparents' time, they had, by special royal order, been issued rights to collect tax in the area of Mannattukura. Her father, K. Raman, was a landlord who owned property that yielded around 75,000 coconuts, and employed several tenants. As elsewhere in India, none of this gainsaid the stranglehold of the caste system over Hindu society. People of Gouri's caste were not allowed to enter temples or even use roads that led to temples.
But Gouri grew up in an atmosphere that was steeped in the ideas of the state's Navodhana, or Reformation, movement, which began in the nineteenth century, and brought about large-scale social and cultural change. It was Navodhana that had laid the ground for communism to take root in Kerala.
Gouri's father was active in Travancore's political and cultural revolution. He was a major donor to progressive movements, such as the Sree Narayana Dharma Paripalana Yogam (SNDP), one of the most influential organisations in Kerala's modern history. [7] Gouri followed in her father's footsteps, and was active in the movement.
In her autobiography, titled Atmakatha, [8] she recalled her father reading out the poem Duravastha by his close associate, the famed Ezhava poet Kumaran Asan, to farm workers who had assembled at her house after dinner. ("Mattuvin chattangale swayam, allenkil mattumathukalee ningalethan," Kumaran Asan wrote. Reform and change the rules, or they will lead to your downfall.) Raman had even courted arrest during the Vaikom satyagraha, a landmark struggle to allow people from all castes to use the road leading to the Vaikom temple in Kottayam district. [9]
Gouri went to college in the big city of Kochi, and then to Trivandrum to study law. She became a student union activist, and was quickly pulled into active politics as the Quit India movement against British rule erupted across the country. She became an organiser, representing the socialists and communists of the Indian National Congress, enlisting students from several colleges to the cause. In her autobiography, she notes that when the Second World War broke out in 1939, she felt a particular affinity for communism and the Soviet Union because she believed that the human race could only be liberated through socialism.
Gouri's father had named her after the first Ezhava woman college graduate, and wanted her to become a lawyer. [10] Gouri went on to become the first female Ezhava law graduate. Her father deeply regretted that her elder brother Sukumaran had joined politics and worried that Gouri would also take the plunge. Gouri promised him that she wouldn't follow her brother's path, but kept her word only till her father died in 1946.
For someone so politically engaged, it was likely impossible to remain inactive, because one of the most pivotal moments in Kerala's history was just around the corner. The Punnapra-Vayalar revolt, an armed uprising, was led by an organised working class against the Travancore princely state's policies following a crushing famine. The revolt is widely considered a key episode in India's struggle for independence. Nearly 1000 communists died in October 1946.
For a brief period, when Sukumaran went missing, Gouri feared that he, too, had been killed—but she soon received word that he was in hiding. She opened up her house in Cherthala for party workers to meet and plan activities, and even to hide out. It was a time when the Communist Party of India was repeatedly banned by the state, and members were often arrested and subjected to police brutalities, even murdered.
Against this backdrop, Gouri became a generous party donor and reliable legal representative. She took cases involving poor farm labourers facing eviction. Soon, the leaders of the organisation asked her to distribute literature. In Atmakatha, Gouri wrote that "the party had started trusting me more than its own members."
Some of Gouri's observations about early party work are revealing of how uncomfortable the political space could be for women. At her first party general body meeting, "The men were seated on the floor and placed between them were five or six coconut shells," she wrote. "The comrades started smoking beedis as soon as they entered the attic." The shells were to serve as makeshift ashtrays, she realised. "Disturbed by the seating in the attic and the smoke and smell of the beedis, I started coughing and tearing up and so I left the meeting and returned home. I didn't know anything about the meetings, discussions and decisions." No one informed her about anything.
In 1948, she welcomed the prominent communist leader P. Krishnapillai, into her house. Krishnapillai, a poet and one of the founding members of the CPI, spent a significant portion of his life in hiding, even as the regional government issued lookout notices for him. For a few weeks in 1948, he and his wife Thankamma used Gouri's house as a safe haven, and it was he who persuaded Gouri to formally join the party, which she did in January 1948. Krishnapillai took Gouri under his wing, and began to assign her more work and public speaking assignments.
Gouri wasn't quite prepared for a career in politics. In a state committee meeting which was held at her house, Krishnapillai and other leaders decided to nominate her as a candidate in the upcoming Travancore assembly election, the first in the region to be fought on adult franchise. They did so without asking her first. "This decision struck me like lightning," she writes in her autobiography. At the time, she was concentrating on her career, chasing financial independence. "I wept aloud and repeated like a mad woman, 'I will not contest; I will not contest.'"
That 1948 meeting was where she met two men who would go on to become key figures in her life. One was her future husband T.V. Thomas, a prominent leader of the Punnapra-Vayalar revolt. The second was EMS Namboodiripad.
Firebrand
I
n the 1948 elections in Travancore, voters overwhelmingly chose the Indian National Congress, defeating every single communist candidate. Only Gouri, Thomas and two others managed to retain their deposits. It was a relative success that marked her out as a potential mass leader and party builder.
Political opposition did not treat them gently. The communists were subject to an all-India ban after leaders had issued a call for armed struggle at the second party congress earlier that year. Much of the leadership was imprisoned or in hiding. Gouri, still a relative newcomer, was given greater organisational responsibilities.
She quickly made a name for herself as a firebrand, [11] even as she was jailed repeatedly for her revolutionary activities. She recounts in her autobiography that she was appointed president of the Travancore Coir Factory workers union, and led protests against the factory owners. At one protest, police arrived to arrest workers and confiscate the party flag. Gouri snatched the flag back from the police, sending a clear message that the workers were not to be easily subdued.
Four days later, the police arrived at her house to arrest her. "Couldn't you have sent word so that I could take a bath and get ready?" she told the officer. She finished her morning routine and breakfast and left for the lockup. A criminal case followed for incendiary speech against the ruling party. [12] At the end of her trial, Gouri was sentenced to six months' simple imprisonment and sent to Poojappura central jail, where T.V. Thomas was also serving time. A romance blossomed as they exchanged letters over the wall that separated the men's and women's sections of the prison.
"Gouri acquired the kind of power that someone who had undergone personal suffering has."
But that happy development was an aberration. A subsequent stint in detention turned out to be a nightmare. This time, she recounted in a 2009 interview with the television channel Asianet, "I was brutally beaten. They ripped off my clothes, and I was kicked and tortured."
Gouri began to fast in protest, and was soon moved to a medical college, and force-fed through a tube. "There was a clamp on my teeth which was screwed to make me open my mouth." She pointed to one of her teeth and told the interviewer, "That was how this tooth broke." For 17 days, she alleged, the police force-fed her milk. By then, her health deteriorated and she was moved to a hospital for further treatment. In interviews, Gouri has often said, "If lathis could reproduce, I would have borne many lathi babies."
The story of how she endured police brutality sealed her place in Kerala politics forever. "She acquired the kind of power that someone who had undergone personal suffering has," academic Sanal Mohan told me. [13] "It steeled her and made her capable of asserting herself."
In July 1949, the princely states of Travancore and Cochin were merged. The CPI was still a banned organisation, with many of its leaders in prison. Many communists contested a 1951 provincial election as independents. One of these was Gouri, who contested and won from prison. It was the beginning of a string of electoral victories. In 1954, after the ban on the CPI was lifted, she contested and won again, in an election that even the mighty EMS lost.
That was the last election before the formation of Kerala state. It was also the last time the Congress's dominance could be taken for granted in Kerala. By the time the next election was held, in 1957, Kerala had been born under the aegis of India's States Reorganisation Act, and the CPI won a majority, gaining 60 of 126 seats and securing the support of five independents.
EMS was sworn in as the new state's first chief minister, and Gouri was appointed revenue minister. Babu Rajendran, who married Gouri's niece Ayshabai and also worked as her private secretary for much of her career, told me that her ministerial salary was ₹600 around this time. "From that the party took ₹250," he said. Though her living and travel expenses were met by the government, he said she had to take money from her family's agricultural income to meet the expenses of running her office.
Kerala today is frequently held up as a relatively successful model of governance with high literacy, high life expectancy, low infant and maternal mortality, and relatively low poverty. Much of the foundation of that progress was laid during this time, carrying forward the promise of popular cultural and religious movements. Among other measures, the first EMS government overhauled the education system, introduced a more organised and responsive police force and increased the minimum wage in the state. These reforms hold a prominent place in what is today called the "Kerala model."
More radical and urgent than all these were land reforms. On 11 April 1957, six days after it came to power, the government promulgated an ordinance prohibiting the eviction of tenants from their land. This stripped landlords of some of the power they wielded over farm labourers. Eight months later, on 21 December 1957, the government introduced the Agrarian Relations Bill in the assembly, heralding a new era of land rights in Kerala. Gouri [14] tabled that bill in the assembly. "This bill will bring to fruition one of the fundamental rights guaranteed by the national movement," she announced to the assembly, "that every farmer will be given ownership of his land, within the provisions of the Indian constitution."
This was indeed the promise of the Congress-led freedom movement: that, having uprooted the British, a democratic government would also overturn the ossified misrule of upper caste landlords over millions of impoverished landless labourers. But land reform struggled elsewhere in the country, hamstrung by the Congress's own conservative landed leaders.
In Kerala, the communist government fixed a ceiling for how much land an individual or family could hold: no more than 15 acres for a five-member family. The excess would be distributed among the landless. By the time the bill was passed in June 1959, it had been discussed for a total of 124 hours over 18 months in the assembly, and a total of 1296 amendments had been considered.
The legislation was viciously attacked by the opposition and the leading newspapers of the day. Two days after the bill was passed, the Congress party and its supporters launched one of the ugliest protests in the history of Kerala, called Vimochanasamaram, or the 'liberation struggle.' Notoriously, its slogans were full of caste slurs.
An infamous one went: "Don't let Gouri Chovvathi rule, let her go spin coir!" using a word meant to insult her Ezhava background. (Kerala remains far from free of this kind of casteism in public life. The current chief minister, Pinarayi Vijayan, comes from a caste traditionally occupied as toddy tappers. In December 2018, the Bharatiya Janata Party's mouthpiece Janmabhoomi, opposing the government's actions to open up the Sabarimala temple to female devotees, published a cartoon captioned: "This is what will happen if power is given to those who should climb coconut trees.")  Other slogans included "Rowdy Thomma"—short for Thomas—"where are the jobs?" and "What's in Mundassery's dumb head? Coir dust or toddy?" [15]
The Congress, ruling in Delhi, was shaken by the reforms. The extent of their disquiet became clear in July of 1959, when President Rajendra Prasad dismissed the EMS government on Prime Minister Jawaharlal Nehru's recommendation. With this move, Nehru set a precedent of blatant constitutional misuse, one that other prime ministers would misuse scores of times in the decades to come. In Kerala, it was clear where the people's sympathies lay. The communists got more votes in the next election in 1960, than it did in 1957. [16]
In Xanadu
I
n that first year of the EMS government, Gouri married her one-time fellow inmate and now cabinet colleague, T.V. Thomas. Thomas was undoubtedly one of the most important communist leaders in the state. "I was betting for T.V. Thomas to be the first CM of Kerala, because EMS was more of a philosopher and not a mass leader in the way T.V. was," C.P. Nair, a former chief secretary of Kerala, now 81, told me.
Gouri's family was not pleased about the match. "Her mother was not very keen on the marriage, since he was Christian," recalled Babu Rajendran. But, he explained, "there was no one in the family who could oppose Kunjamma"––a Malayalam word for 'aunt.' "Kunjamma was not someone you could ever say no to," his wife Ayshabai added.
The wedding took place on 30 May 1957 with the blessings of the party. A big pandal went up at Gouri's official residence as revenue minister, named 'Xanadu.' Nearly 2000 people assembled to watch the proceedings.
The bride was dressed in her usual attire: a white saree and blouse, with flowers tucked into a tight bun. Thomas wore his regular white kurta and mundu. Gouri was 38, her groom nine years older. The couple exchanged garlands, and Chief Minister Namboodiripad himself addressed the crowd. The attendees were served lime juice and biscuits, and only the closest family members stayed back for a feast in the afternoon.
The celebrations masked a simmering discontent. Among other issues, Thomas had multiple sexual partners even during his courtship of Gouri. "I wasn't a very happy person even on my wedding day," she noted in a 2019 interview with Mathrubhoomi.
Gouri and Thomas's marriage was soon thrown into turmoil by political developments in the state. In 1964, some senior leaders left the CPI over ideological differences. They formed the CPI (Marxist). Kerala's great communist heroes, EMS and A.K. Gopalan, were among the breakaways. Gouri decided to join the new party, while Thomas stayed back with the parent party.
Gouri later claimed that they had both initially decided to join CPI(M). Later, Thomas' friends persuaded him to stay with the CPI. In an interview, Gouri recalled the time M.N. Govindan Nair from the CPI came in to convince Thomas and Gouri not to quit the party: "M.N. said to T.V., let me talk to Gouri and convince her. But T.V. stopped him saying, even if she looks small, she is a 'kochu pichathi.'" A small but sharp knife.
The couple attempted to separate their personal and political lives. In an interview given to Kala Kaumudi magazine in 2017, Gouri said, "I took leave from party work and we both shifted to our home at Chathanadu. We made an agreement that we will not receive any party workers at home and that T.V. could do his political work outside our house. Life, after a long time, appeared calm."
But relations between their parties were strained. After the 1965 election, though together the two parties had a majority, they decided against forming a coalition government. It resulted in a hung assembly, and the state entered a two-year period of president's rule.
The parties mended fences by the time fresh elections were called in 1967, and a communist coalition swept into power. But so deep was the mistrust that the CPI issued a terrible diktat: Gouri and Thomas, who were ministers for industry and revenue, respectively, would not be allowed to live under the same roof. (The CPM had a particular grouse against T.V., who they felt was constantly working to discredit them.)
"We both left our Chathanadu house together for Trivandrum to become ministers," Gouri recalled in the Kala Koumudi interview. "I lost my mother, who was bedridden by then, that year. I was allotted Xanadu and T.V. Thomas the Rose House as our official residences." The houses were next to each other, and the couple broke down a part of the wall that separated the two houses and built a gate between them.
But the strain would prove too much. In the Kala Koumudi interview, Gouri said, "The CPI closed that door between us. That is how we got separated." Other problems in their relationship had also deepened. "T.V. brought a woman to the MLA quarters in Alappuzha, and the fight from it resulted in our separation," she said in the 2019 interview to Mathrubhoomi. "Sometimes I feel I should have been more servile." [17]
The separation, when it happened, was traumatic for her. "I had a heart attack after that and was hospitalised," she said. "At that time, we all were with her in Xanadu," Babu Rajendran recalled. "One night she called up the peon and a policeman and asked them to go and get her belongings from the other house to Xanadu. We could not ask what happened."
He remembered the heart attack too. "She might have been grieving, but she did not disclose anything to us."
"Many of those extremely intelligent women of that generation were spinsters or divorcees, who lived such unconventional lives."
Gouri's divorce was portrayed as "something huge and shameful," the Malayali historian and feminist J. Devika noted. But, she said, "it was nothing like that. I call that generation of women swatantryavadis, women who defined freedom. Many of those extremely intelligent women of that generation were spinsters or divorcees, who lived unconventional lives."
Devika argued that the details of the separation did not matter. "She has herself given three different versions or narratives of her early life and her relationship with T.V. Thomas," she said. "These sometimes contradictory versions should not matter to us because it doesn't matter to her."
"It is an episode that keeps changing colour with every turn and changes in her life," Devika added. "And also, because memory is such a bitch, telling you different things at different times. People you thought you could never love, people you think you will never manage to forgive, you forgive after some time." Gouri summed up the relationship in a line in a 2019 interview to Mathruboomi: "That was a relationship that gave me a lot of pain and some happiness."
In some interviews, Gouri has expressed regret at not having borne a child. Twice, she suffered miscarriages in the early stages of pregnancy. The first time, she has said in an interview, it was because Thomas forced her to travel when she was pregnant. "Though the doctor said not to travel, circumstances were such that I had to travel," she said. Later in the same interview, she said, "The first time I didn't want to travel, and T.V. forced me to."
The second miscarriage, she recalled, "happened after the party split and we were living separately." That time, she said, "T.V. was very hurt, and scolded me a lot for it. But I wasn't as hurt by it as the first time I had the miscarriage." Predictably, inside the state assembly, men often subjected her to hurtful barbs about her inability to bear a biological child.
Gouri and Thomas maintained only sparse contact over the following decades. Thomas died in 1977, after a long battle with cancer. Gouri visited him just before this, after taking permission from her party. "In the end the party committee got together and granted me permission to visit him for two weeks. T.V. wept when I said goodbye. For some reason, I couldn't cry."
The Ouster
B
y 1987, Gouriamma had won seven elections. Her breadth of experience and reputation as an excellent administrator made her an obvious choice of candidate for the chief minister's post. The Left Democratic Front (LDF), a coalition that included the CPI(M) and the CPI, mounted a campaign to unseat the Congress-led United Democratic Front.
The LDF's campaign included slogans that pitched her candidature for the top spot. As a matter of policy, the front never declared a chief ministerial candidate ahead of elections. But despite its culture of discipline, no one was censured for the posters and slogans that were particularly widespread in South Kerala. (It's likely that propping up Gouri was encouraged, to garner the Ezhava support that would be crucial to the coalition's victory.)
'Keram thingum Kerala naattil, K.R. Gouri bharicheedum!' (In Kerala, the land of coconuts, K.R. Gouri will rule). "Yes, I heard PKV"—the senior Communist leader and former chief minister P.K. Vasudevan Nair—"speaking from Cherthala during the campaign about Gouri becoming CM," said S.R. Shaktidharan, a former reporter of Deshabhimani (no relation to the former editor G. Shaktidharan, who wrote the cashew corruption stories).
But, S.R. added, "there was a fear about what would happen to the party if she were at the helm. And the most prominent of the people who thought like that was EMS." He added that it wasn't just the party head who was wary of Gouri's ascension. "If EMS did not want her to become CM, neither did many other leaders within the party, many other Ezhava leaders. Do not ask me who they are." (Prominent among those Ezhava leaders was the other big leader from Alappuzha and the future CM of Kerala, V.S. Achuthanandan.)
That year, after the LDF defeated the UDF with 78 seats to the latter's 61, the party passed up its chance of appointing the state's first woman chief minister, and instead gave the position to the upper-caste Nayanar. [18]
Many senior journalists told me that the decision to make Nayanar chief minister was taken at the AKG Centre. Gouri stormed out of the building before the meeting ended. The press was outside, waiting to congratulate her. Gouri curtly asked the reporters to go talk to the party. In the days that followed, she threatened to quit, and had to be pacified and persuaded to accept the industries and social welfare portfolios.
A
s minister for industries, Gouri had to balance her party's communist philosophy with a strategy for industrial development in the state. By the accounts of senior civil servants who served under her during this period, she managed this admirably. "In spite of strong trade unionism, hostility for industries and environmentalism, she tried to promote new industries and to nurture existing industries," said K. Mohanachandran, who was the industry ministry's principal secretary during this time.
Mohanachandran's wife, J. Lalithambika, served as the secretary of the social welfare ministry during this period. "When a file is in front of her, she only looks at the merits of the case to decide, not the politics of it," Lalithambika said. "She studies the people who work for her and assesses them well, and she prefers the ones who can take judicious decisions and are hardworking and not corrupt." All the IAS officers I interviewed admired her ability to take quick decisions and stick by them. "She never sat on a file," I heard often.
Several projects that Gouri kick-started during her ministerial life are now fixtures on Kerala's socio-economic landscape. Among them are the Trivandrum Technopark, the largest IT park in India, which houses more than 400 companies, and is the facility with the largest employee base in Kerala; the milk cooperative MILMA, modelled after Amul, which has made Kerala self-reliant in milk production; and the Cashew Corporation, which marked the southern district of Kollam out as the cashew capital of the world. [19]
G. Vijayaraghavan, the founding CEO of Technopark, echoed the views of civil servants I spoke to. "She was the first chairperson of the Technopark Governing Council," he wrote in a Facebook post on her birthday in 2020. "She stood by our decisions and did not interfere in any appointments."
But within the party, Gouri was falling out of favour. "Party discipline was central to the CPI(M) framework, and she was mostly on her own," Sanal Mohan explained. Gouri, he added, "had the power to not fall in line with the diktats of the party." M.M. Lawrence, who was the LDF convener then, remembered that she would often speak publicly of matters discussed in the party meetings and take decisions that had not been approved by the party.
Her moves to encourage industrialisation in the state also resulted in frequent clashes with the party's trade union wing, the CITU, and its leadership. They fell out over issues such as her approval of some large industrial projects, such as the Technopark; and the government's liquor policy, which brought Kerala out of total prohibition. This was also the fateful period in which she took the decisions for the Cashew Corporation that became the subject of the party's vitiated investigation in 1994.
Though their differences were well known by this time, the manner in which the party smeared her and then expelled her was more vicious than most observers had expected. In a unanimous resolution passed by the CPI(M)'s  state committee at the end of 1993, the party expelled Gouri after labelling her a "power-hungry politician in search of plum positions, with extreme low standards in her public and political life."
"When a file is in front of her, she only looks at the merits of the case to decide, not the politics of it."
Gouri firmly believed that EMS himself masterminded the attack on her. "If not for EMS who else was there who hated me so much?" she said in an interview to Manorama News in November 2006. In the same interview, she recounted that at a state committee meeting to discuss disciplinary action against her, EMS's son had called her a "chovvathi." Party leaders "said a lot of abusive things to me," she said. "It was like how Panchali was abused in the Kaurava Sabha,"—a reference to the torment of Draupadi in the Mahabharata. "I left that place saying that I won't ever come back here."
Modern India's history is replete with instances of extraordinary misogyny inflicted on its most prominent women politicians, including Jayalalithaa, Mayawati, Mamata Banerjee and Sonia Gandhi. Gouri was perhaps the first to face it within a party whose ideals explicitly uphold the principles of universal human equality.
E.K. Nayanar defended the decision to expel Gouri. "The party is foremost, and individual is secondary here," he proclaimed in a press conference. He described her as "politically weak"––a demonstrably false statement. Not only had Gouri won 13 out of the 17 elections she had contested, in the very next assembly election after her ouster, Gouri won with a margin of 16,533 votes, four times greater than her margin in 1991, and her career best.
In 2019, the senior journalist B.R.P. Bhaskar, who has covered and analysed Kerala's political affairs for around 70 years, wrote in the Kochi Post that Gouri "was thrown out of the party because she is a gutsy woman. This secret is now widely known through whispers about her boldness and arrogance." In a patriarchal world, he noted, "these are attributes which only men are entitled to. In men these are qualities of leadership; in a woman they are signs of impudence and haughtiness. Male chauvinism expects women to meekly follow commands without questioning."
After her expulsion Gouri, aged 75, formed a new party, the Janadhipathya Samrakshana Samithy (JSS)––the 'party for the protection of democracy.' Briefly it looked like the JSS might emerge as a viable alternative to the UDF and LDF. For a while, she was also courted by the Bahujan Samaj Party founder, Kanshi Ram, in his quest for a national third front.
But the JSS never picked up much momentum. In 2001, Gouri decided to join the Congress state government under A.K. Antony as minister for agriculture. Her association with the Congress continued even when Oommen Chandy took over as chief minister mid-term. In his administration, Gouri served as minister for agriculture and coir.
She had tumultuous relationships with other leaders in the party, [20] and towards the end of the government's term, she parted ways with the Congress. She would never again hold a ministerial post. She contested the two following assembly elections, in 2006 and 2011, as a JSS candidate, only to face bitter defeats. After the 2011 loss, she retreated to a life of relative quiet.
In discussing Gouri's political career, observers sometimes bring up her temperament: what they describe as her thandedam, thanporuma and thanpramanitham—her boldness, her tendency for one-upmanship and her self-aggrandisement. "She had that kind of high-handed behaviour which we do not usually expect from communist leaders," her party colleague K. Venugopal once told Asianet News. "I don't have the polish or the acrobatics of the politicians of today," Gouri wrote in her autobiography. "I am very rough, and this has gained me many enemies, equal to the friends I have."
Others credit her with defying behaviour that was expected from people of her gender and caste. "She defied and blew into shreds [21] this concept of how a lower caste woman should go about her life," Devika said. "This whole idea of a feminine leader is something that she actually questioned in her public life. In the way she talked, looked, behaved."
This arguably helped expand the political sphere in Kerala. "That thandedam of hers was a very good thing for women in politics generally, I feel," Sanal Mohan said. "For good or bad reasons, such individuals could take a position, articulate it, remain with that, and show that they are not expendable, that they still had the power to bounce back." He believes that Kerala politics is, even today, unable to accommodate outspoken women.
Devika argued that the JSS's failure was caused by Gouri's habituation to familiar political structures, rather than any shortcomings of her temperament. "In the mid-1990s, when she formed a new party, a lot of young women joined, thinking that she would do something great," Devika said. But Gouri could not imagine a new approach for her party and politics.
"They discovered that she would really do nothing. Because her political imagination was all colonised by this standard party reward framework"—the prevailing system whereby leaders would present the demands of the people they represented, and if the party was unable to meet them, it would pacify the representatives with senior leadership positions. "And she tried the same with those women," Devika said. "Unless you move on from the party with an insight, you get blinded by the light when you enter a free space after being confined in the dark room of the old party system for so long."
Epilogue
B
eginning in the mid-2010s, the CPI(M) actively courted Gouri to persuade her to return to the party. Then party state secretary Kodiyeri Balakrishnan even made an announcement to this effect after a visit to her house in April 2015. But this never materialised. The party continued to try and maintain cordial relations, with leaders, often accompanied by a battery of journalists, visiting her on her birthdays.
In June 2019, the state assembly declared a holiday on Gouri's hundredth birthday the following month, so that leaders could travel to Alappuzha to attend an event that was planned for her. On 14 July, top leaders, including Chief Minister Pinarayi Vijayan, gathered at an auditorium in the city. After a cake was cut and other ceremonial niceties completed, Vijayan addressed the gathering.
"There's no one in Kerala with the kind of political experience that Gouriamma has," he said, according to an Indian Express report. "Her life is extraordinary and has no comparisons. Her life is intertwined with the social life of modern Kerala." He described her as a leader with "incomparable courage, sacrificing mentality, attitude to service."
Unexpectedly, Vijayan also decided to read a poem by Balachandran Chullikad, written in 1995 in response to the party's expulsion of and overall mistreatment of Gouri.
Karayatha Gouri, thalaratha Gouri
Kalikondu ninnal aval bhadrakaali
Ithukettu konde cherubalyam ellam
Pathivayi njangal bhayamaatti vannu
The Gouri who never cries or tires
The Gouri who becomes Bhadrakali in her rage
Hearing her stories, throughout our childhood
We routinely escaped from our fears.
In February 2020, my request to see Gouri again was turned down. Her niece P.C. Beenakumari, also the state general secretary of JSS, told me that Gouri was too unwell to entertain anyone, and asked me to try again when she was in better health. Then Kerala went into lockdown, making travel inadvisable. At the time of going to press, Gouri was in the ICU of a local hospital, her condition said to be critical. For hours on end last week, journalists' WhatsApp groups were buzzing with rumours about her death, ostensibly based on sources within the CPI(M).
Evidently, the party today views Gouri very differently than it did when it expelled her and torpedoed her political career. The editor G. Shaktidharan suggested that the CPI(M)'s attempts at rapprochement stemmed from the need to ensure that it can hold her up as a great woman communist leader after she is gone. "To give it to you straight," he said, "Avarkku aa body onnu kittanam." They need to get hold of that body.
Editors' note: K. R. Gouri passed away in the early hours of 11 May 2021. She was 101.
Leena Gita Reghunath is an award-winning journalist based in the US and India. Links to a selection of her works are on her Porterfolio page.